cryptocurrency
The summer of Bitcoin ends badly
September 17, 20171.7K views0 comments
Bitcoin's meteoric summertime surge risks coming to a painful end as Chinese policy makers move to restrict trading amid growing warnings of a market bubble.
The biggest cryptocurrency dropped as much as 40 percent since reaching a record high of $4,921 on Sept. 1, cutting about $20 billion in market value. The collapse extended to as much as 30 percent this week since China began sending stronger signals of a clampdown on Sept. 8, making this the biggest five-day decline since January 2015, when it traded at around $200.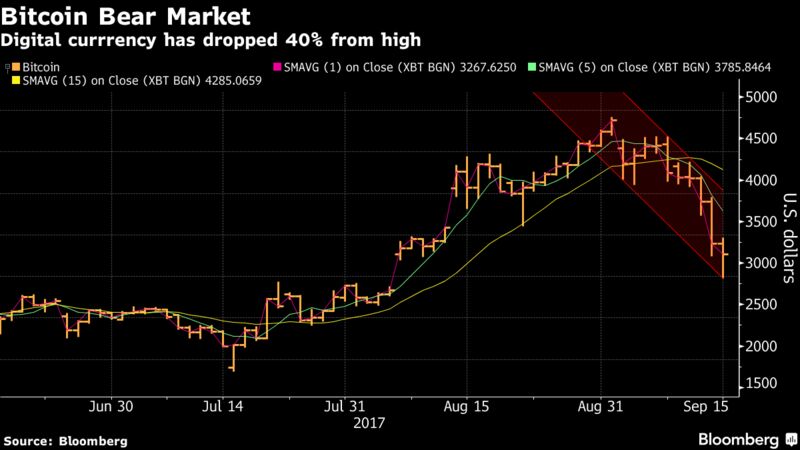 Bitcoin captivated the attention of financial markets this summer as the developer community embraced a new mechanism to improve usage and avoided what was labeled as a potential civil war, raising the profile of the digital ledger and fueling the speculative price rise.
After the price of bitcoin reached a record high, China moved to reign in the exuberance, announcing Sept. 4 that it was outlawing initial coin offerings. While the motivations behind the move and the trading restrictions are unclear, such a ban could affect an estimated one-quarter of all bitcoin transactions.
BTC China, one of the nations' biggest online exchanges, said Thursday it will immediately stop accepting new account registrations. Huobi.com and OKCoin said in statements Friday that they will notify all users by Sept. 30 of the trading halt and will stop converting digital assets into yuan by Oct. 31. Huobi.com added that only yuan-related businesses will be halted, and no impact on other services.
The price of bitcoin recovered as much as 10 percent after Huobi.com and OKCoin released statements, whipsawing traders who saw it it fell as much as 12 percent in earlier trading.
Even so, the notices suggest Chinese policy makers are moving quickly on a previously reported plan to end exchange trading, their most far-reaching measure to rein in the growth of cryptocurrencies. The People's Bank of China didn't immediately reply to a faxed request for comment.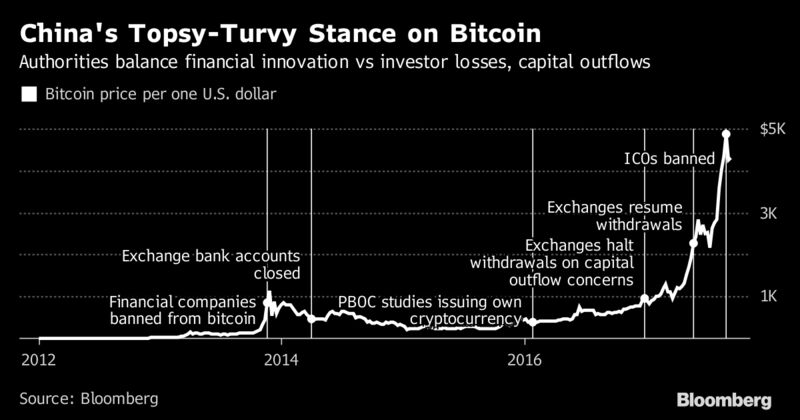 The cryptocurrency ban will only apply to trading on exchanges, people familiar with the matter told Bloomberg on Monday. Authorities don't have plans to stop over-the-counter transactions, the people said.
The trading restrictions come amid a broad clampdown on financial risk in the run-up to a Communist Party leadership reshuffle next month. Analysts have speculated that it could be the start of a broader crackdown by governments around the world leery of the potential for digital currencies to be used in scams or for black-market activity.
The recent record price run even prompted warnings of a potential crash from skeptics including JPMorgan Chase & Co.'s Jamie Dimon and billionaire investor Howard Marks.
Read more: Forget $3,000, the Bulls May Have Lost If Bitcoin Breaks $2,877
China accounts for about 23 percent of bitcoin trades and is also home to many of the world's biggest bitcoin miners, who use vast amounts of computing power to confirm transactions in the digital currency.
---
Courtesy Bloomberg