Interview
Telecom plays role in transforming Nigerian businesses, lives, livelihoods
November 20, 2023169 views0 comments
WALE OWOEYE is the CEO of Cedarview Communications Limited, a Lagos-based ICT company that specialises in designing, planning, and implementing innovative technological solutions. The company is also a key player in the broadband space in West Africa, helping to bring high-speed internet access to the region.
In this interview with Business A.M.'s Business Editor, MIKE OCHONMA, ONOME AMUGE & JOY AGWUNOBI,  the Cedarview's CEO shared his concerns about the plight of VAS operators in the telecoms industry, as well as the overall telecoms sector in Nigeria.
He also expressed optimism that tech innovations, such as those utilised by Cedarview, will help to improve the operating environment and lead to a brighter future. EXCERPTS:
What is your assessment of the opportunities and challenges for Value Added Service (VAS) operators in the telecoms market and how does this impact the success of companies like Cedarview Communications Limited?
The advantage of technology is that it is constantly evolving, and does not wait for anything or anyone. The rapid pace of innovation, fueled by greater broadband penetration, has rendered some technologies obsolete, as messages can now be sent via WhatsApp instead of SMS, and other OTT platforms.
The shift from traditional voice and SMS business models to data-driven services is not only in Nigeria, but has been a global phenomenon. As more people have data on their phones, the possibilities are more and that poses a lot of challenges to players that are into value added services if they do not evolve.
VAS providers are evolving their business models beyond ringtones, SMS, and other traditional services to omni-channel messaging services that leverage AI to meet the changing needs of consumers and businesses. This shift is driven by the fact that banks and other organisations are increasingly sending notifications via multiple channels, including email and SMS, rather than relying solely on voice and SMS services.
As the name suggests, VAS (value-added services) providers must ensure that their services are not only perceived as valuable, but also deliver tangible benefits to subscribers, businesses, and network operators. This requires a deeper understanding of the needs of each stakeholder and the ability to extract value from the messaging ecosystem.
What roles have government regulations and policies played in shaping the telecom sector in Nigeria and how have they impacted your operations?
The Nigerian telecom sector's success is due in part to the robust framework laid by pioneer [Nigerian Communications Commission] chairman, Ernest Ndukwe, who is now the chairman of MTN. His efforts, along with the sector's deregulation in 1999, created a strong foundation for growth and innovation. Telecom industry has also been able to attract decent foreign investment and has also played a huge role in the transformation of businesses, our lives and livelihood as well.
Telecom is second to agriculture in terms of its contribution to GDP. Some of the policies have not been as impactful as others, but the baseline is a properly regulated market where there is adequate and proper competition, incentive for innovation and a level playing field. There can't be absoluteness in anything whether on the side of the government or the side of the private sector, but regulation is essentially the leveller of growth.
We have seen that whenever there is a bit of tendency on both sides to either play by the rules of the game or trying to ensure that the rules of the game favours one above  another, the system has a way of correcting itself.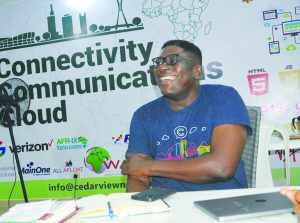 For  instance, when we had a strict regulation around SIM Card registration, it became  nearly impossible to have new subscribers because it was not an easy flow. However, we have seen that we had a way of correcting such anomalies in the past because it has to be balanced in terms of security, innovations, and  other elements that are tied to the telecom sector.
What needs to be done to improve internet access and affordability in Nigeria from both the consumer and the industry perspective? What role can the government and private sector play in addressing these issues?
It's quite a topic that we have to keep on discussing and sharing insight. I think at a recent forum, Professor Umar Danbatta, the former NCC executive vice chairman, had a lecture and spoke about us getting up to 54 percent broadband penetration in the country. That was a major milestone for  us. Though I think by 2025 the target is to get 70 percent, it shows that we have moved quite a lot.
By 2020 the target  was to get to 30 percent, but we have moved by over 20 percent, meaning that penetration is growing  rapidly.  Research has shown that a 10 percent increase in broadband penetration can result in a 1.5 percent increase in GDP. Therefore, there is a clear and direct link between broadband penetration and economic growth.
Having said that, Nigeria has been investing in broadband infrastructure, especially in urban areas, as well as transitioning from 3G and 4G systems to 5G. The Universal Services Fund has also been used to ensure that rural and underserved areas have access to broadband.
The former minister's decision to expand broadband access to remote areas, including agricultural regions, was a smart move. Farmers in these areas can now connect their sensors to the internet, allowing them to collect and analyse data that can help them improve crop yields, reduce waste, and increase profits.
So, yes we are moving in the right direction and there are hardly a lot of places you will go in local government areas today that you will not have 3G or 4G coverage.This is a positive development that will help to close the digital divide and improve connectivity for all.
What are the major trends or developments currently affecting the Nigerian telecom sector and how has Cedarview Communications Limited been able to capitalise on these trends to drive growth and innovation?            
Prior to the COVID-19 pandemic, many people in the tech sector assumed that remote meetings, video conferencing, and other online activities were not feasible. However, the pandemic proved that these things were possible and even beneficial, leading to widespread adoption of these technologies.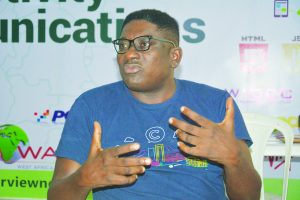 I remember trying to set up video conferences, people just felt that it wouldn't work, but the COVID-19 pandemic forced the innovations upon us. Today, many people can't go back to their old forms of working in offices as remote working has become more applicable.
This means there is an increased need for broadband for people to access the internet at home. Companies also had to invest in certain ICT services and infrastructure to enable that to happen. So that has become a positive push in the demand to catalyse IT and internet services.
We have also seen developments in internet utilisation with more and more of our youthful population doing a lot on the internet and making money off the internet. You see people act as content creators and earn legitimate money, entertaining people and not just people within the borders of our country, many of them have followers across the world.
Platforms like Google, Youtube, Meta, etc, are able to pay for these things and also make it a driver for people to want the internet and for people to learn what they can do with the internet.
There are also negative trends in terms of inflation, in terms of scarcity of FX, naira losing strength against the dollar, but we are finding ways around it.
For us, we need to be more creative, ensure that the equipment we have we try to push them as far as possible, ensure that we are able to derive the utmost benefit for any investment  that we make and also try to do a lot more locally rather than sourcing them from outside. Those are some of the things we see and we are trying to do.
It appears that the quality of service in the telecom sector is not satisfactory based on key performance  indicators. What do you think needs to be done to improve the quality of such services and what policies do you think will be needed to support this?
I will disagree with you, when you say that, the quality of service is not satisfactory because we do quite a whole lot with the little that is available. The operating environment is very tough.
Despite these, we could see that those from the telco space are giving much more for the data consumers purchase. We are doing a lot from the little or less that we have.
Telecom firms are becoming more efficient in the way we even try to serve our people and not necessarily try to jack up prices because we know that it is more of a duty of service to the populace.
In terms of quality of service, there are a lot of issues that cause it, ranging from poor infrastructure, increase in cost of operations, erratic power supply and the overall economic situation also forces people to be slightly not forthright in the kind of things they supply. You ask a supplier to give you a thousand litres, he connives and gives you 600 litres. In some other places, you try to put solar panels and they go to vandalise it.
You put fibre optic cables, some people think it is copper and they pull it out. They sabotage here and there and ultimately affect the kind of service rendered, but we are trying and it's a lot better now.
With the ongoing discussion about regulating AI in Nigeria, what implications will it have for the ICT sector and the operations for a company like yours?
It's a great topic because it borders on what is possible, what is true and real and what should the limit be. Yes, our imagination and creativity are meant to be unleashed, but we also know that not everyone has good intentions. I am of the opinion that regulations should be there not to stifle  innovation, but to ensure that there are certain guidelines, frameworks and expectations that incorporate people in that industry, and should someone not toe that line, there are penalties that are enforceable towards such individuals.
AI is going to bring a whole lot of benefit in terms of improving quality of work done, in terms of reduction of cost say, for instance, improving work done and it can even take you further, with algorithms and even predict certain things such as weather conditions and how they affect businesses.
But in all of that, it can also become a tool in the hands of the deviants to create chaos. So there has to be that guideline to make operators fall in line or pay the price for not doing so.
Given the rapidly evolving nature of the ICT sector, where do you see Cedarview Communication in the next five years and what strategic plans do you have in place to ensure the company's continued success and growth?
We have a 2026 vision to be one of the top 10 ICT solution providers in Africa and that is still in view. In the next five years by 2028, we would be in many other countries in Africa. We would be at the forefront providing solutions to some of the narratives that we have in our continent. We see a future in connectivity, we see a future in cloud services, we see a future in communication.
The beauty of us as Africans is when we say good morning in Africa, it's not just about the greeting. We spend a lot of time asking and caring for one another and that's communication and why should that be expensive?  It shouldn't be. Sometimes it's more expensive to speak to someone in Accra than to speak with someone in London.
I think for some of us, the job is hot for us but we are working tirelessly to solve the problems here with the resources, help and insight that we have.
Some many centuries ago, Africa was at the forefront of civilization. The world is still going to learn from us in Africa how we solved our problems.
At Cedarview, we are pushing to be at the top 8 or 5  of the African  ICT sector. By that time, we would have advanced a few steps in providing solutions to Africa's problems.
Why is internet access still expensive 22 years after full-blown  GSM in Nigeria?
Internet access is still expensive, but not too expensive as the price being paid for data has been dropping significantly. Given the amount of connectivity at the shores of Lagos, internet is very cheap in Lagos and it is one of the cheapest in the West Coast of Africa.
But if you look at the density of that compared to a place like London, a lot more cables are landing in London than in Lagos Nigeria. But as more investments are made here, it becomes cheaper and the next problem has to be if you are not in Lagos, you have to pay a bit more and that is where the government can come to help because there is a deficit in infrastructure, especially transportation that would move capacity in and across the major cities of the country to make sure there is lots of connectivity along our existence that facilitates trade, communication and learning.
I know few people are already looking at that area to solve and we believe that prices will only go down. Prices are dropping and each year, it keeps getting lower and we also try to create new business models in which we have  better and faster internet access especially within the youthful segment. For instance, we (Cedarview) deploy fibre internet  to universities.  We have two now and are trying to extend it to a bit more where if you are within that community, you have access to high speed internet for very low prices to encourage people to learn. We understand that the youths want a lot of internet but they don't have enough money to spend on it.
If we give them that possibility, it helps them become better and ultimately for us, as they begin to boost their earning potential, by sticking to our brand and being able to pay more.
What could be the reason for the failure of open internet access in public places in Nigeria like the airports, train stations, malls etc compared to developed countries of the world?
I think lots of those initiatives are driven by the government. When I say government, it's not necessarily national or state but usually by counties. The Smart City Index is a tool that measures how well cities are using technology to improve their services and infrastructure.
Open internet access is one of the key performance indicators (KPIs) used for keeping a city smart and it has many benefits. So many of them are led by counties. Yes, there might be a subsidy from the federal government that gives an incentive to players to put fibre, Wifi in public places for the use of the populace. This makes it possible for people to perform many operations including applying for passports, tax payments, etc. online in those public spaces.
This is not only available in developed countries, but also available in African countries including Rwanda and Kenya. So I expect that a local government in Nigeria can ask and say even if it's in the pilot phase can put Wifi in some of the parks to encourage the younger  people to learn.
I can see that there is going to be a shift with the coming into office of the kind of minister that we have that has grown from such a framework of possibilities of access to capital, access to  knowledge and access to networks. I believe that we can start to experience such as we begin to show possibilities in that regard.
I know for a fact that, few people tried it in some places and it did not work out well. I think it should be led by the government, especially local governments. By doing so, they would also see an increase in the revenue and attractiveness that would accrue for them.
Where are we with the Cedarview Communications Limited expansion plans?
Currently we are still building for the future. It is taking a bit longer than we thought, but we are undeterred and have a firm confidence in God. We are still building.  Sometimes, expectation is not in line with what we are seeing, but we remain resolute that we have to keep on doing this. We have not reached that milestone that we want, but we are grateful for still being in the game, we are grateful for the customers that we serve and they keep on trusting us and new ones are adding by the day. It is not over until we get there.