People & Places
Tony Elumelu honoured with the 2017 Dwight D. Eisenhower Global Entrepreneurship Award
December 5, 20171.7K views0 comments
The Business Council for International Understanding (BCIU), a non-profit U.S business association dedicated to forging relationships and promoting dialogue between business and government communities across the globe, has honoured both Tony O. Elumelu, chairman of United Bank for Africa Group and J.W. "Bill" Marriott, Jr., Executive Chairman, Marriott International, Inc. with the prestigious Dwight D. Eisenhower Global Entrepreneurship Award.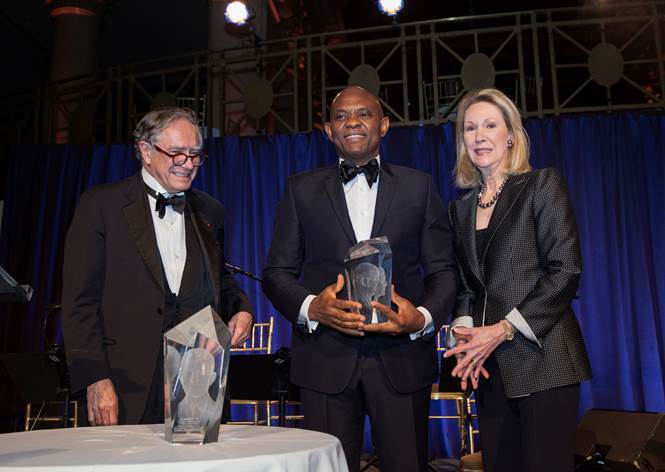 Since 2003, the Dwight D. Eisenhower Global Entrepreneurship Award has been given to business executives who exemplify the definition of an international business leader by exhibiting outstanding contributions to global commerce.
The award was conferred on Elumelu in recognition of his outstanding work in promoting entrepreneurship on the continent of Africa and across the globe.
At the award's gala in New York, United States on Monday, former American President George W. Bush, acknowledged the efforts of the African entrepreneur saying "I am impressed with Tony's philanthropic initiatives, which are powering job creation and entrepreneurship in a region (Africa), that is very dear to Laura and me. To receive an award founded by President Eisenhower, has added meaning. Eisenhower provided example in leadership, which we can all learn from. Additionally, his belief in promoting international understanding is a vitally important responsibility."
Speaking on the reason why Elumelu was selected as the recipient of this prestigious award, Peter Tichansky, the CEO of BCIU said: "Elumelu's bold approach and can-do mindset are exemplary characteristics of a visionary entrepreneur. He embodies the idea that companies must take the lead in bringing business and society together. His advocacy is proving that businesses, acting as businesses and not charitable donors, are the most powerful force for addressing social challenges and economic development"
---
---
"President Eisenhower was a man of many dimensions and most important is his leadership. Being recognized today as a recipient of the inaugural global entrepreneurship award is an honour that resonates with so many people in Africa.
"What our entrepreneurs in Africa need is powerful leadership to further energise, encourage and motivate them to transform the continent,' Elumelu said in accepting the awards from Kip Forbes and Anne Eisenhower (the grand daughter of President Eisenhower).
He added that he hopes the award would further spur on other Africans and friends of Africa, to make sure they work together for an inclusive prosperity.
Elumelu dedicated the award to his wife and children as well as the staff of UBA, Transcorp, Heirs Holdings, the Tony Elumelu Foundation and all the other companies within his group of companies.
He thanked BCIU on behalf of entrepreneurs in Africa saying: "On behalf of the over 3000 entrepreneurs who have benefitted from the Tony Elumelu Foundation Entrepreneurship programme, I say thank you very much."
Elumelu, a serial entrepreneur through his Tony Elumelu Foundation, has funded over 3,000 African entrepreneurs to date with a $100 million commitment to 10,000 entrepreneurs over a period of 10 years. These entrepreneurs are expected to create a million new jobs and over $10 billion in revenue as a result of the initiative of Elumelu's Foundation.