Oil and Gas
U.S., China talk North Korea after Putin pushes back on oil sanctions
September 6, 20171.4K views0 comments
U.S. President Donald Trump and Chinese President Xi Jinping spoke again about how to resolve the North Korean crisis as the U.S. seeks support for more stringent UN sanctions at a Security Council meeting next week, according to Bloomberg's report.
Trump told reporters Wednesday after the conversation that "we will not be putting up with what's happening in North Korea."
The two leaders had a "very, very frank and very strong call," he added. Asked about possible U.S. military action, the president said, "That's not our first choice, but we'll see what happens."
Xi reiterated China's commitment to a denuclearized Korean peninsula while Trump emphasized Beijing's role in influencing Kim, according to a summary of the call published in Chinese state-run media. The report didn't say any breakthrough was achieved ahead of a Security Council session the U.S. has requested for Sept. 11.
The call between the U.S. and Chinese leaders came after Russian President Vladimir Putin earlier in the day expressed concern that halting oil supplies to North Korea would hurt its people. Putin's comments followed a request from South Korean President Moon Jae-in that he supports more stringent United Nations sanctions.
"Stopping oil supply to North Korea is inevitable," Moon's spokesman Yoon Young-chan quoted him as saying. "I'm asking for Russia's cooperation."
Putin explained at length to Moon that sanctions won't work on North Korea and that halting its oil supply would damage hospitals, his foreign policy aide Yuri Ushakov said after the meeting, echoing the Russian leader's earlier remarks that such action would be "useless and ineffective." On Tuesday, Putin told reporters that Russia's trade with North Korea is "almost zero," and that its quarterly exports of 40,000 tons of oil to the country are "as good as nothing" relative to its global sales.
Even so, Ushakov said the talks had led to more "elements of commonality."
The two leaders' interaction raises questions over how far the Security Council will go in punishing Kim Jong Un's regime after it conducted its sixth and most powerful nuclear test on Sunday. Russia and China both hold vetoes and have opposed doing anything that could lead to the collapse of Kim's regime.
Trump has vowed to escalate sanctions also has warned North Korea of "fire and fury" if it continues threatening America. He has also threatened to cut off trade with all countries that do business with North Korea. China is North Korea's biggest trading partner.
Stocks fell in most Asian markets on Wednesday, and almost every sector of the Stoxx Europe 600 Index retreated, as nations grapple with how to deal with North Korea's escalating provocations. The yen was near its strongest level for the year.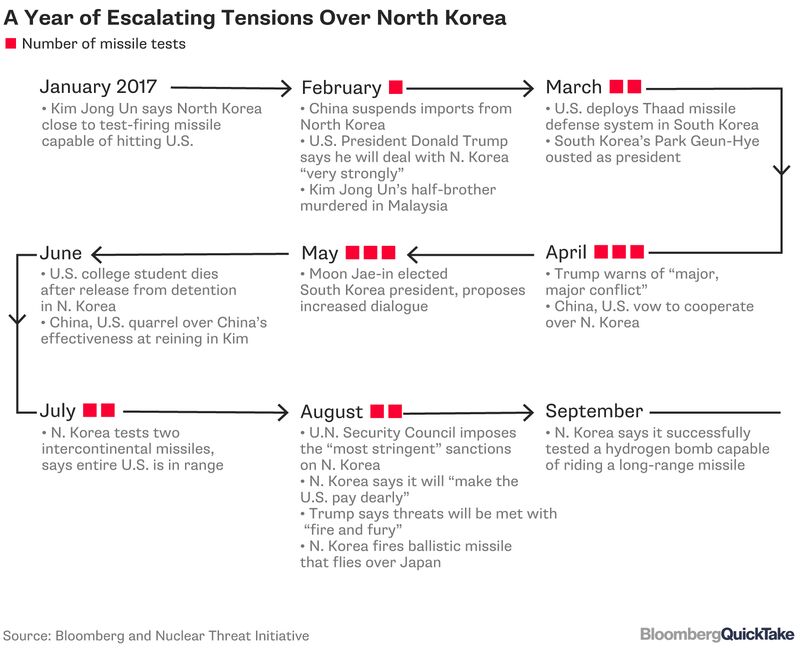 In a conversation with Putin on Monday, Moon had said it was time for the UN to seriously consider blocking North Korea's foreign currency sources by cutting off crude oil supplies and banning its overseas labor.
"If we fail to stop North Korea's provocations now, it could sink into an uncontrollable situation," Moon said in remarks before the meeting with Putin. "I want to seek a fundamental solution to resolve the North Korea nuclear problem here."
Putin called for all sides to calm down.
"There's no point in giving into emotions and backing North Korea into a corner," Putin said. "More than ever now we need to show restraint and avoid any steps that could escalate tensions."
"They'll eat grass, but they won't abandon their program unless they feel secure," Putin told reporters Tuesday at an emerging markets summit in Xiamen, China, which was hosted by Xi.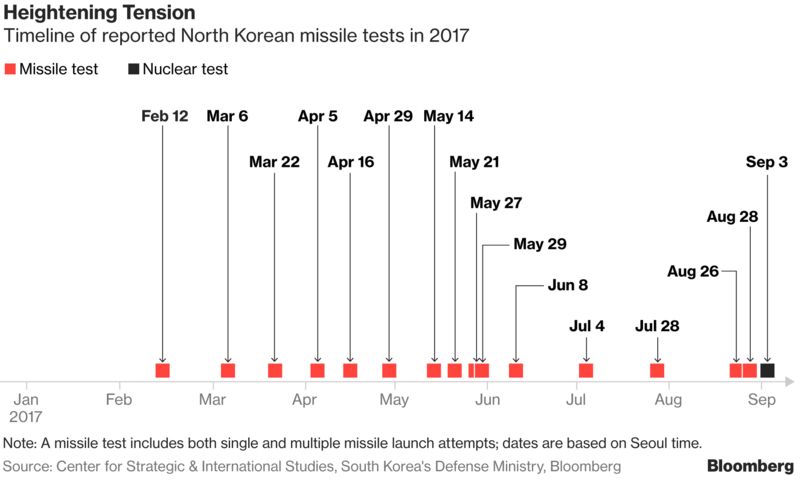 North Korea has reportedly been preparing another launch of an intercontinental ballistic missile that could come before it marks the anniversary of its founding on Sept. 9. Kim claimed on Sunday that he could fit a warhead onto an ICBM capable of striking the continental U.S.
Japanese Prime Minister Shinzo Abe also plans to visit Vladivostok for talks with Moon and Putin. He told reporters in Tokyo on Wednesday that he wants North Korea to understand it has "no bright future" if it continues on its current path. Putin's foreign policy aide Ushakov expressed hope that progress could be made at the talks.
China has been considering closing a customs post along its border with North Korea, according to the Daily NK, a Seoul-based website that says it gathers information from informants inside the isolated nation. The Quanhe customs house in Yanbian Korean Autonomous Prefecture, near the Russian border, is the second-biggest of nine posts between China and North Korea.
South Korea is watching closely for any radiation leaks after North Korea detonated its nuclear device, Unification Ministry spokesman Baik Tae-hyun said in a briefing Wednesday. The nation's nuclear safety commission said it hadn't detected any so far.
Additional launchers for the U.S. missile shield known as Thaad will be installed in South Korea on Thursday afternoon, Yonhap News reported, citing activists at the site. Moon had previously sought to delay its deployment.
The deployment of Thaad "does not help addressing the security concerns of relevant countries," Geng Shuang, a spokesman for China's foreign ministry, said at a briefing in Beijing on Wednesday. "It will only severely undermine the strategic balance in the region, jeopardize strategic and security interests of the regional countries, including China, aggravate the tension and confrontation, and further complicate the Peninsular issue."
In Tokyo, ruling party heavyweight Shigeru Ishiba said Wednesday on a TV show that Japan should review its policy of not allowing the U.S. to bring atomic weapons into its territory, according to Kyodo News. This would strengthen the deterrence provided by the alliance with the U.S. in the face of the North Korean threat, the lawmaker said.
After Ishiba's remarks, Japan's top government spokesman Yoshihide Suga said that Japan would retain its nuclear weapons ban. He said earlier Japan was also gathering information on North Korea's electromagnetic pulse attack development.
Hours after detonating the device, North Korea's state-run news agency called it a "thermonuclear nuke with great destructive power which can be detonated even at high altitudes for super-powerful EMP attack according to strategic goals."
Japan's Defense Minister Itsunori Onodera said that the explosion on Sunday was 10 times more powerful than the bomb that devastated Hiroshima in the final days of World War II.