Banking
Finance
Wema bank grows PBT by 55.56%, reiterates commitment to lead digital banking innovation. Oluwaseun Afolabi is Businessamlive Reporter.
You can contact him on afolabi.oluwaseun@businessamlive.com with stories and commentary.
October 31, 2019727 views0 comments
Ademola Adebise, MD of Wema Bank Plc. has stated that the bank will continue to thrive in the digital banking space with ground breaking innovations as the bank grows its profit before tax by 55.56 percent to N4.76 billion. Adding that the future of the bank remains with growth through innovation.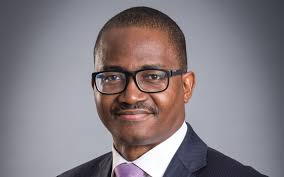 Making remarks on the bank's quarter 3 results, Ademola Adebise said, "The future for Wema remains growth through innovation and we are proud to be the leading Bank in the Digital Banking space. ALAT has revolutionized customer on-boarding in the industry, now we are taking on payments and commerce."
"We are creating a digital platform for youths, young entrepreneurs and young professionals. The Bank has also commenced trade partnership with the Bank of Africa group to strengthen its commercial business. We believe that with the focused execution of our 3-year strategy, Wema will remain the Bank to watch out for. The bank remains committed to sustaining this impressive performance and to deliver on the FY 2019 guidance across all key metrics."
The mid-tier lenders announced a 55.56 percent growth in profit before tax (PBT) to N4.76 billion. This was on the back of growth of 30.95 percent in Gross earnings from N48.99 billion in Q3 2018 to N64.15billion in Q3 2019.
The Bank benefited from fees and other non-interest income with a growth of 56.34 percent to close at N15.79 billion in Q3 2019 compared to N10.10 billion in Q3 2018. Net interest income also recorded a growth of 8.85 percent to 17.2 billion, compared to Q3 2018's figure of N15.8 billion.
Other highlights indicate deposit liabilities were up by 23.69 percent to N456.8 billion from N369.3 billion in 2018 F. Balance sheet figures of net loans grew by 13.76 percent from N252.2billion (2018 FY) to N286.9 billion (Q3 2019) and total asset increased by 25.70 percent to N600.7 billion in Q3 2019 from N477.9 billion in 2018 FY.
Speaking on the result, Tunde Mabawonku, CFO of Wema Bank, said, "The key measure of success for us is growth in customers and customer activity – and we are glad that we are reporting strong double-digit growth here.
Customer deposits grew by 23.69 percent to N456.8 billion from N369.3 billion in 2018 FY. Net loans grew by 13.76 percent from N252.2 billion (2018 FY) to N286.9 billion (Q3 2019), with a loan to deposit ratio above the regulatory prescribed minimum threshold. NPL numbers remained below 5 percent while Capital Adequacy of 14.78 percent is above the regulatory minimum of 10 percent.