Business a.m. Unwrap
Why should I re-consider my choice of branded cooking oils?
January 20, 20202.9K views0 comments
Cooking oils, also fondly referred to as vegetable oils have many nutritional benefits. They are derived from plants, such as coconuts, groundnuts, sunflowers, soya beans, olives and peanuts. In the Nigerian market, there are many brands of cooking oils, and while there is a stiff competition for market share among the different products, a good number of consumers have preferences in relation to what each brand offers in terms of health benefits, packaging, price and visibility. A decision factor for many is that the cooking oil brand is endorsed by the Nigerian Heart Foundation (NHF) and the Nutrition Society of Nigeria (NSN). There is also the demand for cholesterol-free vegetable oils among consumers, especially since unhealthy oils are a major cause of heart blockages and strokes. The notable brands dominating the market as revealed by market research are Power oil, Laziz oil, Grand soya oil, Wesson Canola oil, Mamador and Devon King's brands. This report concentrates on branded cooking oils in 3-5 litre sizes, and unravels on a step by step basis, why each brand is unique in itself, thus helping consumers make a more informed purchasing decision.
Devon King's cooking oil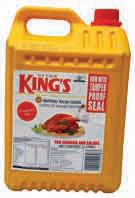 Manufactured in Nigeria by PZ Wilmar Limited.
It is a very common brand, found in virtually every store dealing in cooking oil.
Dealers say it is a household cooking oil brand, and is very good for deep-frying.
This oil is dubbed cholesterol free, and is made of refined bleached deodorised palm oil olein and contains vitamin A according to the manufacturers.
The brand's 5litres variant is double sealed, tamper-proof and is packaged in jerry can. This is very unique about it, and allows for ease of carriage.
Its production to expiration period is 1year.
Devon King's 5litre cooking oil is sold at N3,300, which is a good price compared to many others.
A particular customer mentioned that the challenge she faces when buying the product is determining the appearance of the oil since it is packaged in jerry can, especially since this creates avenue for adulteration of cooking oils which are rampant.
While another observed that whenever she deep-fries with the oil, she notices that it often causes lots of smoke and air pollution, than some other cooking oils she is used to.
Power oil

Produced by Raffles oil LFTZ Enterprises.
The brand has both 3litre and 5litre variants.
This vegetable cooking oil can be easily found in many shops and markets across the country.
It is marked as a no cholesterol oil, made of refined palm olein and also contains vitamin A.
Power oil expiration period is 1 year.
The 3litre and 5litre variant sells for N2,000 and N3,500 respectively in many wholesale stores.
The product is approved by the Nigerian Heart Foundation (NHF).
A few consumers opined that they preferred the 5litre variant packaged in jerry cans, to the 3litre transparent bottle packaging.
Others believe that its flavour is mild, and that the oil comes out very nicely in meals.
Wesson canola oil
It is an imported product branded by conagra foods.
This oil is free of cholesterol and trans-fat.
The 4.73 (or 5litre) size goes for N4,200 in many wholesale stores, while there is also the 3.79litre variant.
Wesson canola oil is tamper-proof packaged.
It is quite scarce to find the products around, being mainly available in malls and online stores.
A baker said he prefers using it than butter and margarine, when making cakes.
One dealer of cooking oils mentioned that many people who patronize the oil testified to it having a unique taste in foods, adding that it does not give an oily feel that hinders the actual taste of the food like many others.
Wesson canola oil has a different appearance and colour, this is because no colouring chemicals or preservatives is used in its production.
Canola oil are the best for deep-frying, as recommended by nutrition experts for they are the least toxic oil-type and do not contain carcinogenic compounds.
Laziz pure vegetable oil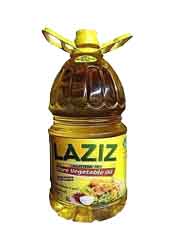 Manufactured by Apple and pears limited.
The brand has both 3litre and 5litre variants.
It can be easily found in retail shops, supermarkets and some malls.
It is also marked as a 100% no cholesterol oil, enriched in vitamin A, E and Omega 3.
3litre size sells around N2,000, while the 5litre variants goes for N3,500.
It has a longer shelf life than other brands, lasting up to 2 years.
A consumer who buys the product mentioned that it has real pure cooking oil colour, but that she doubts if the quantity of oil in the 5litre variant measured up to that amount based on her experience.
Laziz pure vegetable oil is suitable for baking and dressing meals, in addition to cooking and frying.
Mamador pure vegetable oil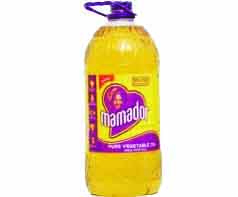 Manufactured in Nigeria by PZ Wilmar Limited.
Its 3.8litre variant is sold at N2,600. There is also the 2.8litre size.
The oil is cholesterol free, fortified with vitamin A and E, as well as Omega 6 and 9.
Mamador pure vegetable oil is commonly found in many shops, wholesale stores and markets.
Its expiration period is 1year.
The oil has good thickness and texture, being the best in this aspect.
Some consumers complained that the handle which is attached to its cap is fragile and easily breaks out, making it less convenient to carry.
Deep-frying with this oil may cause lots of smokes, according to a consumer.
Grand pure soya oil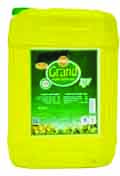 Manufactured by Grand Cereals Limited.
It has no cholesterol and is enriched with vitamin A, endorsed by the Nigerian Heart Foundation (NHF) and the Nutrition Society of Nigeria (NSN).
It expires after 1 year.
The 4litre variant in jerry can goes for N2,400. There is also the 2.75litre variant packaged in PET bottle.
Grand pure soya oil is more common in malls and seems scarce in shops.
The 4litre size is packaged in tamper-proof jerry cans.
One consumer complained that the characteristic odour and taste soya bean oils are known for are devoid in the product.
While all the branded cooking oils featured in this write up have very similar prices and are cholesterol-free, reducing the risk of developing a coronary disease. It is important to consider going for high quality oils, which have good taste in meals, does not fume, is odourless and comes with tamper-proof package.
We would rather: Wesson canola oil > Laziz pure vegetable oil > Power oil > Devon King's cooking oil > Mamador pure vegetable oil > Grand pure soya oil