Frontpage
Oil and Gas
AfDB's 'Desert to Power' programme finally coming to Nigeria, Adesina confirms  
January 29, 2021702 views0 comments
By Tobias Pius
The "Desert to Power" project aimed at constructing the world's biggest solar power zone that will push 10,000 gigawatts of solar power supply in African countries is extending to Nigeria to meet up the challenges of power failure in the country.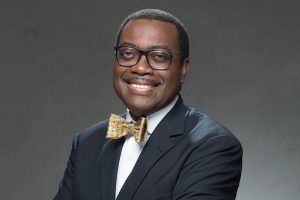 Akinwunmi Adesina, president of African Development Bank (AfDB) announced this recently at the African Investment Conference organised by the UK's Department of International Trade.
He told the conference that the AfDB was now set to extend the initiative after commencement in Kenya and Morocco, and acknowledged that the conference was designed to facilitate further investment relations between Africa and the United Kingdom.
Adesina said the future was in renewable energy and that Africans must tap into it, especially solar, stressing that it would be a big disservice to the people of Africa if the power offered by the sun is not converted to energy seeing that 600 million people in Africa do not have access to electricity.
Adesina toldEmma Wade-Smith, the UK's trade commissioner for Africa, of his optimism about Africa's investment environment, stressing that the continent is a place where investment is feasible, noting that healthcare investment and other programmes in the region are equally important too.
"While economic investments in the continent are pivotal, there is need to invest meaningfully in the youths. Investing in young people will in no small measure help them to effectively develop their business ideas and their other potentialities,"Adesina said.
The AfDB has always maintained that Africa's lack of energy remains a huge impediment to economic and social development which has prompted the development finance institution to embarkon a power initiative of such magnitude which stretches across Africa's Sahel region and is projected to connect 250 million people with electricity through the use of the region's abundant solar resource, and through on and off-grid projects.
Nigeria on its path has an abysmal powergeneration which still hovers around 3,500MW although available capacity as at 2020 was estimated at about 8,000MW.
Africa is home to 15 per cent of the world's peoples, yet is poised to carry nearly 50 per cent of the estimated global climate change adaptation costs, according to the AfDB.
The continent's present energy poverty costs it an estimated 2-4  per cent of GDP annually, according to the AfDB, and embarking on the initiative will place Africa as a renewable energy power house.