Oyeleye
Africa's bumpy road to regional economic cooperation (7)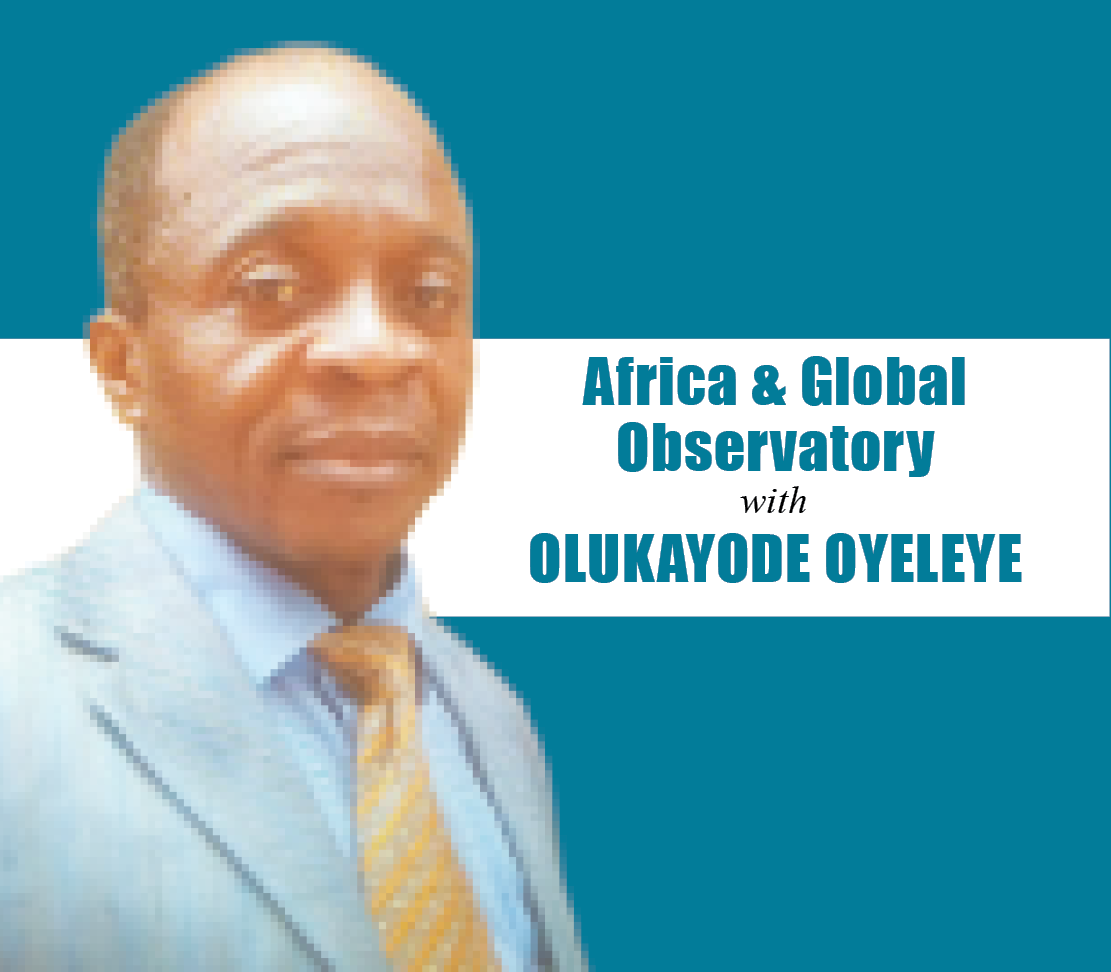 Dr. Oyeleye, a consultant, journalist and policy analyst, can be reached via:
oyeson2@yahoo.co.uk
Twitter: @OlukayodeOyele1
January 23, 2023120 views0 comments
LAST WEDNESDAY IN South Africa, Nigeria's consulate in Johannesburg was subjected to an unusual embarrassment that caught the attention of global media. Electricity supply to the consulate was disconnected by the Johannesburg City Power officials over unpaid bills purportedly owed by the consulate, an action that sparked a diplomatic row between Nigeria and South Africa. The consulate reportedly responded, considering "the action of the officials, no matter the justification," as "in complete violation of extant international treaties and conventions, especially the Vienna Convention on Consular Relations 1963, which guarantees the inviolability of consular premises." Who was right or wrong is not the concern here. Rather, a bigger picture of frictions that slow down mutual relationships should be visualised and the benefits of working together should be explored.
Frictions between two countries are not new; they are not necessarily indicative of irreparable damages. But they sometimes arise as an ill wind that blows nobody any real good. The trouble between South Africa and Nigeria goes beyond electricity bills. Such troubles are uncalled for. Many countries of Africa have some quiet rumpuses between themselves that are yet to boil over and rise to the surface. How not to allow these to snowball into intractable crises or fester should be of major concern. The internal workings of countries are easily revealed through events that occur outside their borders, elsewhere or anywhere they have their presence. These are the issues very often overlooked in the analysis of some bilateral relations. In Nigeria, for instance, it has become legendary for agencies and parastatals of government to owe other agencies huge debts incurred over long periods.
One of the vulnerable agencies that was often owed by other agencies of government was the main national electricity supplier, whose state has since undergone modifications, especially after the partial privatisation exercises midwifed by the government. Among those owing the power supplier over the years are the various military formations, the higher educational institutions, airports, government health facilities, and some government executive, legislative and judiciary offices with humongous debts.
Many national business entities ran into trouble for the same reasons. Experiences also seem similar among countries as some key government agencies operate without due regard for the survival of some others that provide essential services for the others. These lie at the core of what is erroneously regarded as non-profitability of government business entities. Ample examples could be found across Africa. The loss-making South African Airlines, as an example, was South Africa's state-owned airline which had to suspend all its operations in 2019 when it had difficulties in mobilising a bailout of more than $591 million. As one of South Africa's state-owned enterprises, the airline battled with allegations of corruption and mismanagement, before it wound down its operations.
Air Afrique, established as the official transnational carrier for francophone West and Central Africa, began a steady decline in the early 1980s, and could not survive beyond 2002 as a result of mismanagement and corruption as part of the forces that crippled it then.  Last August, an East African newspaper reported that a close assessment of the financial records of Kenya Airways, Uganda Airlines and Air Tanzania  showed that they will continue to register huge operating losses. Particularly, in Kenya, the picture looks gloomy despite the nearly 10 government bailouts to keep it afloat. Nigeria Airways was another study in failed public enterprise. Until the commencement of the present dispensation of democracy in 1999, the airline managed to survive before corrupt politicians ultimately destroyed it and are yet to bring a viable replacement in its place.
With big economies suffering such setbacks, Africa is therefore losing a grand opportunity for practical linkages between themselves for the purpose of integration and economic development. It could have been argued that this trend is peculiar to government-owned airlines in all African countries, but here is an outlier — the Ethiopian Airlines. Those macroeconomic theorists who recommended that  government-owned enterprises be privatised for efficiency may not have got the full picture of the problems they sought to solve when they provided this as one of the conditionalities for loan eligibility back then. The International Monetary Fund (IMF) was particularly obsessed with this idea, which Ethiopian Airlines officials seem to have defied.
Implications of the failures of most African airlines are many. Aviation link is about the fastest of all options between two countries, particularly those not contiguous or proximal. The continent is therefore left with dependence on other foreign carriers to fill the air vacuum. Trade and services movements therefore have to depend on other means of transportation, especially by sea, road and rail. Although rail and road could be a bit faster than sea, they are nonetheless subject to periodic and occasional interruptions, particularly at the national borders. This is without prejudice to the goods and commodities more transportable by road and rail in comparison with the air option.
The transborder encumbrances waste time, reduce movement of tradable goods as well as services. And these are mostly experienced by people who are limited by available choices and options, with raised costs of transportation occasioned by extortionist border agents such as Customs and immigration officers and many other private non-descript operators, all of whom must extract some money from the hapless travellers. Add this to the nefarious activities of many in-country police officers and gendarmes who must delay any business traveller with goods and services while they have to unavoidably travel through their territories. Is it not therefore easy to imagine lost opportunities to cross-border trade in forms of impediments to travels? It is unlikely that African countries will enact the expected regional integration and economic cooperation soon, based on these premises. Annually, this comes down to significant financial losses, much of which were recorded even before the outbreak of COVID-19 and still persists despite what has a semblance of recovery two years after. For instance, Africa's airline industry net revenue losses expected at the end of 2022 was projected at $3.5 billion, of which the loss for the fourth quarter was approximately $800 million by the continent's airlines' representative body, the African Airlines Association (AFRAA).
Some of the hurdles the aviation industry has to grapple with entail fuel cost and efficiency, including availability and costs. Others are lack of regulation and government actions to cope with the growing awareness of the role the aviation industry could play in the development of Africa. This is observable from the attitude of some African governments, who, fearing that foreign competition could weaken their national airlines, are still reluctant to open their skies. Inadequate infrastructure for the air transport industry, financial hardships are leading some to report losses year-on-year as in Kenya Airways, Uganda Airlines and Air Tanzania. Safety still remains the most pressing challenge facing the aviation industry in Africa.
A Nigerian newspaper recently reported that Africa is poorly connected when it comes to travelling by air. "Sometimes it takes up to 12 hours to reach a destination that should last for an hour because travellers would be taken to many countries in the name of connecting flights." Another Nigerian newspaper reported that, although 33 countries in the continent are signatories to the Single African Air Transport Market (SAATM) that was launched in January 2018, industry observers are not optimistic that many countries in Africa would open their airspace for most airlines in Africa, especially in West, Central and South Africa, precariously because of many factors. These include the inability to access funds.
It is rather embarrassing that South Africa and Nigeria could be involved in any spat over indebtedness on electricity bills when bigger issues of mutual benefit are omitted. Precedents set recently in two cases within the aviation industry should inspire more alliances that will further the actualisation of Africa's regional cooperation rather than getting into arguments over less mutually beneficial issues.  Recently, African Airways Alliance emerged as an airline group made up of Djibouti-based Daallo Airlines and Nairobi-based Jubba Airways, owned equally by both carriers, with the additional benefit of pooling resources and coordination of route networks. In January, 2022, immediate past Kenyan President Uhuru Kenyatta, in a new year eve's message, announced the merger of Kenya Airways and South African Airways to form the Pan-African Airline, expected to commence operations in 2023, to expand their global coverage. If these were possible, then many more are. And, between Nigeria and South Africa, an even bigger and more formidable alliance could be formed to help boost diplomatic ties and bridge the economic cooperation gap between the two countries, not necessarily in aviation, but in many other fields of relevance to the continent-wide economy. Enough of petty disagreements over less important things.
business a.m. commits to publishing a diversity of views, opinions and comments. It, therefore, welcomes your reaction to this and any of our articles via email: comment@businessamlive.com