Oyeleye
Africa's economy and post-COVID-19 global engagement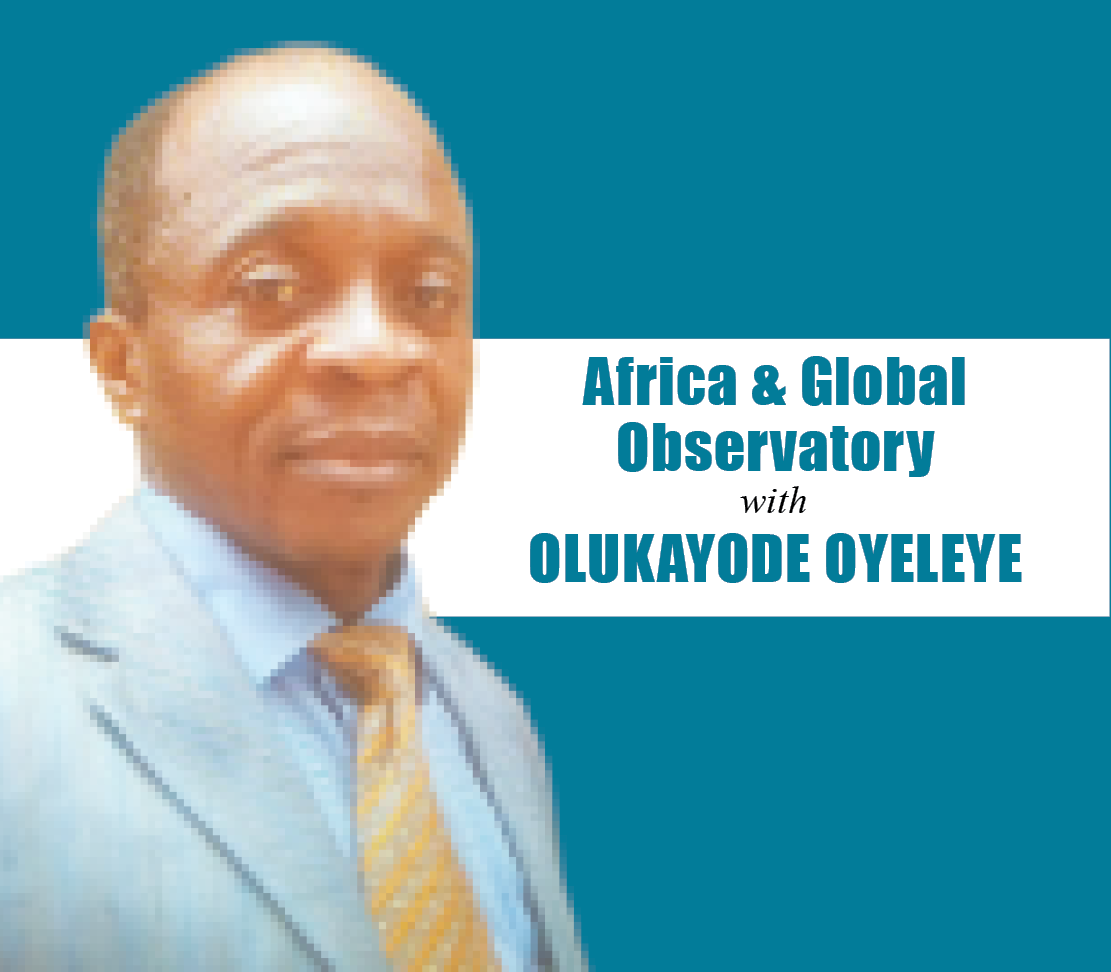 Dr. Oyeleye, a consultant, journalist and policy analyst, can be reached via:
oyeson2@yahoo.co.uk
Twitter: @OlukayodeOyele1
December 14, 20201.2K views0 comments
AFRICA CONTINUES TO SHOW PROMISES of becoming an attractive and distinctive continent for the world in years ahead. In addition to its continued relevance as a major source of many commodities serving as drivers of global industrial growth, technological advancement, food security and as primary source of many luxury products, Africa is becoming a continent of relevance in strategic defence, trade, tourism and entertainment. All these present opportunities as well as challenges to Africa within the circumstances of evolving global realities.
Opportunities coming Africa's way should not be missed again this time. The fourth industrial revolution presents a lot of such opportunities, but Africa needs to be strategic about how to capture them. It is now widely recognised that Africa is a huge market, with a fast-growing population of 1.3 billion people. That has been amply demonstrated in the ICT and telecommunication sector, with 39.3 per cent internet penetration within the first quarter of 2020, compared to 58.8 per cent world average. Within sub-Saharan Africa alone, the mobile economy is projected to rise to 475 million mobile internet users by 2025, bringing more than a quarter of connections on 4G and nearly three per cent on 5G networks, contributing $184 billion to the continent's GDP by that year.
COVID-19 pandemic has shown that a lot of human social and economic activities can be embarked upon remotely, using the mobile telephony and internet services. Both aspects of technology can help Africa to leapfrog its economic development in many different ways. They can help integrate many rural and sub-urban communities that have poor or no road connections into the mainstream economy, overcome a significant part of their logistic challenges, create opportunities for market information services and present options for smart business decisions at the community levels. Prospects for virtual meetings are increasing, limiting physical meetings to those that are absolutely inevitable. Many Africans, therefore, have opportunities for embarking on profitable economic activities without physical contacts.
These clearly call for more investments – quite broadly – in infrastructure, including ICT infrastructure. This will require smart decisions on partnerships and business relationships, including trade diplomacy and technical expertise. It will also entail smart decisions on security implications of such dealings. Africa therefore needs smart and futuristic thought leadership that recognises and responds appropriately to the dynamics in the sector so influential and so rapidly evolving. One of the issues at stake in this sector is the evolving muscle flexing going on between China and the US on components for the production of mobile telephones. Instructively, Africa is a major source of some key raw materials for mobile phone production, particularly the battery. Africa therefore needs to go beyond being merely a raw material supplier. The continent needs to have a clear idea of how it is affected by and how to respond to the war of attrition going on between the two economic giants.
Watching from the side lines will do very little to help Africa as major decisions are taken on production and trade of mobile equipment between China and US. The World Trade Organisation (WTO) that, hopefully, will be led by an African in the foreseeable future will have a lot to grapple with while considering the intransigence of both giant economies and WTO's inability and lack of capacity to rein them in. Politics and trade tactics within and between both economies will have disproportionate effects on Africa in the years ahead. Before the spread of COVID-19 pandemic, and particularly within 2020, the US-China relationship got frosty on the Huawei story, to the extent that the US threatened harsh measures against companies in the US that deal with Huawei. The consequences later began to be felt by companies and consumers.
Clear boundaries have been drawn within the competition, to the extent that some of Huawei's remarkable phones are not available in the US and they lack Google services. Apart from the mobile handsets, Huawei is being blocked in the network support equipment business to the extent that Australia, the UK and Sweden have banned the use of its equipment in their 5G networks. In particular, the UK, in July appeared to have caved in to US pressure by opting to ban Huawei equipment from its 5G infrastructure and wireless network, effective from 2027. Africa must be nimble and strategic in this game and must play to its own advantage. Some countries in the continent have built their wireless network on Huawei or ZTE infrastructure. An example is Ethiopia.
The positions taken at country level and at the continental level must reflect a good understanding of the emerging development. They must not be influenced by a like or a dislike for a particular political figure. Rather, they must be influenced by rational thinking, based on well-founded extrapolation of what may or may not happen in the foreseeable future. Rightly or wrongly, security issues have been raised by the US against Huawei and one of the leading company's executives has been under the US radar for well over a year. The security concerns about China's telecom company's involvement with Africa deserve some closer examination. This initiative ought to be led and directed by the African Union (AU). It is such a serious thing as it has been reported that even the ICT facilities installed at the AU headquarters office in Addis Ababa, Ethiopia, have been prone to the Chinese interference.
An investigation, published by Le Monde, the French newspaper, revealed that the AU headquarters office was sometimes bugged by China, which carried out cyber espionage for five years up to January 2018 when the hack was detected. The same China, which funded the $200 million construction of the AU building and also paid and built the computer network at the AU, reportedly spied on the AU, by allegedly inserting a backdoor, facilitating the transfer of data. The organisation upon which China did this espionage is very central to Africa's political and economic life. African countries depending on Chinese technology companies for such sensitive roles in developing their telecoms backbones need to re-evaluate their strategies.
As the world waits for the January 20, 2021 inauguration of a new administration in the US, it seems reasonable to assert that the world may still have to deal with the Chinese telecom companies the same way and Africa will do well to bear this in mind in major bilateral and multilateral dealings. The prospects of Donald Trump's re-election are good reasons why Africa must stay the right course, which must be interpreted in the context of how Africa could benefit from leading suppliers of ICT equipment. Fixation on global media's claims to Joe Biden's victory could lead to wrong strategic bilateral diplomacy with the US and could put Africa in a dilemma. It therefore seems probable that the US under a second coming of Donald Trump will maintain a tough stance on China's ICT industry and on countries dealing with China. Africa, clearly, does not want to bark the wrong tree in this case.
The vulnerability of the global economic system to ICT glitches could mean so much for Africa's military and defence system, countries' central banks, climate stewardship and trade. The success and extent of impacts of the newly created African Continental Free Trade Agreement (AfCFTA) will depend much on this ICT muscle flexing. This will play out in the sense of country of origin of ICT equipment and infrastructure installed in Africa. With Trump's presidency, this may affect Africa's trade and trading partners, particularly if the continent is found to have gone the way of China's ICT equipment. It may affect Africa's openings to the US economy, directly or through proxies. Africa thus needs to think and act realistically and avoid shocks that may emanate from the US sequel to the protracted tussle for the top position of the president.
In the race towards ICT development, Africa cannot avoid taking sides. This is very important. But it has to strike a delicate balance that will ultimately be favourable and rewarding. It has to weigh between risks and rewards. Africa therefore has to view Chinese seeming benevolence with some degree of scepticism and vigilance. In retrospect, Africa gave so much away during the 2018 Beijing Summit of the Forum on China Africa Cooperation (FOCAC), regarded as Beijing's most important home diplomatic event that year. Only Swaziland was absent out of 54 African countries, because it still maintains diplomatic relations with Taiwan. Rather than joining the bandwagon of complainers, sceptics, truthers and sloganeers, Africa must be smart in hedging its bets in this critical sector, using it to secure a pride of place and boosting the economy of the continent. With telecoms, Africa can gain much more wealth and development than it has lost, if properly deployed. The time to get Africa properly on board of global ICT revolution is now.