Oyeleye
Africa's epidemic of leader induced democracy crisis (3)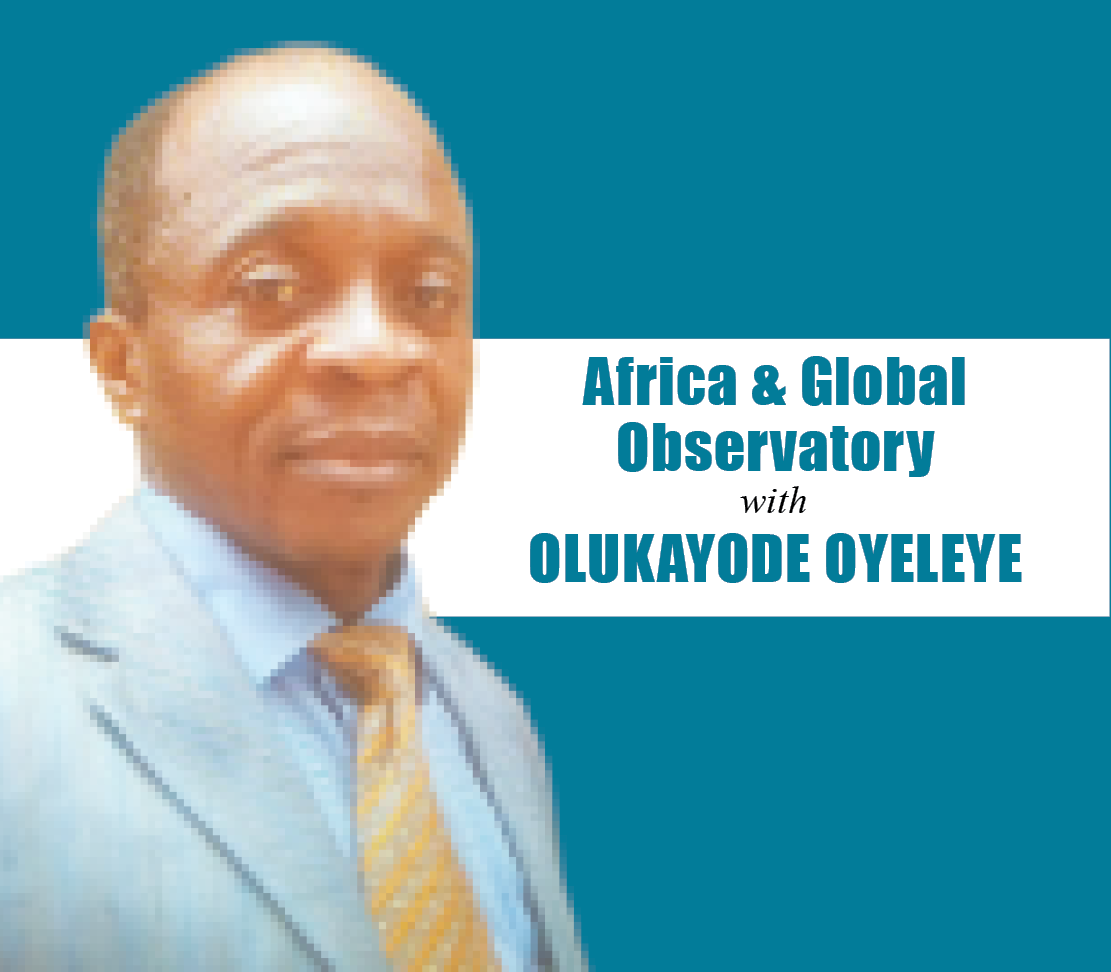 Dr. Olukayode Oyeleye, Business a.m.'s Editorial Advisor, who graduated in veterinary medicine from the University of Ibadan, Nigeria, before establishing himself in science and public policy journalism and communication, also has a postgraduate diploma in public administration, and is a former special adviser to two former Nigerian ministers of agriculture. He specialises in development and policy issues in the areas of food, trade and competition, security, governance, environment and innovation, politics and emerging economies.
June 26, 2023315 views0 comments
FOURTEEN MINUTES OF unbroken and uninterrupted comments by Cyril Ramaphosa, president of South Africa, made a mesmerising moment at the SUMMIT FOR A NEW GLOBAL FINANCING PACT in Paris last week. Kenya's William Ruto was no less engaging while having a chat with the French President, Emmanuel Macron. The two stood out as African representatives in a forum that brought leaders together to discuss a critical issue of financing. Clearly, Ramaphosa and Ruto spoke like individuals with clear understanding of the issues at stake. They both presented Africa's reality and spoke for Africa in their comments. Commendable as their comments were, they are just few out of over 50 national leaders who had the privilege of attending such a conference. It is hoped that they are able to translate those words into action back home in their respective countries. If they really meant every word they uttered in defence of Africa at the summit, their immediate predicament in translating those words into action lies in the ways their respective governments work.
Ramaphosa, for example, took over power from Jacob Zuma, a patently corrupt president. During his nine years of Zuma' tempestuous presidency – from May 2009 to February 2018 – South Africa was politically adrift and experienced economic doldrums as the country's hard-won democracy was being used as a platform for kleptocracy under Zuma's watch. South Africa got hoodwinked by what has turned out to be a sleazy character veneered by charisma. The same country governed by Nelson Mandela and Thabo Mbeki, which became Africa's leading tourism and investment destination at the immediate post-apartheid years, became characterised by many negatives. It became Africa's headquarters of violent crimes and murders, a leading country with HIV-AIDS patients and a country with one of the highest unemployment rates within the continent.  A country that attracted visitors from various parts of Africa soon fell into the valley of xenophobia, reportedly tacitly endorsed by Zuma. Meanwhile, despite Zuma's initial popularity and influence within the ruling African National Congress (ANC), the party had to reluctantly ease him out of office as president when it became increasingly clear that his embarrassing conduct was costing the ANC dearly and could make the party lose power and relevance in the future.
It might be argued that the social, political or economic problems in South Africa were not entirely caused by Jacob Zuma, or that he was struggling with inherited crises. To some extent, that has some merits from a historical standpoint. But what could not be validly defended was the case of a country that was glorious immediately after the end of the apartheid regime but gradually slipped down the slope under a president that was highly influential in his political party (which was in power), but who chose to wield such power negatively. Figures speak. South Africa's economy slowed down. A leading economy in Africa in terms of national Gross Domestic Product (GDP), it fell into second place, behind Nigeria. Presently, it has been overtaken by Egypt that is now the second place after Nigeria. Although Ramaphosa has been muddling through since he took over from Zuma and has been deemed better than his ignominious predecessor, Ramaphosa himself has been battling with image crisis. That came to a head in 2022. The Phala Phala "farmgate" scandal hanging over Ramaphosa's personality called to question his initial promise to deal with corruption that was becoming pervasive in South Africa when he became president. Accusation of corruption, money laundering and covering up a large theft of hidden $4 million in foreign cash from his game farm followed him last year like a shadow that almost ruined his chances of becoming his party's nominee for the 2024 presidential election.  His victory over his rival at the ANC conference last December and his re-election for a second five-year term as the party's leader cleared the way for him to lead the party into the 2024 general elections.
While the consolation for South Africa is that leaders come and go with elections, the ruling ANC is having many internal contradictions to deal with, having been in power for three decades, since May 1994. The past 10 out of the 29 years of continuous domination of South Africa's politics have been tumultuous for the ANC as the party has been accused of poor governance, corruption and factionalism. Its nationwide appeal has waned significantly as it is now losing voter support in some of its strongholds. How Ramaphosa's continued stay at the helms of the party's and the nation's affairs will change things in favour of ANC is still a matter of conjecture as some opposition party figures seem to be getting popular, waxing stronger and seemingly more determined to change what has been a semblance of one-party rule since the end of apartheid regime and the beginning of black majority rule. Irrespective of Ramaphosa's shortcomings, his performance in office as a democratically elected leader will determine whether or not he is using the platform of democracy for the people's benefit. And if the institutions in South Africa remain resilient and robust enough to curb politicians' excesses and hold them accountable, the country might remain a shiny example of democracy's success story in Africa.  Ramaphosa's vocal and adroit engagement with the global community on Africa's position and priorities will further enhance his stature as a democratic political figure after his exit from power.
By contrast, Ramaphosa will be different from some other pro-Africa vocal political leaders who are anti-democracy. Hardly will the likes of Paul Kagame of Rwanda or Yoweri Museveni of Uganda be able to match Ramaphosa in popularity or in leading by example. For instance, Paul Kagame, who has made many Afro-centric comments in popular forums, has been in power for 23 years, led a constitutional amendment that ended a two-term limit for presidents, thus allowing him to contest again and again. In 2017, he was re-elected for a third term in an election – described as a sham – in which he reportedly won 99 percent of the vote. His own brand of democracy, expected to keep him in office till 2034. The claim that Kagame was responsible for Rwanda's stability and economic development after the 1994 genocide flies in the face of accusations of his authoritarian and draconian rule as well as his intolerance for criticisms. The unjustified abduction, mock trial and incarceration of Paul Rusesabagina, a Rwandan human rights activist that was released recently in March was a celebrated case of Kagame's high handedness that brought him on a diplomatic collision path with the West, especially the US.
Yoweri Museveni, who seized power through a guerrilla war in January 1986, is not yet ready to let go of the reins of power after 36 years of autocratic rule. He has fought ferociously against opposition challenges in his own style of democratic contests. In 2021, he was declared winner of the election in which he reportedly won 59 percent of the vote, effectively giving him the sixth term in office. His embattled rival – a pop star and politician – popularly called Bobi Wine, was said to have trailed behind with 35 percent of the vote in an election that was reportedly rigged. Wine has been arrested for no fewer than three times since he launched his campaign to unseat Museveni in elections. Yet, Museveni is one of the vocal voices in Africa kicking against the pressure of the West – especially the US – to impose the legalisation of the LGBTQ rights on Africa in general and Uganda in particular. The styles of leadership of these dictatorial leaders stand in contrast with their moral proclamations. Their refusal to walk the talk is a contradiction, especially as their refusal to allow others to have access to power as elected candidates to the office of the president detracts from their public acclaim on Africa's behalf.
Nigeria made another history in 1993 during the attempt to return to democratic rule. That was after an earlier military's successful voluntary surrendering of authority and transfer of power to Nigeria's civilian leadership in the 1979 democratic elections. The tactic for restoration of democracy under Ibrahim Badamasi Babangida was one in which, after series of manoeuvres and manipulations for eight years, he led a democratic election in which the results were nullified after it has been adjudged freest and fairest ever in the democratic history of Africa. It became apparent that the outcome was not pleasing to some vested interests that were mostly regional and ethnic. The cancellation of the results led to the rise of a brutal military dictator who aspired to transform into a civilian president, ostensibly to rule as a democratic leader. To the relief of the countrymen, his rule was abruptly terminated by a sudden death under controversial circumstances, paving way for a military successor that started off another process of democratic rule which began in 1999 after he retired as a military general and handed over power to a democratically elected president in an election that was widely criticised as flawed and fraud-ridden. The earlier cases of deceptions and dribbling by Babangida on the promise to return power to democratically elected leaders discouraged many serious-minded individuals from getting involved in the new election that ushered in another democratic government in 1999. This cleared the coast for many political actors of questionable backgrounds who rose to prominence and influence on the Nigerian political turf and grossly mismanaged the official resources at the national and sub-national levels – a practice that has become institutionalised, casting aspersions on the democracy currently practised in Nigeria.
Since 1999, there have been transitions from one democratic government to another in spite of all the reported cases of electoral frauds, the latest being the 2023 general elections which is still being contested in the courts as the declared winner was said to have placed third in the real votes and the electoral umpire was accused of manipulating the electronic system of result collation to favour the declared winner who has been sworn in as president.  The outcome of the courts is expected to either vindicate the declared winner or to substantiate the accusations of conspiracy to bypass the fraud-proof electronic system for the transmission of result in favour of one who actually lost the election. This adds to the multidimensional challenges of democracy in Africa as it raises more doubts on the desirability and efficacy of democracy as a mode of governance.