Finance
Analysts predict further increase in inflation in September
September 18, 2018686 views0 comments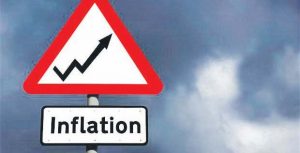 Analysts at United Capital have predicted a further increase in inflation to 11.6 percent come September. This comes on the back of the August inflation figures released by the National Bureau of Statistics' (NBS) last Friday, which showed Nigeria's headline inflation increased to 11.23 percent year-on-year from 11.14 recorded in prior month.
According to the analysts, headline inflation will increase as high base-effects from 2017 have started to wear off.
"Looking ahead, we expect headline inflation to rise further as high base-effects from the prior year seems to have finally fizzled out. Also, we expect m/m inflation rate to remain above 1.0 percent in September amid expected pressure on food prices," they said.
Adding that "Overall, barring any major deterioration in the security situation in food-producing northern areas of the country, we expect moderate pressure on food inflation. However, rising rates in the developed market and political uncertainties are likely to pressure FX going forward amid increased election spending. As such, we expect headline inflation to sustain the recent uptrend, rising to 11.6 percent in Sept-18."
Headline inflation printed 11.23 percent year-on-year in August, up by 0.09 percent from 11.14 percent year-on-year reported in July, representing the first year-on-year increase following the eighteenth consecutive declines that started in January 2017.
On a month-on-month basis, the headline index moderated to 1.05 percent compared to 1.13 percent in the previous month, thereby extending its decline from the prior month.
Food inflation rose by 13.16 percent year-on-year in the period under review, higher than the 12.85 percent year-on-year recorded in July. Instructively, the highest increase was recorded in the prices of bread and cereal, potatoes, yam and other tubers, meat, vegetables, fish, fruits and oil and fat. On month-on-month basis, food inflation ticked faster at 1.42 percent, compared to the 1.40 percent recorded in the previous month.
Core inflation was 10.02 percent year-on-year during the review period, compared to 10.18 percent in July. The highest increases were reported in the prices of domestic services and household services, dental services, hospital services, medical services, repair of household appliances, tobacco, wine and repair of furniture. On a month-on-month basis, the core index increased at a slower pace of 0.78 percent, 3 basis points below the 0.81 percent reported in July.