Oyeleye
Cyclone Idai, humanitarian emergency and Africa's resilience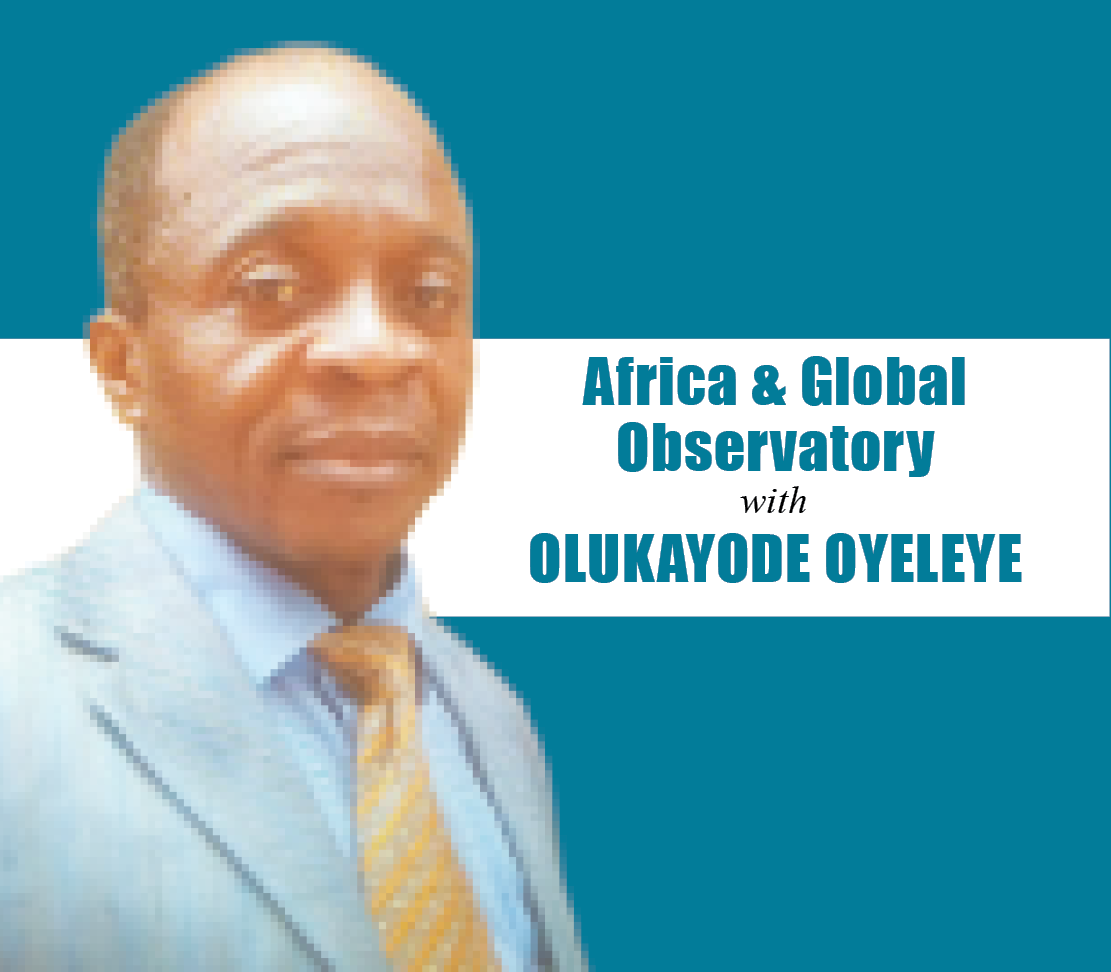 Dr. Olukayode Oyeleye, Business a.m.'s Editorial Advisor, who graduated in veterinary medicine from the University of Ibadan, Nigeria, before establishing himself in science and public policy journalism and communication, also has a postgraduate diploma in public administration, and is a former special adviser to two former Nigerian ministers of agriculture. He specialises in development and policy issues in the areas of food, trade and competition, security, governance, environment and innovation, politics and emerging economies.
March 25, 2019988 views0 comments
Over the past two weeks, a tropical storm, codenamed Cyclone Idai, tore through the south-eastern coast of Africa, leaving death, devastation, destruction, mystery and anxiety in its trail across three contiguous countries of Mozambique, Malawi and Zimbabwe. A strong storm, in the form of an intense tropical cyclone, Idai has been regarded as one of the worst tropical cyclones on record to affect Africa and the Southern Hemisphere as a whole. The ranking of tropical cyclones, unofficially, is based on intensity scales, maximum sustained winds and the tropical cyclone basin(s) they are located in.
Idai, a high impact disaster, originating from a tropical depression that formed off the eastern coast of Mozambique, made landfall and remained a tropical cyclone throughout its march over land, undergoing rapid intensification, and, within a week,  reaching a maximum sustained winds of 195 km/h (120 mph), gusts of up to 280 km/h (175 mph) and a minimum central pressure of 940 hPa (27.76 inHg). For nearly two weeks, Idai inflicted untold havoc on the three proximal African countries in a way reminiscent of Ralph Waldo Emerson's saying, paraphrased thus: "…and after a roaring hurricane has spent its fury, the lull of calm sets in." The calm in this case came in the forms of fatalities, destructions and severe flooding, susceptibility to diseases and ruination of livelihoods of millions of the poor.
The experience trailing Idai has put Africa's resilience, emergency preparedness and emergency response to the test. Although a precise death toll and the true scale of the damage may not likely be known soon, more than 600 people have been declared dead and hundreds more still missing. The material and human costs nay take weeks or months to emanate, at least superficially, but the full extent may take much longer to estimate in multiple countries stressed by poverty, infrastructural inadequacy, public health challenges, drought, low level of development and dysfunctional economies, struggling to cope with normal routine daily lives.
In reality, a major humanitarian crisis has unfolded in the wake of the cyclone, with hundreds of thousands of people in urgent need of assistance. Thankfully, the international humanitarian organisations, not bogged down by structures, local politics and bureaucracies, have speedily moved in to fill the void, rescuing, providing food, medication and hygiene products. The elastic limits to their supports will be defined by resources, particularly those that have simultaneous commitment to humanitarian supports elsewhere. Humanitarian service providers, notwithstanding their good intention, are also aware of local geo-politics constraints and the need to stay within safe limits and avoid misinterpretation of far-reaching interventions.
Affected countries therefore need to put in place, first, their own plans, programmes and activities, which may be broadly similar based on common chain of challenges. The inability of many families in the rural areas to communicate or get information about their relatives when phones and internet access are down due to lack of electricity or when the main roads connecting communities are washed away or when access is blocked in some cases by flooding in others, with the poorest seeming to be hardest hit.
External assistance is of utmost and urgent importance at this time by nations of the world, particularly the developed countries. Moreover, African countries, in solidarity, need to urgently act, as individual nations, regional bodies and at the continental level. Robust regional cooperation is needed as Cyclone Idai is not just the problem of Malawi, Mozambique and Zimbabwe. The quality, speed and quantum of help that comes will give an idea of every nation's foreign policy, commitment to humanitarian causes, levels of regional engagement and how Africa can draw strength from within.
Multilateral development finance institutions operating within the continent are expected to help too, at this time. The African Union and the eight regional economic communities of Arab Maghreb Union (UMA), Common Market for Eastern and Southern Africa (COMESA), Community of Sahel–Saharan States (CEN–SAD), East African Community (EAC), Economic Community of Central African States (ECCAS), Economic Community of West African States (ECOWAS), Intergovernmental Authority on Development (IGAD) and the Southern African Development Community (SADC) are expected to be having emergency meetings now. No less important least among those expected first responders is the African Development Bank, just as we expect the World Bank and other relevant institutions to step forward.
Short term, medium term and long term impacts of the storm are expected on all the three countries affected, to varying degrees and requiring appropriately phased responses. But, lack of capacity and expertise, absence of emergency preparedness and response, weak public institutions, and governments' ineffectiveness have defined the immediate responses of the three countries as a report from one of the big towns affected has indicated, buttressing  feedback that the three countries may not do an impressive job of post-flooding.
Lamentations from public officials aside, the relief so far mentioned in the news has been from humanitarian service providers, not by the nations' governments.  In Zimbabwe's south-eastern town of Chimanimani, people running out of food as rain continued to fall got no help, according to local residents. One survivor reportedly lamented that the government officials who "came in their big cars" did nothing to help but only promised assistance, which was not forthcoming. The President of Mozambique was quoted as saying that more than 1,000 people may have died in the storm. More than rhetoric and government pronouncements are required.
A rapid assessment is therefore necessary to inform the types, timing and priorities of responses. In the immediate, the search and rescue missions will have to be active for as long as deemed appropriate for each area while flood recovery plan should be put in place for cases of fatalities, destructions and devastations. The cross-border nature of the devastation will pose its own peculiar hurdles as the speed, scope and duration of responses will vary depending on local bureaucracies and national governments' resources and commitment as well as geopolitical barriers posed by borders in a crisis that transcended national borders.
Infrastructural collapse and physical destructions will take a toll and the effects of some of these may take a long time to mitigate. For instance, Jamie LeSueur, an official of the Red Cross was quoted by one news media as making reference to a large dam that has burst and cut off a major road access.  This may not be the only dam that will be affected. Such damaged dams would remain an environmental threat for a long time after the storm. The need for shelter is very urgent as thousands of people have been displaced and rendered homeless. Many of these have lost all material resources and are unable to help themselves towards raising any new shelter in the foreseeable future. They will first have to grapple with other more affordable essentials of life.
The structural weaknesses of most houses offered no refuge for people while the storm lasted. A concerned man, Mark Ellul, reportedly wrote from Johannesburg, pointing out reports of "casualties and fatalities" among those "who were all in poorly built accommodation" and those who "had to endure this horrific storm with very little shelter." This brings the need to improve on shelter quality, a project that would take years and require a lot of public funds, although possible to fund through innovative financing, creating business opportunities for real estate practitioners.  But many African countries have not been known to be involved in distinctive public housing schemes that combine class with quality.
The cyclone Idai will have far-reaching consequences beyond the flooding. Food crisis or a long-term threat of starvation looms as farmers in the region who were about to harvest their maize crops have had many of their fields inundated. The logical consequence, therefore, will be widespread hunger in the year ahead, and possibly beyond if government support is not forthcoming by way of social insurance, subsidies or outright free input support. In Zimbabwe, Paolo Cernuschi, Zimbabwe Country Director at the International Rescue Committee, was reported to have said that drought in parts of Zimbabwe had already written off an estimated 75 per cent of crops in the areas affected by the cyclone. "Whatever crops that were being grown despite the drought have now been destroyed in the floods," he was quoted as saying.
From indications, the floods are not going away immediately. The victims will thus be predisposed to health risks, prominent among which is cholera, the outbreak of which will exponentially increase fatalities. Hygienic water could be in short supply, fuelling cholera epidemic as people have difficulty in finding safe water. School children will inevitably have disruption in their schooling to avoid a situation that fuels or exacerbates the spread of water-borne infections.  There will be urgent need for medical supplies in the immediate and short term which, along medical services, will be stretched to the limits.
Electricity supplies will remain disrupted for a while, affecting communication, healthcare for the vulnerable, storage of essential vaccines and foods that require cold chains. Transportation will suffer a period of setback as many roads will need repair or reconstructions before access could be guaranteed. There will be an upsurge in the need for social protection in these countries that have largely informal economies and in which statistics of vital aspects of the economies are mostly unreliable, unavailable and inadequate for informed planning and policy interventions.
The reality of climate change was brought to the fore in the recent disaster, making storms like Idai more severe, according to experts. A glimpse of the impact of climate change on agriculture and security could be gleaned from Cyclone Idai. Maputo, a city in Mozambique, is reminiscent of the popular declaration in 2003, by heads of government, urging all African states to earmark 10 per cent of their annual budget to agriculture. Incidentally, Mozambique, to which Maputo belongs, is not one of the few countries that have been faithful to that declaration, sixteen years on. Whether that would change after Idai remains to be known. Beyond emergency responses, countries affected by Idai are expected to have long-term recovery strategies in place. Other African countries should learn from Idai and be prepared as climate change is altering the weather configurations and there is nothing to suggest that the disasters of this sort will not be getting worse or becoming more widespread.
While humanitarian organisations and philanthropists are raising help, this is a good window of opportunities for the super-rich Africans, especially those given to philanthropy, to rise up and stand by the helpless. This is a time that Africans must rise up to support fellow Africans in need.