Oyeleye
From Rwanda with positive lessons for Africa (3)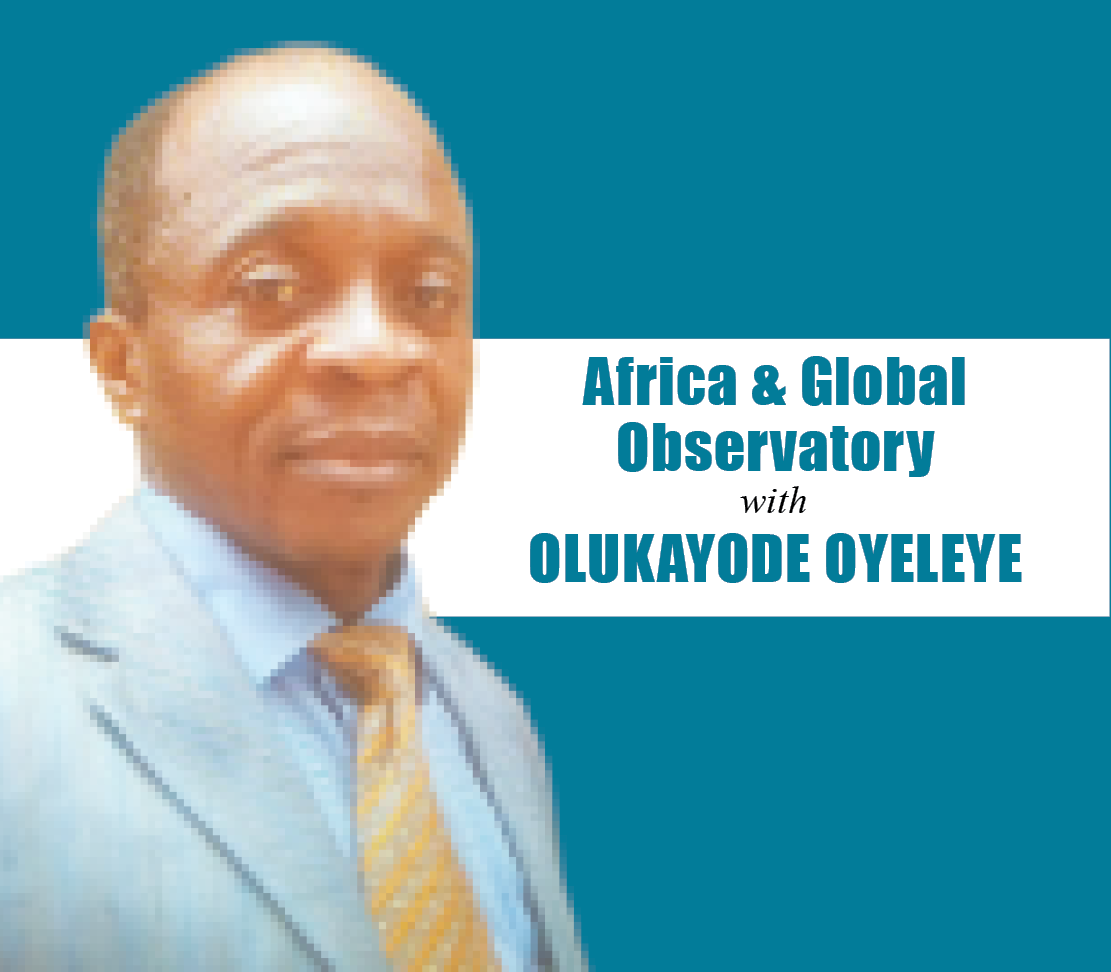 Dr. Oyeleye, a consultant, journalist and policy analyst, can be reached via:
oyeson2@yahoo.co.uk
Twitter: @OlukayodeOyele1
November 25, 2019918 views0 comments
FOR AFRICA TO EXPERIENCE real positive change and to make desirable progress, much needs to be learnt from Rwanda, and more from elsewhere. These lessons, and how they are learnt and utilised, will determine – to a very great extent – the kind of progress and the extent of it. But much depends on the leadership in each country, the desired political system and the economy being spawned by the political leaders.
For the post-war Rwanda, the role of the head of government in moving the somewhat fragile nation in the direction of growth, expansion, resilience and continental leadership cannot be ignored. This is a reminder of the laudable role of Lee Kuan Yew, the charismatic and focused leader who moved Singapore from a third world nation to a first world nation.
But there are questions about means to an end. In today's world, a lot is being expected by people in the form of participatory government – in what is currently described and understood as democracy. No doubt, there are questions as to whether or not democracy is compatible with African political and cultural setting, especially considering the enduring aversion of most African national leaders for democratic system of government.
Could the explanations for Africa's aversion fit in to the explanation of Dr. Bashar Al Assad of Syria, a dentist-turned-President, who said plainly that democracy was not compatible with the Syrian system of government? Assad's objection to the Syrians' popular demand for democracy was at the root of the enduring war that has nearly paralysed the country after many years. He remains in power, presiding over a country torn into shreds by conventional war of government against the perceived rebels and unconventional war of the Islamic State (ISIL).
There are things to worry about concerning African political leaders, heads of national governments and the systems of government they operate. These go a long way in shaping the lives of their people, their national economies and social stability. Some people rode to power on popular acclaim, promising one form of reforms or the other. But, with time, they soon forgot the very promise that endeared them to the populace and began to pursue self-serving projects and programmes to perpetuate self in office.
Perhaps it is too early to applaud Rwanda's Paul Kagame; perhaps not. And if democracy and respect for national constitution are anything to go by, then history might have begun to judge him harshly in spite of the remarkable and progressive programmes he has unleashed upon his country. Democracy and good governance do not require staying in office in perpetuity. They give room for others to try. Agreed that democratic experiments can be very costly in many ways, they seem to have some advantages. On the flip side, democratic government could be very expensive depending on what system of government is chosen. The implementation of presidential system of government as practised in Nigeria presently puts the nation in a quandary as the cost of governance and the time taken for governance don't seem to bring commensurate dividends to the populace.
How refreshing it would have been if the contemporary self-acclaimed political saviours have lived up to their promises!! Africa, today, would have become an economic haven and a land of prosperity. The case of Omar al Bashir of Sudan is still fresh and on-going. Al Bashir swept his way to power and has ruled for nearly years after staging a coup in June 1989. He came with the posture of a reformer, but soon abandoned the path of honour and became a sit-tight leader until he was deposed in 2019.
Ibrahim Babangida, an army general, led a coup to remove his predecessor in office, promising to turn the tide in Nigeria. He did, but in a negative way. A general election that was expected to usher in a democratically elected president ended up as a fiasco and a failure. He had to be pressured to leave office after eight years of iron-hand rule as a military president without a legacy of political reforms. He installed an unelected private businessman as a successor in office as a stop-gap for another military leader to take over.
Yoweri Museveni led a laudable cause while coming into power in Uganda. Rising from the trenches, Museveni has been in power since he took office in January 1986 after winning the war that overthrew the brutal dictator Idi Amin Dada. He secured a fifth term in February 2016 in what looked like an election. Robert Gabriel Mugabe who died some months ago was only recently pushed out of office after serving as president for well over 30 years. He came into the office as a charismatic leader who indeed made some positive and laudable marks earlier on, but later deviated and became a totalitarian leader who led Zimbabwe on the path of retrogression, socially and economically.
Paul Biya, now 86, who is serving a seventh consecutive term in office, is easily the second longest-serving leader in Africa, clocking 37 years in office earlier this November, having been ruling since 1982. His years in office are surpassed by only Teodoro Obiang Nguema Mbasogo of Equatorial Guinea, who leads by three years and is now the longest serving at 40 years in office. Formerly a Lieutenant General,, Mbasogo seized control in a 1979 August military coup, transmuted into a civilian leader, and was elected to a fifth seven-year term after winning another re-election in 2016, and has been described by rights groups as one of the continent's most brutal and corrupt dictators.
Denis Sassou Nguesso has spent 34 years in office as Congo-Brazzaville President, albeit not at a single stretch, beginning with the first stint of 1979 to 1992, returning in 1997 and still counting, after getting re-elected in March 2016, with chances to run again when his current term expires. Former Swaziland, a southern Africa's tiny country now known as eSwatini, is not left out as King Mswati III, Africa's last absolute monarch, has remained in power for 33 years since he took the throne in April 1986. Chad's Idriss Deby took over since 1990, remaining in power 29 years after winning a disputed fifth term in April 2016. Things are not different in Eritrea as Isaias Afwerki has been in charge as leader since independence in April 1993, making 25 years.
It could as well be asked whether the trouble with African countries is the system of government each country applies, or with the people in power irrespective of the system of government. Observers have the opportunities to decide whether they are more interested in strong governments and institutions or in strong political leaders. While the former helps a nation to be strong, cohesive and resilient, the latter leads to weak nations and are prone to breeding chaos, crisis and confusion as they often result in power vacuum when the strong leader leaves the stage, especially as a result of death.
Liberia was thrown into years of civil war after the sudden death of President William Richard Tolbert in 1980. Muammar Gadaffi, totalitarian ruler, left a stateless Libya, after succumbing to the wrath of Arab Spring. Till today, Libya is yet to experience peace. The death of Siad Barre marked the beginning of descent of Somalia into chaos from which it is yet to recover since 1991. Cote d'Ivoire had its own share of the bad experience after the exit of a long-serving Houphet Boigny as the country was in war for many years thereafter. Sierra Leone wasn't an exception, either. Without clear and people-oriented succession plans while in office, many African leaders in government have unwittingly sown whirlwind which have either consumed, are consuming or will consume their countries.
We have a cause to worry, therefore, about Rwanda's future despite all the good tidings coming from there now. In much the same way as it applies to all other national leaders in power, who don't selflessly define limits to their stay in office, Kagame may inadvertently imperil Rwanda in the future, except he acts early to allow others participate in determining who rules the country. Here are some unsettling figures about Africa: the average age of sitting African presidents is 65 years. The average number of years the sitting African presidents have held office is 10.29 years. Kagame may not yet have attained 65 years of age, but he has held office for over ten years. He has been in office since year 2000.
Although Kagame secured re-election in 2017 for the third term, he has been accused of running an authoritarian, one-party state. Some have dismissed the polls as a sham. This could begin to detract from the achievements hitherto ascribed to him, namely: bringing stability and growth. so many African presidents are ditching term limits. And Kagame has joined the list. The constitutional amendment recently made, ended a two-term limit for presidents and theoretically permits Kagame to remain in power until 2034. That alone signals a path to dictatorship. How sustainable that will be is anybody's guess.
We have seen contemporary and current examples of leaders who put democracy in jeopardy within their countries of jurisdiction, in the south, east, north, west and central Africa. Here's a current example from the west. Despite the concerns being voiced out by observers about the state of Guinea's young democracy, President Alpha Condé who was elected in 2010 in the country's first free and fair election in nearly 50 years is working hard to upturn the democracy. Guinea's Constitution stipulates that he must leave office this year after his second term expires. But that seems far from happening as has flown a kite, asking for a referendum about scrapping president's term limit. This runs contrary to the thinking of the Guineans who don't seem to like that idea, but rather prefer democracy. According to the Voice of America, Guineans "don't want single-party rule. They don't want one man rule." A 2018 poll by Afrobarometer has shown that 82 per cent of Guineans support a two-term limit and more than 70 per cent prefer democracy to single-party rule.
If African leaders really listen to the voice of reason from the people, it is therefore wiser to learn from what the Afrobarometer poll said of Guinea, which is applicable to everywhere else in Africa. Prosperity that is conditioned on narrow leadership base may be short-lived, unsustainable and not be in the interest of the majority. Kagame should ride on the tide of positive and popular acclaim and retrace his steps from the path of self-perpetuation in office. For Rwanda, and indeed the whole of Africa, will move forward with or without particular individuals in power if the field of play is open and the rules for gaining access to political power are honestly and transparently applied. Participatory government will do more good to Africa than the generational cloning of sit-tight leaders. Democracy and fairness will open up Africa to the world more than authoritarianism. Let Africa's leadership playing field be open and level. The great future beckons.