Commodities
Grain prices firm as market, defies undermine rain, export prospects
October 4, 20181.1K views0 comments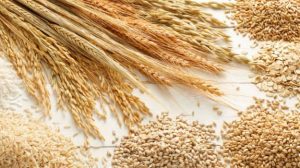 Corn and soybean futures were on Thursday firm in Chicago as the prospect of rain threatened to disrupt harvesting of what was forecast to be bumper U.S. crops.
Although the market is still surrounded by projections of high harvest yields and technical resistance on price charts after multi-week highs for the grains, the trend was cautious.
Grain markets were also looking forward to weekly U.S. export data for an update on overseas demand amid a continuing trade dispute that has affected U.S. soybean sales to China, the world's top importer of the oilseed.
Wheat also inched up on the heels of uncertainty over Russia's export supplies and a poor crop outlook in Australia despite the return of rain to some drought-hit regions.
However, the most-active corn contract on the Chicago Board of Trade gained 0.3 percent to $3.65, while soybeans rose 0.1 percent to $8.62 a bushel.
CBOT wheat was up 0.6 percent at $5.18-1/4 a bushel.
According to analysts who spoke on the matter in a monitored report, the situation is not expected to leave a threatening impact but that upward review of yield expectations by the USDA's could be hurtful that even minor delays can unsettle investors."
The U.S. Department of Agriculture increased its forecasts for 2018 corn and soybean yields in its September crop report, reinforcing supply pressure on prices.
Grain markets were also assessing export prospects after recent price lows spurred some fresh demand.
The wheat market has been supported by a threat from Russia's agriculture safety watchdog to suspend loading at some locations, though the agency later played down the threat.
A tender being held on Thursday by top wheat importer Egypt could give a steer on availability of Russian supplies.