Oyeleye
Latent, potent forces against Africa's prosperity in continental free trade:(1)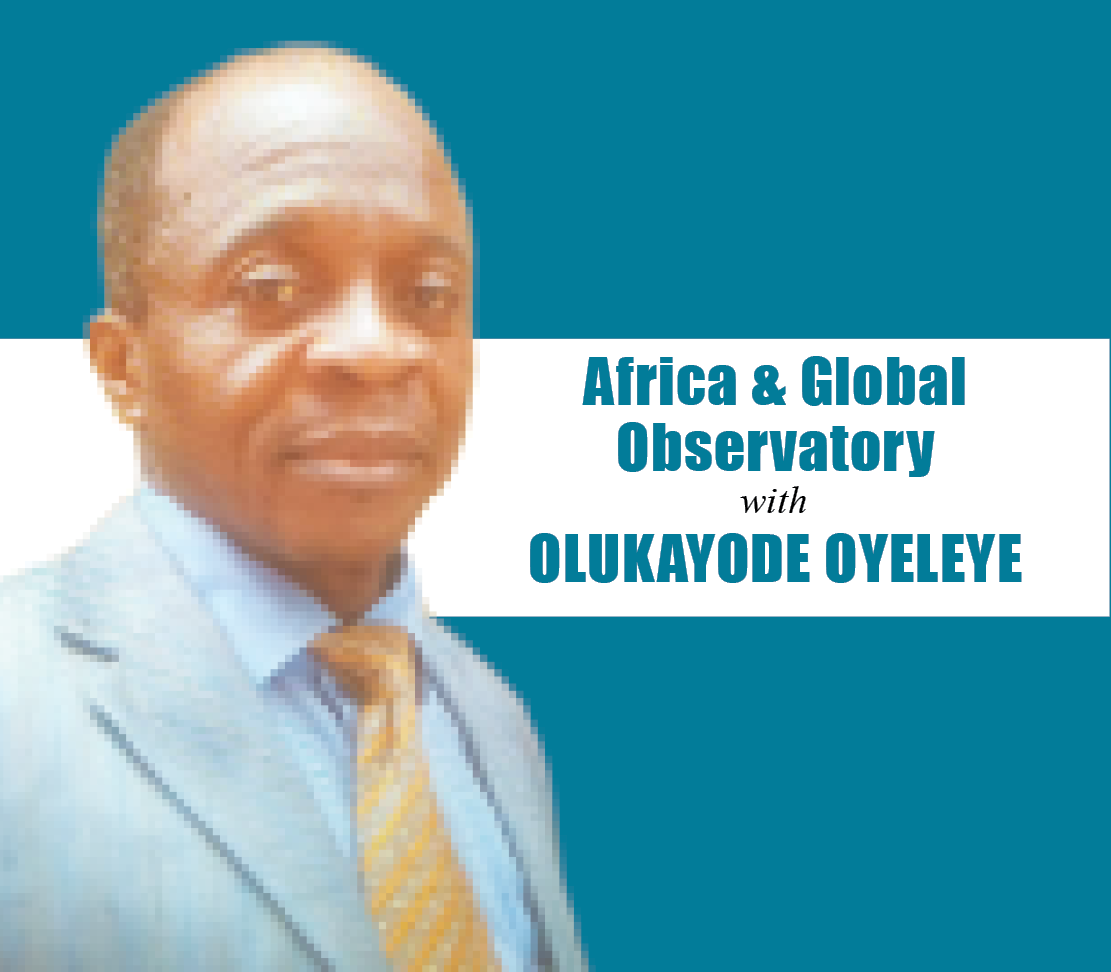 Dr. Oyeleye, a consultant, journalist and policy analyst, can be reached via:
oyeson2@yahoo.co.uk
Twitter: @OlukayodeOyele1
August 24, 2020995 views0 comments
MONDAY, LAST WEEK, was the day of official handing over and commissioning of the secretariat building of the Africa Trade House in Accra, Ghana. The ceremony, attended remotely by many participants from outside Ghana – all over Africa – through online medium, marked the beginning of the African Continental Free Trade Agreement (AfCFTA) operationally from its permanent operational base. The Coronavirus pandemic-induced lockdowns had delayed the movement of headquarters to Accra and the commencement of operations, earlier billed for July 1, about a year after the July 7, 2019 AU extraordinary meeting in Niamey, where AfCFTA was deemed to have been formally launched. Now that this ambitious project has been established, a lot has to be done to steer Africa away from economic isolationism and boost Africa's economy while also minimising the downsides of economic development.
Bold and forward-looking as AfCFTA may seem, there will be gainers and losers, enthusiasms and reservations, applause and discontent, good times and bad. It will do a whole lot of good to avoid sweeping any potential landmines under the grass.  Commencing a regional trade bloc of the size of AfCFTA when small sub-regional blocs have not proven any exceptional or outstanding success should be a reason to be wary. This is more so when there are obvious social, economic, administrative, environmental, legal and other existential hurdles that could pose real threat to its take-off and continued existence. Protectionism could still hold back progress as many regional economic blocs were retarded by the preference of countries for tariffs as major sources of revenues. Some countries may thus prefer tariffs to free trade to shore up their revenues.
Or, take currency convertibility. This, defined – according to the International Monetary Fund (IMF), as the right to convert freely and without limit a currency into any other at the prevailing exchange rate – is the lynchpin of today's globalised world economy. It remains a problem in almost all of Africa's regional economic blocs. Within and between all the regional economic blocs in Africa, a huge task lays ahead. The East African Community (EAC), for instance, still wavers while efforts by the region's central banks to ensure full convertibility of regional currencies, operate reciprocal accounts and reduce reliance on the US dollar are facing hurdles and member countries still reluctant to pay as well as receive payments in regional currencies, hoping for the transition to a monetary union.
While the 16-member Common Market for Eastern and Southern Africa (COMESA) could provide good insights and some remarkable achievements, other regional groupings of Southern African Development Community (SADC), Economic Community of West African States (ECOWAS) as well as the Middle East and North Africa (MENA) are not comparable. At the ECOWAS level, a discordant tune still sounds on the confusion of Eco currency. The Eco, originally planned by the ECOWAS bloc, and meant to cover the region, was brought in by the WAEMU countries through the backdoor in controversial circumstances. Of note yet was also the proposed Eco currency convertibility under the WAEMU.
An integrating Africa must work very hard to avoid reversals of steps. In particular, African countries need to overcome their vulnerabilities in bilateral trade arrangements with bigger countries. They are better off bargaining en bloc. Size matters in negotiating power. We are told that China is now Africa's biggest trading partner. But, imagine how strong the negotiating power of a tiny Benin Republic, or Gambia or Lesotho could be in bilateral trade negotiations with China. It is thus important to use a continent-wide trade platform to fend off external threats from more powerful external interests that could put African countries' competitiveness in global trade in jeopardy. On the flip side, however, sovereign interests may prevent even the weakest country from disclosing its strategic national interest on the continental platform during bilateral negotiations. For instance, many countries are focusing on responses to the rising security threats and flow of people. The recent turning of North African countries southwards to the Sub-Saharan Africa for partnership presents an opportunity for AfCFTA. Although this does not erase their trading partnership arrangements with Europe, the turning of attention to their own continent should step up their engagement with the Sub-Saharan Africa (SSA).
Lately, Egypt is showing concerns about the dam that Ethiopia is building on the Nile River. Some North African countries are desperately searching for new markets to position themselves for economic and demographic growth expected in SSA in years ahead, in particular as the growth of traditional European partners suffer a decline. North Africa is undergoing a regional reconfiguration. Hitherto known to be more of Middle East North Africa (MENA) bloc, things seem to be changing. The failure of regional integration in North Africa is driving a strong affinity for the SSA. North Africa is more vulnerable in relation to food security and depends enormously on food importation. But the region appears to be ahead of the SSA in technology, health and renewable energy. Libya, however, has been an exception as it has been partnering with SSA countries for a long while.
Morocco returned to the AU in 2017 after 33 years absence. Its strategic economic interest in a more vibrant SSA was evident. With foreign direct investment (FDI) totalling nine billion Euros by 2017, Morocco became a leading investor in West Africa and second only to South Africa as the largest African investor in Africa. In 2016, the Phosphate OCP conglomerate signed a huge deal with Nigeria in exchange for a gas pipeline from Nigeria, and also signed a deal for fertiliser production in Ethiopia. A shift in ideological to social and economic pragmatism, which were probably responsible for these deals, could help AfCFTA's take off and progress. However, ECOWAS's tardy and uninspiring response to Morocco's application to join the sub-regional bloc could be a warning sign that Morocco's imports could erode local manufactures within West Africa. Moreover, the fear that Morocco's free trade agreements with the European Union (EU) and the United States (US) may open a back door for goods from those countries into West Africa, thus engendering unfair competition, could be real.
Despite the consensus of opinions about regional trade groupings, experiences would still serve as a useful guide. The North American Free Trade Agreement (NAFTA), a treaty entered into by the US, Canada and Mexico, went into effect on January 1, 1994. In a publication, the Economic Policy Institute, a think tank, once observed that NAFTA's failure has cost the US jobs across the nation. Since the NAFTA was signed in 1993, the rise in the US trade deficit with Canada and Mexico through 2002 has caused the displacement of production that supported 879,280 US jobs. Most of those lost jobs were high-wage positions in manufacturing industries. The loss of these jobs is just the most visible tip of NAFTA's impact on the US economy. NAFTA has also reportedly contributed to rising income inequality, suppressed real wages for production workers, weakened workers' collective bargaining powers and ability to organise unions, and reduced fringe benefits. Could these be the motivation for President Donald J. Trump to replace NAFTA with the US-Mexico-Canada Agreement (USMCA), which won broad bipartisan support on Capitol Hill and entered into force on July 1, 2020?
Trade policies often have a different impact on economic agents due to the transmission mechanism through which they operate. Following the logic on NAFTA's liquidation – that NAFTA was benefitting Mexico more and hurting the US economy and social security – AfCFTA is expected to have the double edged strategy on Africa. The ECOWAS Trade Liberalisation Scheme (ETLS) and the Common External Tariff (CET) at the West African sub-regional level have been criticised for unequal impacts on all parties. Their implementation seems to be a nightmare for Nigeria, for instance. Concerns over abuse are real, and appears to be Nigeria's major reason for foot dragging in trans-border trade under existing protocols.  The CET is expected to create a uniform tariff system among member states, discouraging importers from diverting their cargo to neighbouring countries and, consequently, reducing smuggling in the region. But, Nigeria has repeatedly accused neighbours of the same infraction, given as excuse for closing the Benin-Nigeria border in 2018.
What obtains in one region may be shared experience in others. Africa's economy has relied heavily on commodities. ECOWAS exports, for instance, show little product diversity, with a heavy reliance on extractive products such as petroleum and natural gas, and a few agricultural commodities, particularly cocoa, rubber and cotton. Trade data when not disaggregated, tend to project nebulous picture. When disaggregated, however, it is easy to see that official ECOWAS food exports represent only 10 per cent of total exports, and almost 60 per cent of this 10 per cent is represented by cocoa. The import profile, however, is not encouraging as ECOWAS imports are more diversified, with a high share of industrialised products. Refined petroleum, vehicles, ships, telecommunications equipment and food products such rice and wheat dominate imports into the sub-region. The trade asymmetry puts ECOWAS at a disadvantage as the sub-region's main trading partners are highly industrialised countries and advanced economies in Europe, North America and Asia.
Trade figures differ considerably between West African countries. Over 73.5 per cent of total registered ECOWAS exports are attributed to Nigeria, mainly as petroleum exports and the size of earnings from such exports. On the import side, Nigeria still leads other ECOWAS countries with 52 per cent of general commodities and 51 per cent of food imports. Nigeria's role in the new AfCFTA will therefore be crucial. The other countries ranking after Nigeria in the sub-region – namely Ghana and Côte d'Ivoire – are dependent on food exports, especially cocoa and banana. Nigeria follows closely behind. It is important to be concerned about the impending negative food trade balance in West Africa, the signs of which have been showing for a while. The region's dependence on export earnings to finance a growing share of imported food products such as rice, wheat, processed food, fish, sugar, milk products, vegetable fats and oils, tobacco, meat and vegetables is worrisome. A situation arising therefrom is now that of a region with an exceptional potential for food production but importing more and more food items. The increasing purchasing power as a result of commodity booms, a fast growing population, a increasingly urbanising region and a growing middle class all seem to have created more demands for foods, which are not met by sufficient and adequate local food supply.
Excessive focus only on trade and its benefits without attention on these existential threats could bode ill for Africa in the not-too-distant future. Promoters of regional trade must therefore keep in mind that trade is not done in isolation. It goes with many social, economic and political consequences. Before we roll out the drums to celebrate AfCFTA, let these and other issues to be discussed later be factored in and necessary safeguards put in place right early, and monitored as progress is recorded. Only then can Africa be said to be truly ready for this idea of free trade.