Frontpage
Markets
"Nigeria, great place for business" says Airtel MD as stock debuts at N363 on NSE
Adesola Afolabi was a businessamlive reporter and Head of Financial desk.
July 9, 2019990 views0 comments
Segun Ogunsanya, the managing director of Airtel Nigeria, Tuesday, praised Nigeria, as a country that is great for business.
Ogunsanya was addressing the stockbroking and investment community during the secondary listing of its stocks on the Nigerian Stock Exchange (NSE).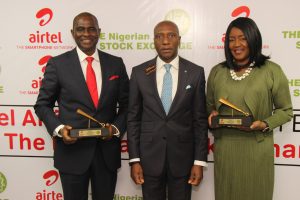 According to him, Airtel Africa is steadfast in its commitment to building a leadership position in Nigeria, hence the listing on the main board of the NSE.

"Investors have been interested to hear our story, and importantly they have been interested enough to invest in our business and are now ready to share the future with us," Ogunsanya said.
Asides the shares being listed on the NSE, they were also listed on the main market of the London Stock Exchange at 80 pence per ordinary share.
The listing will further deepen the Nigerian capital market. It will also increase the visibility  of Airtel Africa to investors on the continent and across the globe.
Commenting on the development, Raghunath Mandava, the chief executive officer of Airtel Africa, said:"Airtel Africa is delighted to be listed on the main board of the Exchange.
This is an exciting time for Airtel Africa in the 14 countries it operates in and an important milestone in our development as a leading provider of telecommunications and mobile money services in Africa."
Commenting on the listing, Oscar N. Onyema, chief executive officer, NSE, commended Airtel Africa Plc for taking the bold step to list on the Exchange.
"Listing on the Exchange reaffirms Airtel Africa's long-term commitment to expanding opportunities and providing everyday services to Africans and Nigerians in particular.
It also indicates Airtel Africa's belief that our platform, which has a total market capitalization of N25.20trillion across various asset classes, remains a veritable avenue for raising capital and enabling sustainable national growth. This listing serves to deepen the telecoms and technology sector for investors and provides an opportunity for a wider group of Nigerians to be part of the African telecoms growth story".
"Today's listing is a promising development in Africa with Airtel Africa also being admitted to the premium listing segment to trade on the main market of the London Stock Exchange (LSE).
This lends credence to the successful partnership between the two exchanges. I encourage similar situated companies to explore the different opportunities for raising capital on the Exchange's platform", Onyema added.
Airtel Africa is a  provider of telecommunications and mobile money services, with a presence in 14 countries in Africa, primarily in East Africa and Central and West Africa.