Agri-tech
Commodities
Osun's legacy in agricultural land reforms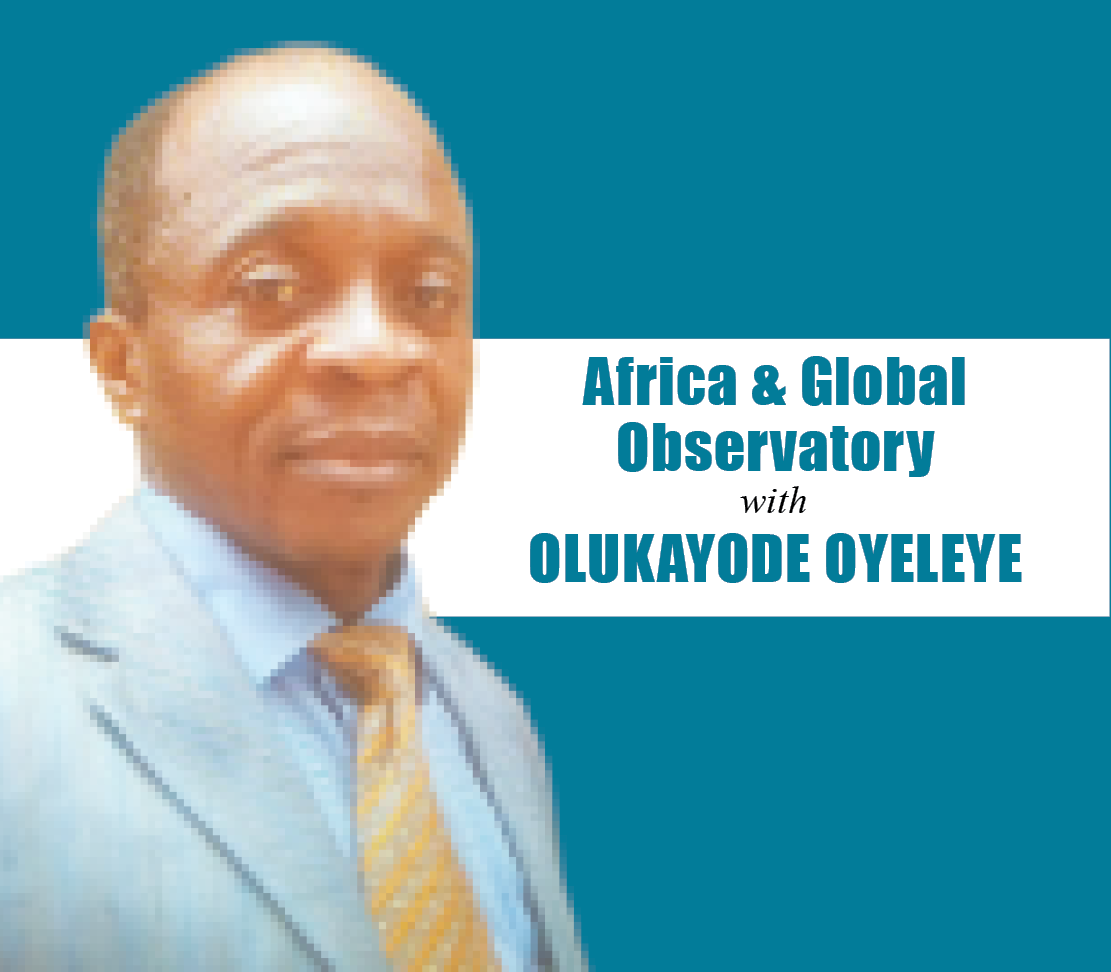 Dr. Olukayode Oyeleye, Business a.m.'s Editorial Advisor, who graduated in veterinary medicine from the University of Ibadan, Nigeria, before establishing himself in science and public policy journalism and communication, also has a postgraduate diploma in public administration, and is a former special adviser to two former Nigerian ministers of agriculture. He specialises in development and policy issues in the areas of food, trade and competition, security, governance, environment and innovation, politics and emerging economies.
March 25, 20191.1K views0 comments
The task of feeding the teeming Nigerian population is overwhelming, requiring enormous efforts, great depth of thought, robust strategies and proactive actions. Recognition of the neglect of agriculture as a result of discovery of petroleum is not enough. Nigeria, as a nation must face up to the fact that people need to be fed and that Nigeria's annual food import bill is becoming intolerable, one of the reasons for our national development challenges and one of the avenues for job losses resulting from absence of responsive policies to end the crisis that has built up over the years.
The 1999 constitution of the Federal Republic of Nigeria, places agriculture on the concurrent list, in which case the states are well placed to play an active part and determine what is suitable for them. Despite this wide legal and legislative latitude, most states have not taken advantage of the influence and opportunities at their disposal, but rather preferring to treat as priority – and eagerly showcasing – grandiose building projects, roads, hospitals, stadia and other physical structures. Although these are important, only few, if any, of the states have paid attention to projects and programmes that have more fundamental, foundational and sustainable impacts and future strategic importance, even if they don't seem politically popular or attract much publicity now.
One state which appears to have put the right foot forward is the state of Osun, as the people of the state call it. Recently, it became obvious that Osun adopted, adapted and implemented some aspects of the agricultural transformation agenda of the federal government, particularly in the area of farmers' enumeration and distribution of subsidised agricultural inputs. It also became obvious that Osun took further steps by bringing up its own interventions. One of them is the innovative land reforms programme, a flagship intervention that has attracted the attention of development partners beyond the shores of Nigeria. Here is an example of innovation in public service at the sub-national level in Nigeria, where Osun makes a difference, having the future in view.
The state has taken steps to overcome the inadequacies of the Land Use Decree (Act) of 1978, which has not proven to be responsive enough or pro-poor in reality and has not made adequate provision for the future of food security in Nigeria. An encounter with Dr. Charles Akindiji Akinola, helmsman at the Office of Economic Development and Partnership (OEDP), an arm of Osun government in Osogbo, confirmed the foresight of the government of the state. "A lot of people are coming in to the country and land speculation is on the ascendancy," Akinola said. "If we are not careful, our own young people are going to be tenants on their ancestral lands. With the population growth in other parts of the world and how people work with partners here, we really want to produce for markets outside as well as here, but we need to have control over our lands."
Akinola, an economist, found a good platform in Osun, provided and supported by the immediate past Governor, Rauf Aregbesola, which gave rise to the creation of the Osun Rural Enterprise and Agriculture Programme (O-REAP), a multi-ministerial, departmental and agency (MDA) collaboration which, in itself, was a public service innovation. The initiative, which was conceptualised, initiated and began implementation then is currently being sustained and supported by the successor, Governor Gboyega Oyetola. The essence was to instill confidence in stakeholders by avoiding policy somersault as the state attempts to transform its economy, using agriculture as the key driver through a robust programme focusing on mass food production.
The land bank, regarded as a social protection initiative, under the larger O-REAP, an umbrella programme with several components, has gained the recognition of UNICEF. Social protection is now a major strategy in efforts to reduce poverty and vulnerability around the world. It has gained prominence on the global 2030 development agenda (SDG) because the fight against poverty requires different strategies for different contexts. Accordingly, the OEDP has partnered with UNICEF to publish a report in 2018 on "Accelerating Action for Social Protection," in which it was revealed that a baseline survey showed an ageing population of farmers in Osun. "Around 2011, the average age of farmers in Osun was put at 56 or 57 years. That is a dying culture," lamented Akinola.
The land bank initiative, which would serve as an instrument of inclusiveness, "seeks to strike a comfortable balance between small and large holder farmers. Its multi-ministerial approach brought in ministries of women affairs and social development, commerce and cooperative as well as agriculture, among others. It was stated that "agricultural farmlands was in the hands of families, individuals and communities. The concept of land bank, however, was to hold such land in trust for 25 years and give to smallholders. The original owners are given some money and government plans to turn several hectares of idle land to structured farmlands," according to the UNICEF report.
The report recognised that "infrastructure upgrade often spins off from acquisition of land for structured farming" and "the land reform is encouraging return of farmers to farmlands." It noted that "when land is put to large scale holders, smallholders tend to cluster around them. This encourages complementarity." The priority given by Osun was as a result of an objective realisation that the state is predominantly an agrarian economy. The state's own official account indicated that "Osun has long been associated with the production of, and trade in, arable crops such as maize, yam, cassava, grains and tree crops like cocoa, plantain and oil palm. It is also known to be involved in livestock and poultry production."
The "circumstances in which we found ourselves because of the fall of oil prices and the attendant reduction to the state in the proceeds we get from FAAC,» required that «any serious-thinking government should, as a matter of priority, focus on agriculture." Accordingly, "we looked at how we can grow the economy through agriculture. We looked at food and industrial products in agriculture. We looked at arable and cash crops. We looked at Osun, and the areas in which we can grow our economy, the non-oil prospects like agriculture, mining and tourism. The area having the greatest potential to grow the economy is agriculture; where we are trying to affect a greater number of people. We are extending that to rural development,» the OEDP boss said.
On youth, he spoke of "a big agenda on youth and unemployment,» stressing how the state government wants «to make agriculture very attractive in such a way that young people will come in. So, things are getting better. Today, you see a lot of young people wanting to come into agriculture.» There were also the new farm settlements. «We have a bias towards bringing in the young people. We want to further attract them through mechanised agriculture and innovative finance,» and «the state's efforts are not concentrated only on crop farming. Animal husbandry is also receiving support. "We have a lot of young people going  into cattle fattening in cooperatives in Iloba cattle ranch. You need to make the conditions very easy for young people. We are working on how an average commercial motorcycle rider would drop the bike and embrace farming and make more money in farming."
Beyond the local prospects, a "mid-regional market is anticipated. He talked of «some gains» that have been made in the establishment of dry (inland) port, that, when fully operational, «you can consign goods from Shanghai, Rotterdam or any other major port of the world to Osogbo." Innovative as it appears, O-REAP is yet to attract the attention of the Nigerian public, particularly other equally agrarian states and all tiers of government. Here is where Osun has a lot to teach other states, including the federal government, on the need to act quickly, sensibly and firmly in securing the future of Nigeria's agriculture and food security by first securing the land for sustainable production. O-REAP, designed to be consistent with four of the six-point Integral Action Plan of the state's government, was meant to banish hunger, poverty, unemployment and promote healthy living. An understanding of the pro-development and transformative agenda, aimed at actualising the Action Plan, and an unwavering commitment to its implementation, would help in building a sustainable agricultural base within the state and beyond.
Proximity to a major market was one of Osun's considerations in the plan. The state came up with an idea of setting a target to stimulate mass food production to position it for supplying up to 10 per cent of the Lagos food market, which means "up to N350 million worth of food is moved out of Osun daily.» Such a huge ambition! The OEDP head spoke of efforts in «trying to set up programmes to actualise that,» a trigger for the «establishment of O-REAP, predicated on a number of facts." The government therefore had to tweak its operational style to ensure delivery, "to make agriculture work, and for agriculture to deliver on its agenda of food and, in other cases, non-food, and to deliver on the 10 per cent target that we have set." But these require "a number of things» to be done differently in the state, foremost among which was «to see how we organise production in agriculture in a way that the efforts of the ministries, departments and agencies of government complement themselves to deliver the objectives of the O-REAP."
O-REAP, established against the background that there was an erroneous belief that food production would happen if the ministry of agriculture alone, all by itself, is involved, needed to justify its relevance as a game change. It came with the argument that "the ministry would be able to deliver on its mandate only when it works with other ministries, departments and agencies that have complementary roles and they play them together, in concert. :O-REAP  was thus «essentially about how to 'concert' the efforts of different ministries, departments and agencies.to achieve that objective." It has also been demonstrated that what works for Osun could work for other states and is people are now showing interest. Although "O-REAP, initially, wasn't well understood, because it was new, it was resisted. But, today, there is a greater understanding. We are seeing people who are interested in how it was set up here. We are also thinking about how other states can learn from it."
It was remarkable that, in Osun, the government foresaw that, to meet the target of 10 per cent set for Lagos market capture will require the expansion and development of land holdings, requiring the acquisition and making sure that land is available as well as «clearing and tractorising the land – a major obstacle in the southern part of the country." Another part of land development, how to intensify the use of the land through fertilisation, irrigation, was explained as where you get a lot more value from the same piece of land. With irrigation, for instance, you can have two to three croppings instead of one in a year. «That is all part of what we thought the land bank would do. We also realised that the land tenure system we have is not friendly to that process of quickly expanding production in agriculture."
The on-going initiative started as a multi-stakeholders' engagement. «In the process of building the land bank, we work with communities, individuals who have land, and who might not have full control as people are encroaching on land: they bring these to the land bank and have arrangements in which the state holds this land in trust for them. A number of things happen: they still continue to own their land (because it is just in partnership with government). Government could see big time investor-partners. It is about making us investor-ready in large scale farming. It is also about making land available for smallholders. It is a win-win. It is an innovation we are proud of. What this administration is doing is to set targets." The land security and  sustainability of this initiative will benefit greatly from  legal and legislative frameworks, transcending any particular government. The state has therefore  drafted an Executive Bill for the creation of the Land Holding Authority which is currently in the State House of Assembly to be passed into law.
The sustainability of the programme under the present administration in Osun, has been assured,  as Akinola enthused that the agricultural land bank will continue and the new administration will be setting a target, bringing in 20,000 additional land into the kitty, «working with all agencies of government. The land bank would be involved in establishing nine new farm settlements. This will involve provision of rural access roads, dispensaries and primary health centres, dams, rural water supply, transformers, etc. . It is an initiative that this OEDP office  created, and will involve the building of  nine new farm settlements, and  a revitalisation of existing farm settlements is underway. We have massive construction of farm-to-market roads, and we are continuing that.  That is part of O-REAP, which believes that we need to be able to link the farm to market.»
In addition to the efforts spearheaded and financed by the state, Akinola added, Osun has been lucky with the Rural Access Mobility Programme (RAMP) of the World Bank  where, according to him, «we have 500 kilometres of rural roads to be constructed. We have constructed well over 300 kilometres. We will continue with that and the roads are strategically identified in ways to add value and provide opportunities to make vibrant rural rural economies.»
The multiplier effects of Osun land reforms was summed up with an anecdote on the experience from Malaysia. "We went to Malaysia's Federal Land Development Agency, and discovered that only one aspect of how Malaysia changed its game through oil palm seeds it got from Nigeria was  told,» Akinola said. «The other aspect was the reform around land. Now, in Malaysia, you see about five to six top players, just like our Presco and Okomu, as big players in oil palm production and processing. But then, they still have smallholders on five hectares or less, using machetes, doing agriculture today. That is what the land bank is to do for us. It is to create opportunities for both the large and small farmers. That is why it is documented as a social protection programme here by UNICEF as an intervention that helps smallholders address issues of vulnerabilities or shocks because of their access to land."
«We want our claims to be evidence-based on the land holdings,» he said. The farm settlement register revealed names of civil servants who are still in service. «The governor encourages members of the state executive council to be involved in farming of some sorts. Nigerian constitution allows civil servants to do farming. The interest is there now. People are doing backyard farming. We are trying to encourage agriculture in schools. India is the world leading producer and processor of cashew. A number of Indian villages have few cashew trees, but these all add up" to the large national output.
Assuring that Osun is well positioned to support agriculture, Akinola said the state has "the benefits of eight years of implementing programmes that hinged on the six-point Integral Action Plan. We have also found out better ways. We can more aggressively move in the direction of achieving those targets." If Osun could invest so much resources, time and intellectual inputs into revamping its agricultural base, this is a proverb and a motivation for other states, particularly those that have frittered away their opportunities for robust agricultural productivity over the years. As the challenges of food security mount, Osun  could well be setting the pace for other states to follow in sustainable agriculture, livelihoods food security.
Dr. Oyeleye is a policy analyst, journalist and veterinarian.