Maritime
Transport Business
Stakeholders canvass long term solutions to Apapa ports traffic jam
January 10, 2020568 views0 comments
By Samson Echenim
Nigerian government has been charged to develop a long term port infrastructural policy that will accommodate future expansion and growth under a well-structured socio- economic policy blueprint.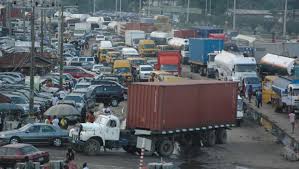 More specifically, the stakeholders who gathered at an industry event in Lagos called on the federal government to stop using ad-hoc measures for treating the chronic Apapa traffic problem, but develop well planned infrastructure to rid the area of traffic gridlock.
This was part of the communique issued at the end of a one-day seminar on «Sustainability of the Lagos Ports Access Roads Decongestion: Lasting Solutions,» organised by the League of Maritime Editors which held at the Rockview Hotel, Apapa, Lagos recently.
It was also recommended that the federal government should move away from adhoc approach in tackling national economic exigencies as these response measures merely enlarge corruption without providing efficient and timely solutions.
Also, participants advised the government to adopt policies that put time frame on critical interventions in matters of infrastructural decay in the port industry which promoted systemic corruption and constitutes huge drain on the national treasury.
«The government should adopt a fast track procurement measure that would enable the Nigerian Ports Authority (NPA) take quicker decision,especially in the recently introduced truck call-up system. The federal government should adopt deliberate policies that will reduce high cargo traffic to Lagos seaports and increase cargo traffic to the eastern seaports. To ensure seamless and cheaper cost of doing business, government should adopt a timely and pragmatic approach to the total implementation of the proposed inter- modal transportation system to ease the evacuation of cargo from the ports and also to pay special attention to water cargo transportation through barges,» the communique read.
It also called on the government to immediately design container trade policies to stem the tide of dumping of toxic containers at the Nigerian seaports, advising the federal government to either scrap the ease of doing business at the ports initiative or make it more effective by directing the government agencies at the ports to key into the initiative.
«Participants advised that the terms of reference of the Task Team on Apapa Access Roads Decongestion should be redefined or the team be disbanded, in view of the perception that it failed in her responsibility despite the official claim to the contrary. It was also resolved that future seaports development should encapsulate the fundamentals of social demographics in order to accommodate future expansion.
«There was also a resolution that the federal government should not allow the Lekki Deep Seaport to suffer the same infrastructural deficiencies like Apapa seaports, advising that the new Port should be linked to the national imter- modal transport system. It was also recommended that the 2006 Seaport privatisation should be reviewed in a holistic manner in order to have way for quick repairs and begin the drive for genuine growth of the Nigerian port system,» the communique concluded.