Transport Business
Toyota Starlet ticks the right boxes, offers great value
June 13, 2022370 views0 comments
BY MIKE OCHONMA
From the first time Toyota Starlet hit dealer showrooms in Nigeria, competition within the compact hatchback segment became more pronounced among auto dealers especially in the new car segment.
Initially, the resurgence of the Starlet into the country after many years of extinction generated mixed feelings and before one could say Jack, it was gradually becoming an immediate hit selling like brandy specials on a Friday night in Lagos, the centre of excellence, in Abuja, the nation's political capital, and the country's oil rich city of Port Harcourt. And this no doubt shows the power of brand loyalty.
In Nigeria, it is estimated that not less than 72 percent of passenger sales are in the small car market and the Toyota Starlet appears to be racing towards strong reckoning to be among the most popular B hatchbacks sold in the market today.
Read Also:
Analytical minds in the global automotive industry say the Starlet is still based on the Suzuki Baleno with a revised front end with new headlights, wide-mounted fog lamps and chrome detailing tying it all in.
Depending on the market, there is a five-speed manual or four-speed automatic transmission option which would probably have an effect on price.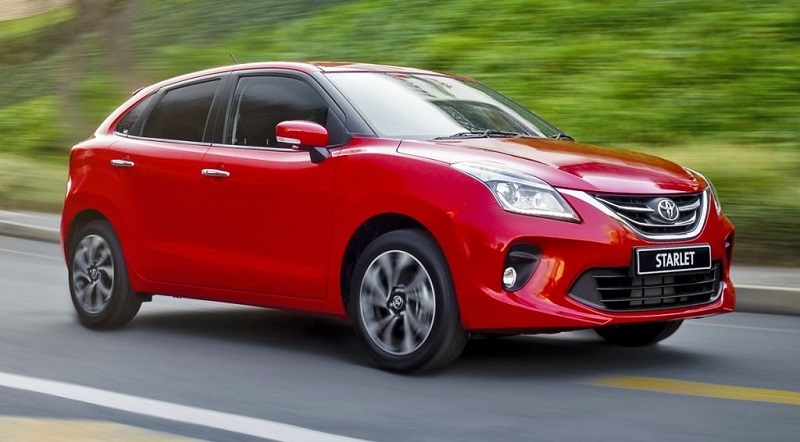 The interior has also received an upgrade with "swooping accent lines", a centrally mounted infotainment screen and a good old-fashioned instrument binnacle. There are also new front seats with improved lateral and shoulder support.
In terms of infotainment the different variants get a seven-inch touchscreen and the XR a nine-inch screen, which are all Apple CarPlay and Android Auto compatible. There are also USB ports behind the back.
The clutch is light and gear changes smooth and easy, and with the new engine providing a bit more power, there won't be as many changes when driving.
Safety features have been improved across the range with stability control, ABS, EBD and hill start assist and rear parking sensors standard. The XR gets a reverse view camera.
While on motion, the steering is exactly as one would expect from a car in this segment. It is quite light with enough feedback when the driver is tackling sharp corners and, considering its target market, it suits its purpose.
The body shell has been improved in terms of rigidity and stiffness and changes to the rear torsion beam as well as 20mm more suspension travel and 10mm wider tyres across the range all add up to a comfortable and compliant drive.
The Starlet will always be a good buy and there is definitely still an appetite for affordable hatchbacks in Nigeria, especially when already existing hatchbacks are a popular choice among buyers. It provides decent value for money and it will be interesting to see how it fights for top spot in the sales charts.