Interview
We are moving to make Igboland the Japan of Nigeria by 2025, through investments
November 30, 20201.9K views0 comments
It is no longer news that at least half of the pecuniary means for N'digbo is domiciled outside of the Igboland. An Igboland Economic Union has captured this inconsistency by convincing Igbos worldwide to make Igboland the centrepiece of their investment drives and fast-track development as a top priority. This is seen as one of many ideas driving the initiative for regional development through investment across Nigeria in a bid to reposition the Igbo nation now to be integral to the development of the southeastern region through the AKULUOUNO initiative, which is translated THINK HOME. In this interview, Business A.M's CHARLES ABUEDE and ZAINAB IWAYEMI spoke with CHIEF IJEZIE OKWUDILI, FCA, Founder and Chairman of the private-sector-driven investment movement in Nigeria. EXCERPTS:
Thank you very much for the opportunity granted to Business A.M. to have an insight into the Akuluouno ~ Think Home Forum. Kindly give us a brief about the Forum, how it came about or the idea behind the formation of this group, its aims and vision.
My name is Chief Okwudili Ijezie, Ite-Ozubulu, that's my traditional title. Akuluouno ~ Think Home Forum was founded on Saturday, June 13, 2020, as a WhatsApp Forum, and on Thursday, September 3, 2020, it was registered by the Corporate Affairs Commission (CAC), Abuja; as a non-governmental organization (NGO). The aim or the vision, in a nutshell, is to get the investments, I keep emphasizing on new investments of the NDIGBO race. And that by 2025, to have the investments of at least 80 per cent invested in Igboland.
 And by Igboland as of now, we mean the five South-East states of Nigeria, Abia, Anambra, Ebonyi, Enugu and Imo States. So our Forum is for the five South-East states, plus Delta Igbo. And the aim is to gradually move so that by 2025 investments of at least 80 per cent will be made in Igboland. The people we are targeting are people in the Diaspora, people who are not living in those states.
And what do we mean by Diaspora? Diaspora includes those living in Lagos, Kano, Sokoto, etc, or across Nigeria, and people in Accra-Ghana, South Africa, Europe, United Kingdom, United States, etc. So, anybody who is not living in the South East and Delta Igbo, we regard as diaspora and we are targeting them. That's in a nutshell, what Akuluouno ~ Think Home Forum is all about.
Setting up this initiative in the South-East region of Nigeria, how do you hope to spread this initiative across Nigeria to see other ethnic groups replicate this, with the same vision of developing their native land for the purpose of nation-building?
Yeah, before we start spreading it to other parts of Nigeria, there's this saying that charity begins at home. So we are starting from home, which is the Igbo race first. The name is Akuluouno ~ Think Home Forum. So, by the time we finish for the Igbos, other tribes can be keying in, translating the word – Akuluouno in their vernacular and adding the word Think Home. Or are we seeing the same that we have seen in our governments – the state governments, the federal government, and the local governments cannot help us NDIGBO, the Igbo race. So let's do what we did immediately after the war, by thinking home, by doing the investments ourselves. That is what we are doing.
Maybe at this point, I can tell you what the aims we have when we registered with the Corporate Affairs Commission (CAC). We have three of them. The first one is to build the required consciousness among all Igbos, that it is time to invoke a community spirit to drive the process of development in Igboland. The second one is to organize free annual lecture series, and other lectures on sensitization, to brainstorm on their communal philosophy as a way of keeping the campaign alive, strategically focused and sustainable from generation to generation.  The last one, but certainly not the least, is to sensitize Igbo professionals, academia, businessmen and women to think of them in their decisions as part of the economic objectives. So, these are the three objectives we have and we are focusing on them.
The Forum had been launched online because of the COVID-19. We launched on Tuesday, September 1, 2020, two (2) days before we got registered by CAC. We planned to have a physical launch, what we describe as 'LOUD IN OWERRI', because we certainly wanted it to be loud in December 2020, but we are shelving it, because of majorly two things: Firstly, COVID-19. When we planned to do the launch, the pandemic was subsiding. But as you are aware the coronavirus pandemic has moved to the next stage, especially in Europe and America. And a lot of our members are going to come home for the launch from the Diaspora, from Europe, United Kingdom, South Africa, Canada and America, etc.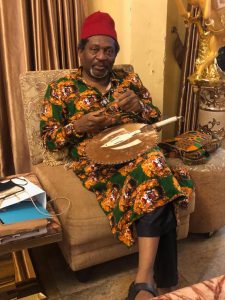 And secondly, the #EndSARS hoodlums who went after manu of the police stations all over Nigeria and vandalized them, going to the armoury to carry the guns because police people are unlike soldiers, they drop their arms and ammunition when they are going home. So, the insecurity in Nigeria is very high. We wouldn't want our people and our guests in Owerri on December 30 to be attacked. If everything has come down we will launch it during the Easter period or when we'll be celebrating our first anniversary. Because when we will be celebrating our first anniversary, we will have a lot of achievements to roll out. It may even be better. That will be in June next year.
With this initiative, how do you think it is going to shape or influence the nation's economy, considering the investment landscape within the southeastern part of Nigeria?
We are already shaping the southeast economy. Like it is said, 'charity begins at home'. But I know that if we get it right in Southeast, the Yoruba, Fulani people would like to imitate the idea and the whole economy would be better for it. As you're aware, the South-East or the Igboland is being treated, unfortunately, by the government, especially the federal government, as if we are not part of Nigeria.
By the time 80 percent of Igbo people worldwide have their investments migrate to the South East by 2025, the place would be livable, the place would be much better than Lagos, Abuja, even London and America and people living in those places, will now migrate down there to live. So, we are just trying to ensure that we are with the consciousness of Igbo people that home is home. You can go live anywhere but let your investment come home so that we develop it. Kidnapping, etc, would be a thing of the past and the youths, after graduation, will have jobs because you have put in investments there.
So we are going to make the South East the Japan of Africa, effective 2025. It is doable in these five years we have given; in fact, we are very conservative. In the next 30 months, everybody will be seeing what is happening in Igboland. We are not linking up with any of the governors because they are part of our problems. It is a private sector-driven movement.
Okay, so now you have started this plan. Who are the principal officers or facilitators driving this vision with you?  And for those in the Diaspora, what has been their contribution so far to make sure that this idea comes to stand.
I'm the founder of the forum, founded on Saturday, June 13, 2020 and because of where the vision is headed to, we went immediately to get it registered by the Corporate Affairs Commission, with the process taking us barely two months – July, August. On September 3, 2020, we got registered because one of the processes of getting registered as an NGO is that you will advertise it in two national newspapers and give people 28 days to object to it. If they don't object, you get registered. We did same and advertised herewith two newspapers and by August 28 or thereabout it wasn't objected to by anybody nationwide and internationally. The CAC, Abuja did the needful by giving us a certificate. A certificate is here, the number is CAC/IT/NO.151181.
And before we registered, when we advertised in the newspapers, because it is not a solitary movement, I'm not running it alone. We put in 10 trustees stated in the newspapers, and people saw their names and did not object.
So the Chairman, Board of Trustees (BoT) is Chief Okwudili Ijezie; other Trustees are Dr Jude Akubuilo, Barrister Augustine Okeke, Mazi Steve Osuji, Mazi Madukwe Obinnaya, Mazi Iyke Okpolu, Mazi Kanu K. Chiana, Mrs Ngozi Ekumankama, Prof. Bernard Odoh who are stakeholders as BoT members; and the Secretary of the BoT is Barrister Obiora Nzewi.
Other top members of the Forum include Mazi Madukwe Obinnaya, who is also the Chairman of  Ethics and Value Orientation Committee; Education Committee Chairman is Prof. Nat Ofo, while Mazi Kanu . K. Chiana stands as the Chairman of Investment Committee; Dr Nnamdi Okeke occupies the position of Chairman of the Healthcare and Healthcare Insurance Committee; Dr. Vincent Ikwuagwu is the Chairman, Committee on the diaspora;  Elder Emmanuel 'Manny' Emecheta chairs the committee on transportation; in the department of banking & finance the chairman is Dr Charles Udogu; while Agriculture is headed by Mazi Raymond Obiajulu Isiadinso; and Engr. Sharp Ugwuocha is the chairman of the EMIT (Engineering Manufacturing & Information Technology) committee.
These gentlemen are the major stakeholders of Akuluouno – Think Home Forum. They are the Committees' Chairmen, who are expected to drive the implementation of the various committees' reports.
What is your view about Nigeria's political environment and the push for local investments?
My view of the Nigerian political environment to support investment may not be said openly because this organisation is not only an NGO but is equally a non-political organisation (NPO). So I wouldn't want to share my personal view of the political environment, because I'm the FACE of the Forum.  The movement is a private sector initiative. And we say, we are not interfacing with any governmental organisation. We are private-sector driven. And we will achieve our vision and objectives without government assistance. What I said is that, if any of the governments, be they local, state or federal, think in their wisdom that we have the crème de la crème of experts locally and from the diaspora, and needs our assistance -the Akuluouno assistance, to assist them carry out or implement some of their policies, we would be willing to do that free of charge. But we won't go out of our way soliciting to assist them, they should know what we are, who we are, the people within us, and come out seeking for assistance.
If they don't, we will carry out our functions. And by sometimes in six months, give me six months to 18 months maximum, the green revolution that will be done by the Agriculture Committee of Akuluouno; ears will hear it and eyes will see it because we are starting with the low hanging fruit, the one that will have immediate results. I told you that we are already training about 75 people, young engineers who are in their 20s. It will take one year to get them trained and the companies that will come in will absorb them. And probably it'll take another six months or one year for the people to see what is happening in the industrial sector. But the agricultural one, it will happen almost immediately.
So, we are not interfacing with any government but we are at their beck and call if they call on us to assist them. We will render such assistance free of charge. And the other one is that in the last 2 months, we've been briefing our colleagues, who are from Southwest, our colleagues who are from South-South and those from the northern Nigeria, about what we are doing.
We are willing to share our templates, and a couple of them are saying that as soon as we commence and they can see what we are doing, that they will replicate Akuluouno ~ Think Home Forum in South West, in South-South, and then the North Central, North East and North East. Because if only the South East progresses and becomes the Japan of Nigeria and Africa, we will be at risk because you can see what happened during the #EndSARS protests when the have-nots invaded the houses of the haves.
Okay. And a lot of people like I said, once the South East is developed by this movement and some other movements, we are not saying we will be the only movement to develop it. I believe once we get started, and people start seeing what we are doing, they will key in into this and even several states governments.  So, the critical thing is the creation of awareness. So through agriculture, we will achieve what we plan. Green Revolution in the entire South East, this is going to be humongous.