Oyeleye
West's carrot and stick on Africa's 'Achilles heel'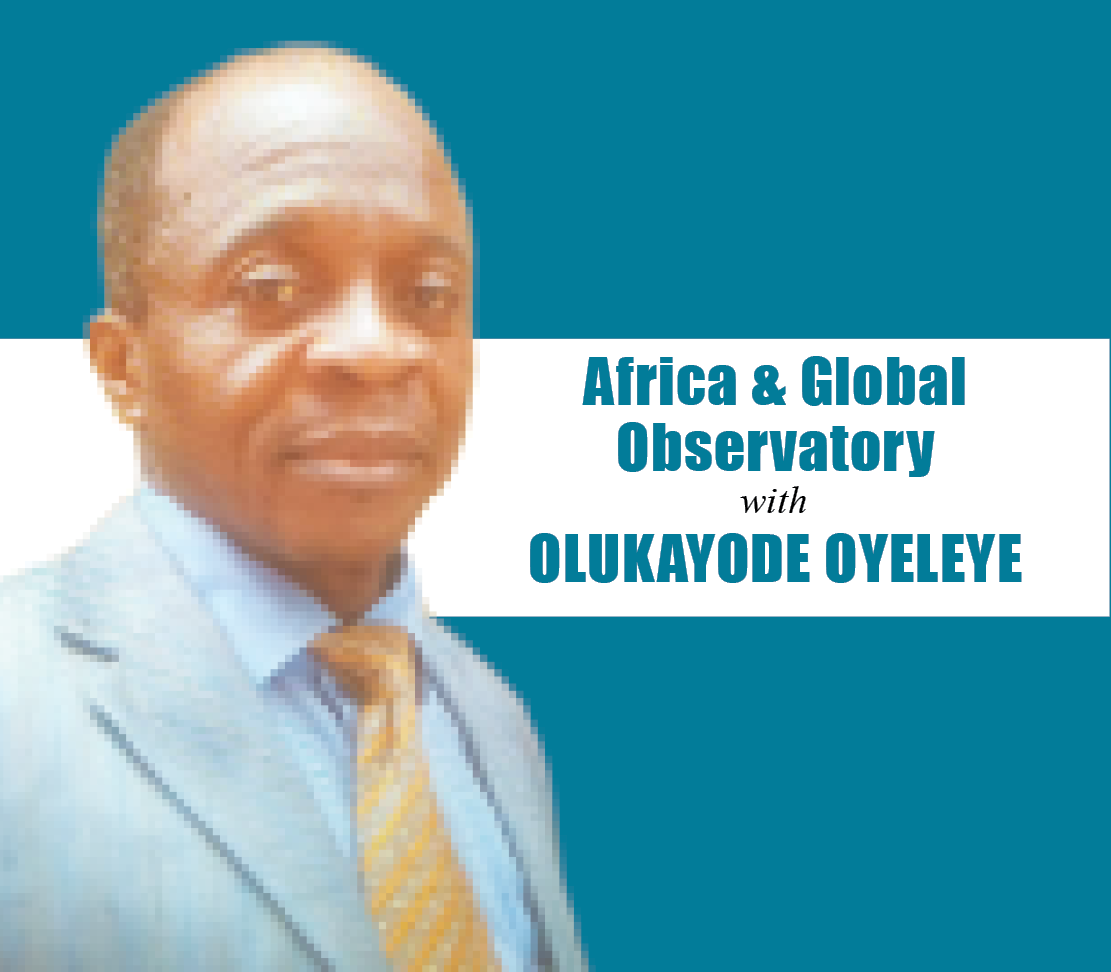 Dr. Olukayode Oyeleye, Business a.m.'s Editorial Advisor, who graduated in veterinary medicine from the University of Ibadan, Nigeria, before establishing himself in science and public policy journalism and communication, also has a postgraduate diploma in public administration, and is a former special adviser to two former Nigerian ministers of agriculture. He specialises in development and policy issues in the areas of food, trade and competition, security, governance, environment and innovation, politics and emerging economies.
September 25, 2023206 views0 comments
CONTRADICTIONS AND CONTRASTS marked major events drawing attention on Africa in this month of September. Within four days, two remarkable weather events that tested the resilience of the continent occurred. They were going to lead to disasters of such a scale as to involve death tolls in excess of 14,000. This was just a conservative estimate as the final figures of human casualties in both events are yet to, or may not, be fully accounted for. On September 8, a 6.8 magnitude earthquake struck on the extensive Atlas Mountain of Morocco, killing more than 2,900 people, most of them in hard-to-reach mountainous areas. Rubbles of buildings were still being tossed up in search of more dead bodies when, on September 11, two dams collapsed in Libya, wreaking havoc. The broken dams situated uphill from the Mediterranean coastal city of Derna sent down 30 million cubic metres of water into already inundated areas in the course of Storm Daniel that hit the central and eastern Mediterranean. The storm made landfall on Sunday, September 10, bringing strong winds and excessive rainfall which led to massive flooding.
Although it could be argued that the Morocco and Libya events were not exactly predictable with precision of timing and scale, the flooding of the eastern port city of Derna was predictable to a good extent based on tell-tale signs observed by experts who had warned that floods posed a significant danger to two dams located in the northeast of Libya. In particular, the concerns were about the safety of lives of the nearly 90,000 people of the city of Derna, 25 percent of which disappeared, according to a Libya's official source. Earlier calls by experts for immediate maintenance to the two dams, it was gathered, had been ignored by successive governments in the anarchy-stricken North African nation.  The description in a study published by Abdelwanees Ashoor, a professor of civil engineering, last year in the Sabha University Journal of Pure and Applied Sciences was apt: "In the event of a big flood, the consequences will be disastrous for the residents of the valley and the city." And that happened. This was in spite of the presence nearby of a factional government in the city of Benghazi, led by Khalifa Haftar, the warlord that has held Libya by the jugular for well over four years after failed attempts to take over Tripoli, the country's capital.
While discovery and recovery of more deaths were still being done, many African leaders were preparing for speech making at the United Nations General Assembly in New York, United States. And while help for survivors of Morocco and Libya disasters were coming from all over the world, African leaders were still biding their time and contemplating for over a week on what to do. Meanwhile, Europe, North America and Middle East countries have been responding in cash and in kind within the first 48 hours of each case. Those who knew the essence of urgency have been responding expeditiously despite the on-site challenges. Helps have been reaching the difficult terrains of the affected areas on the Atlas Mountain as well as the flood-stricken Derna. Emergency aid materials such as hygiene kits and medical devices have been rushed daily to the flood victims. Organisations such as the United Nations International Children's Emergency Fund (UNICEF) are among those at the forefront, while Islamic Relief has been working with local partners to help provide succour for the victims and calling for donations to help provide emergency food and shelter to those affected.
The commitment of leaders of various countries of Africa to lift the continent to a higher level of development has once again been put to the test as help came in cash and in kind from international government and private agencies, some working through risky and difficult terrains. Médecins Sans Frontières (MSF) or Doctors Without Borders, for instance, began medical activities in Derna. Within a day of the Morocco earthquake, MSF had this announcement: "Our teams arrived on site after the earthquake on 9 September  and are currently assessing the needs, while coordinating with the local authorities to see how we can help." This is an international, independent, medical humanitarian organisation that delivers emergency aid to people affected by armed conflicts and natural disasters. It swung into action in Derna after the flood disaster a few days later. Separate interventions from the United Nations reproductive health agency revealed that nearly 20,000 pregnant women survivors from Libya's flood need medical assistance.
Steelworkers Humanity Fund (SHF) in Canada has donated $20000 to support in response to  the two major disasters in North Africa, while the Taiwan's Ministry of Foreign Affairs (MOFA) announced $1 million aid donation to Libya to help in relocation of victims and reconstruction work in the aftermath of the disaster. That was despite the lack of formal diplomatic ties or mutual representative offices with the Libyan government. News agencies have been at the forefront in calling for help as ABC News, BBC, Australian Broadcasting Corporation, Al Jazeera, CBS News, AP News and many others have been providing various types of information on how to help and provide assistance to those affected by the Morocco earthquake and Libya flood.  GlobalGiving, a UK and US-based non-profit agency that connects donors with grassroots projects around the world, has swiftly launched the Morocco Earthquake Relief Fund that had raised nearly $960,000 out of the $5,000,000 goal set. The same earthquake-hit Morocco was one of the African countries during the COVID-19 pandemic.
The African Union (AU) Commission received medical supplies from the Kingdom of Morocco to boost the continental capacity to respond to the COVID-19 pandemic. While receiving the items, the Commissioner for Social Affairs, Mrs Amira Elfadil, in a ceremony attended by the Africa Centres for Disease Control (Africa CDC), said: "I am receiving this donation from the Kingdom of Morocco on behalf of the African Union Commission's Chairperson H.E Mr Moussa Faki Mahamat, and on behalf of the Africa CDC. We highly appreciate this donation from HM King Mohammed VI, and from the Government of Morocco. Morocco is extending its hand and support to 15 member states in Africa and also to the African Union (AU)." According to Elfadil, "this donation represents the values of support and solidarity between AU Member States. We agreed to fight COVID-19 through unity and solidarity." But now, the AU Commission appears to be neither one of those at the forefront in the earthquake recovery efforts, nor are any of the member African countries.  The Africa CDC, however, responded to the Libya flood about five days after the disaster, in a statement, that "Africa CDC is deeply concerned about the dire humanitarian situation unfolding in Libya in the wake of a devastating natural disaster."
While help was already coming from outside the continent, the Africa CDC was still convening its Governing Board On September 13 "to take swift and decisive action" and thereafter sought to meet Moussa Faki, Chairperson of the AU Commission.  Nearly one week has passed. The bureaucracy was still loading when time was of essence, and yet it was recognised that AU needed "to address the urgent needs arising from this disaster." If the intervention in Libya was problematic because two separate governments are claiming control over Libya, what of the case of Morocco? Now, the African Union is responding "promptly to the Government of Libya's critical appeal for aid" by the "deployment of a team of public health experts and the allocation of $5 million USD for the acquisition and distribution of medications, medical equipment, and health-related supplies." And African continent leaders are showing great examples. They go in droves to the UNGA while Libya is drowning and Morocco is quaking.
Speechmaking, predictably, happened and African political and government leaders did not fail in featuring and making esoteric speeches on global fair trade, equal treatment of Africa by the Western countries, environmental justice, climate change and democracy. Some African country representatives that have trouble back home on the legitimacy of their positions as heads of government tried to impress the global communities, some speaking to near empty halls despite its capacity to host 1,800 attendees. General Abdel Fattah al Burhan was confident about coming to UNGA to make a speech while the smouldering fire of war Sudan started on April 15 still remained to be quenched. Nigeria's Ahmed Tinubu, who made one of the shortest speeches, was right there at UNGA to make a speech while the authenticity of his certificate in Chicago State University was an on-going subject of litigation in an Illinois district court and the validity of his election as Nigeria's president still remains challenged in the court.
How Africans think of being taken seriously is of utmost concern as President William Ruto of Kenya has been pronounced as a leader of the lead nation to serve at the UN-backed security support mission in the beleaguered Haiti. First and former President of Mozambique, Samora Machel, was once quoted as saying that "if one day you hear the Europeans praise me, know that I have betrayed you." The most recent case of ousted Niger's President Mohamed Bazoum being fondly described as Western ally when his countrymen regarded his regime as a disaster and complicit with Western interest is instructive.  This makes Ruto's appointment worrisome. It was this same Ruto that has been making fiery Pan-African comments in recent times about Africa's liberation. It could be that the Western strategists have found a way to lull him. Or, it could be that an anticipated failure in Haiti would be heaped on him and not the Western countries as Haiti has become a hot potato in diplomatic circles. Ruto therefore needs to watch his back. This statement is not pre-emptive, but rather an advisory. It will be a great delight if Ruto ends the Haiti mission and his regime at home without putting at risk his reputation and the lives of Kenya's 1,000 strong police force to be deployed to the Caribbean island country to solve a problem created by the US and France.
It is unlikely that Ruto is aware that the US President Joe Biden, facing an election, will prefer to outsource the intervention in Haiti or shift the role to another country to avoid heating up the polity or adding to his baggage as the Ukraine war intervention could affect his electoral chances. Again, a direct US involvement could open the wounds about the US-led removal of Jean-Bertrand Aristide through a coup in 2004, when Senator Joe Biden (then) was a member of the Senate foreign relations committee. In the archives of Women's Political Communication from the Iowa State University, Maxine Waters (still a serving Senator now) said in March 1, 2000, in a testimony before the Senate Committee on Foreign Relations, that "we have learned that our government made the departure of President Jean-Bertrand Aristide the democratically-elected leader of Haiti, a precondition to introducing United States forces to restore order. . . Uncovering the truth about our government's role in President Aristide's departure is critical to any attempt to chart the future of US-Haitian relations." In 2004, Aristide was finally forced out under intense pressure by the US while US Marines were sent in to keep order. So, how Ruto thinks he can heal the wounds inflicted on Haiti remains incomprehensible.
It seems therefore like what most African countries' leaders that want stability of their regimes should continue to do is to seek the approval of the Western countries and be their allies even if it is not in the interest of the countries they govern. If Ruto can easily be snapped up and enticed with Haiti's assignment, which other young African leaders can we hope to speak up for the continent? Africa may continue to have more of the same in years to come and the so-called liberation of Africa could remain a mirage.