Oyeleye
Africa's fate and Madrid's 'Blue' climate talks (3)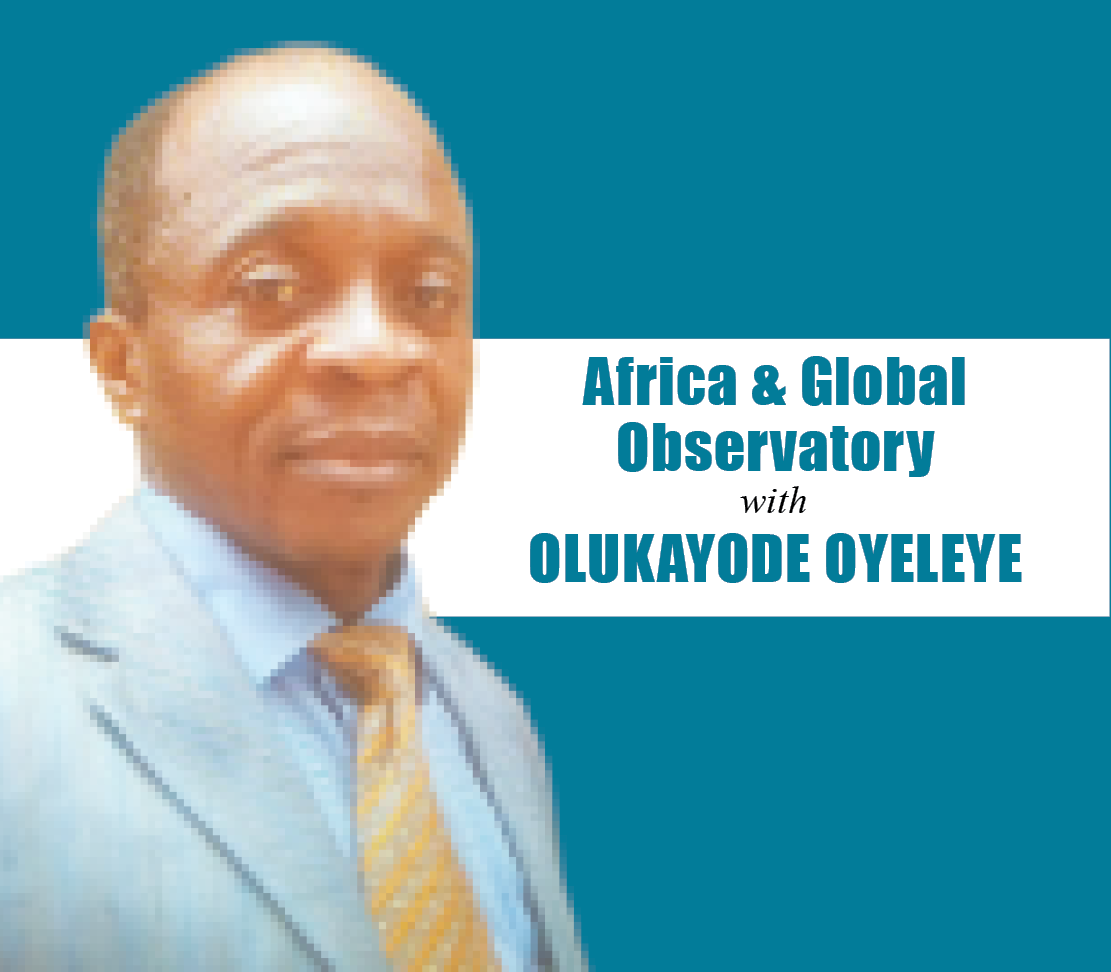 Dr. Oyeleye, a consultant, journalist and policy analyst, can be reached via:
oyeson2@yahoo.co.uk
Twitter: @OlukayodeOyele1
January 6, 2020530 views0 comments
AWARENESS ABOUT LAKES and their relevance in Africa has not yet adequately captured the attention of those who should know, particularly national governments. Consistent and fairly predictable rainfall, existence of big rivers, stable underground water tables and handling of urban water supplies as public utilities have all lulled governments of various countries into complacency, particularly as they have not been under intense pressure to improve water situation despite the obvious need to do so.
As the world worries about climate change and water supply prospects, Africa is one continent that faces bleak future as rainfall pattern, depth and volume are unpredictable and unreliable in many countries east, west, north and south. Lakes, which have been major sources of off-season supplies of water and other natural resources are especially threatened. In the West African sub-region, a major lake of immense importance has been a source of nightmare for millions of people in the past decade, with prospects of worsening realities.
Lake Chad, one of Africa's great lakes, has been undergoing many social, political, economic and climatic transformations in recent times. To this extent, it is expected to be at the forefront of climate activists' concerns and priorities. The 2019 'Blue COP" conference in Madrid missed out something. The talk about limiting the earth's temperature rise has been on since the past couple of years. It formed a major outcome of decisions made at COP 15 in France in 2015. It is doubtful if the framers of the limits to temperature rise are aware of what is happening to African lakes. In Lake Chad, specifically, it has been reported that, for every year since 2000, the annual temperature anomaly, based on the 1961 to 1990 average temperature, was continuously above 1°C.
The lake is shared by Cameroon, Chad, Niger and Nigeria. Its basin – which extends as far Algeria, Libya, and Sudan – offers a lifeline to nearly 40 million people. UN Environment Programme (UNEP), the global environment watch, concedes that Lake Chad, once one of Africa's largest lakes, is in distress. According to UNEP, the lake's size has decreased by 90 per cent over the last 60 years as a result of over-use of the water, extended drought and the impacts of climate change. "The surface area of the lake has plummeted from 26,000 square kilometers in 1963 to less than 1,500 square kilometers today. The reduction, which has been called an ecological disaster, has not only destroyed livelihoods but led to the loss of invaluable biodiversity."
Research from elsewhere agrees that environmental degradation—and especially the predicted impacts of climate change—will further exacerbate these pressures on the states and societies around Lake Chad. Historically, the lake hosted about 135 species of fish and fishermen captured 200,000 metric tonnes of fish every year in the 1960s, providing an important source of food security and income to the basin's populace and beyond. During this period, it is estimated that there were about 20,000 commercial fish sellers in Chad alone.  That period was also "a golden age for livestock keepers in the Lake Chad basin," when "the grazing was good and conflicts between herders and farmers were rare. However, droughts over the years have led to the loss of pasture. As a result, many of the herders have fled," noted UNEP.
As a result of diverse challenges, such as desertification, migration due to climatic changes, security and financial challenges, and development policies focusing on short-term solutions, the problem has taken new dimensions, compounded by a lack of integrated management of water resources at the national and regional levels in the affected countries. In recent years, the environmental degradation has been complicated by the Boko Haram insurgency, which began over a decade ago. As of January 2018, more than 2.3 million people had been displaced by the conflict in the Lake Chad Basin region. "With around 4.5 million people in the basin being severely food insecure, there is a need to rigorously address the cause-and-effect relationship between the environment and human security," said Erik Solheim, UN Environment's Executive Director.
Two years ago, a meeting was convened with the theme of "Saving Lake Chad to restore its basin's ecosystem for sustainable development, security and livelihoods." The outcome of the 2018 conference held with the support of the Nigerian government and UNESCO, from 26 to 28 February in Abuja, is yet to make any noticeable impact. Environmental degradation and mismanagement have been identified as integral part of the root of many of the political, economic and social drivers of migration and displacement, in addition to related factors, such as poverty, sectarian mistrust, political marginalisation and corruption. Associated with these was the case of a high profile official at the nation's presidency that diverted a huge sum of fund meant for the internal displaced persons into unrelated use in a manner that smacked of corruption. He was eased out of office after a prolonged public outcry by the Nigerian public.
The uncertainty caused by climate change, rather than abating, is worsening the political and economic conditions that precipitated violence in the region at first. Lake Chad is enmeshed in a conflict trap that destabilises the people and weakens their ability to deal with the changes that come with an increasingly capricious climate.  The violent crisis that has engulfed the region has left nearly 10 million people in urgent need of humanitarian assistance as temperatures there are rising one and a half times faster than the global average.  Although the Inter Basin Water Transfer project has reportedly proposed to construct a 2,400km canal from the DR Congo to Lake Chad, it is estimated that this would gulp a whopping $50bn (£39bn) – estimated at one-third of the annual global aid budget. There are feelers that the African Development Bank (AfDB) is supporting a feasibility study to that effect.
The United Nations Food and Agriculture Organisation (FAO) has recognised the food security and livelihood challenges of the crisis in Lake Chad region. It underscored the Boko Haram-related violence that has spilled over to areas of neighbouring Sahelian countries in the Lake Chad Basin – specifically, Cameroon, Chad and the Niger – with devastating effects on food security and livelihoods. The violence, according to FAO, has driven millions from their homes and hampered access to agricultural lands and assets, creating massive humanitarian needs in an area already characterised by food insecurity, poverty and environmental degradation. This has given rise to one of the world's greatest humanitarian crises "where, in late 2017, more than seven million people suffered from severe food insecurity and more than two million have been displaced by the intractable conflict plaguing the region."
Adelphi, a development organisation, reckoned that, today, climate change and environmental degradation are exacerbating the challenges faced by the predominantly rural population, most of which rely on farming, fishing, and raising livestock. An increasingly changing climate, namely more variable rainfall, has caused the lake's water levels to fluctuate more unpredictably. "This affects already vulnerable livelihoods and access to natural resources such as the availability of freshwater, grazing lands, fish stocks, and vegetation that the residents depend upon. As different groups—such as herders and farmers—compete to secure these scarce natural resources, social tensions escalate and the risk of violent conflict increases." In Nigeria, where the effects of these violent conflicts seem most profound, official denials, politicisation of the risk factors and a laidback attitude are helping to prolong and exacerbate the undesirable effects.
Stockholm International Peace Research Institute (SIPRI), in a statement, highlighted a report from the Uppsala Conflict Data Program (UCDP), which noted that "the conflict with Boko Haram has caused over 10 000 deaths between 2009 and 2016." A 2017 report of the UN Secretary-General on the situation in the Lake Chad Basin region, presented in the Security Council in September, pursuant to Security Council resolution 2349 (2017) of 31 March 2017, emphasises the need for regional responses and the enhanced cooperation of different UN and humanitarian agencies as important steps to addressing the unfolding humanitarian crisis. In spite of the desirability of regional responses to address the regional security challenge, the report would have been stronger if it had highlighted the underlying environmental contributions of the region's fragility, SIPRI noted.
Boko Haram continued, however, to pose a significant threat to civilian populations in Nigeria, Cameroon, the Niger and Chad such that, from April to June 2017, no fewer than 246 attacks were recorded, resulting in the deaths of 225 civilians, with increasing cases of suicide attacks. What began as a protection crisis has developed into a large-scale food security and nutrition emergency that includes a credible risk of famine. Hundreds of thousands of farmers across the Lake Chad Basin have missed six consecutive planting seasons, while trade routes and markets have been closed. The large majority of internally displaced persons in Cameroon, Chad and the Niger live in areas affected by serious food insecurity. One in three people, or almost 1.5 million people, in the Far North region of Cameroon are food insecure at crisis and emergency levels.
Development and Cooperation (D+C), a think tank, in the January 2020 edition of its publication, observed that, "when European geographers first surveyed Lake Chad in 1823, it was considered one of the world's largest lakes. For several reasons, it has since shrunk by about 95 per cent. Climate change is proving devastating. Moreover, too much water is being extracted as the populations of the countries surrounding the lake (Niger, Chad, Cameroon and Nigeria) are growing. Lake Chad still provides water to about 38 million people for irrigation and other needs, even though its surface area has been reduced from 25,000 square kilometres in the 1960s, to 4,800 square kilometres in 2014. Its fish resources are important too. Dried fish, which is a popular source of protein for the people in the region, is becoming ever more expensive and scarce."
The dwindling of the lake has devastating impacts on Nigeria. Uneducated rural people used to be able to make a living from agriculture in Nigeria's Borno State, but in many places farms and livestock rearing have become unviable. Some of the people affected have joined the Islamist militia Boko Haram, which pays fighters and is doing what it can to attract disillusioned youth. Other people have been migrating southwards looking for alternative livelihoods. "In view of the tight labour market, only some of them find jobs. Others turn to criminal activity. The worst damage, however, is being done by the desperate herders who are migrating with their animals and disrupting life in areas they did not usually to go to. Sometimes they even show up in the capital region of Abuja," D+C noted. An area that should be an engine for sustainable livelihoods, stability and peace urgently needs to break the misfortune by supporting resilient livelihoods and diversify the income base of 10.7million people who urgently need humanitarian support to break free from the conflict trap and manage the unemployment that are underlying factors making it easy to lure the youth into Boko Haram insurgency.