Oyeleye
Democracy and political leadership, contrasting experiences in Africa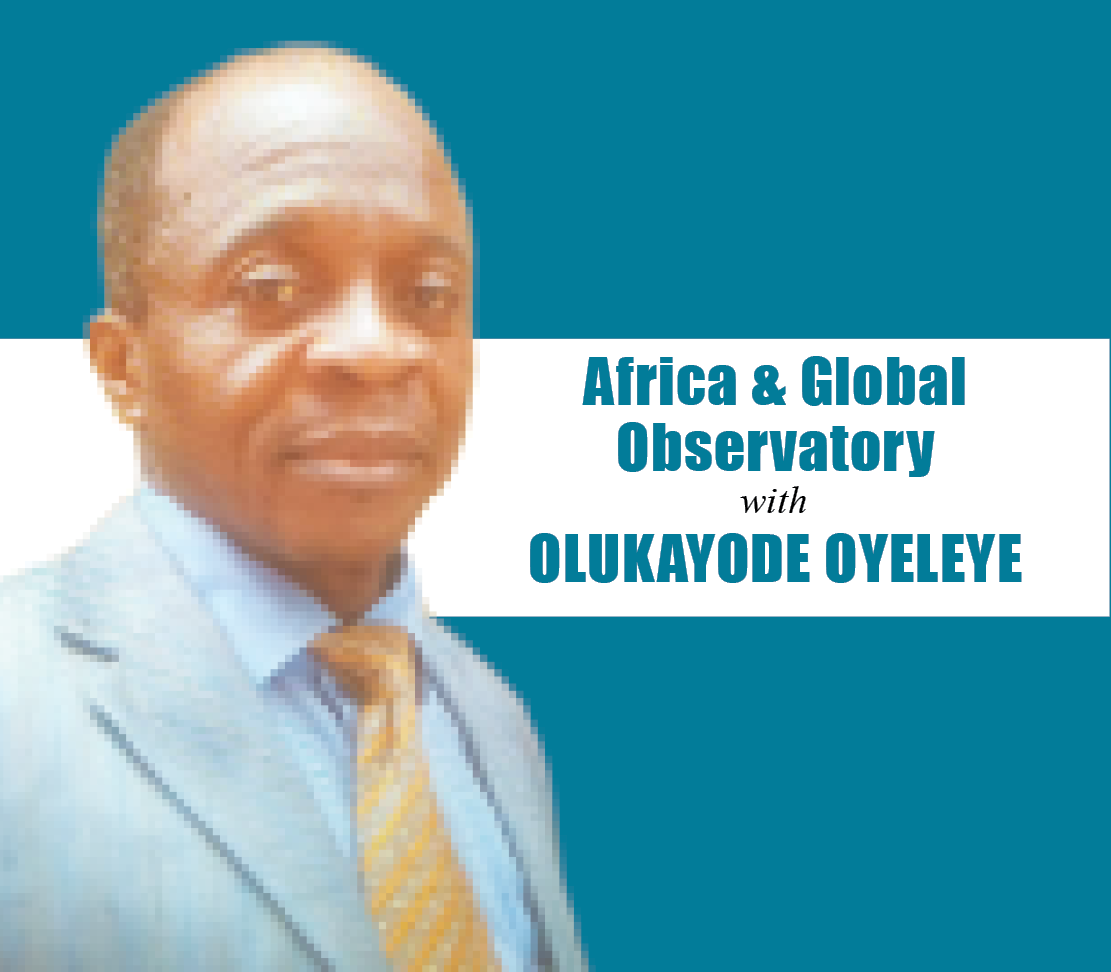 Dr. Olukayode Oyeleye, Business a.m.'s Editorial Advisor, who graduated in veterinary medicine from the University of Ibadan, Nigeria, before establishing himself in science and public policy journalism and communication, also has a postgraduate diploma in public administration, and is a former special adviser to two former Nigerian ministers of agriculture. He specialises in development and policy issues in the areas of food, trade and competition, security, governance, environment and innovation, politics and emerging economies.
November 20, 2023293 views0 comments
GEORGE WEAH, LIBERIA'S incumbent president, contested for a re-election in last Tuesday, but was defeated in the second round of voting in his country's presidential election. Without much ado, he conceded defeat, saying democracy has won in that troubled West African country. Eight months earlier in this same year, in Nigeria, another West African country, a presidential election was tumultuous. Not only was the election exercise crisis-ridden, the results raised eyebrows. Announcement of the candidate declared winner, made 4 am in the morning while most Nigerians were still sleeping, sparked off a lot of controversy that led two opposition candidates in the contest to seek redress in the courts, all to no avail. President George Weah of Liberia did last Tuesday what President Goodluck Jonathan did in Nigeria eight years prior, in 2015.
Predictions, mostly projected by the US on whatever was considered as intelligence report, that Nigeria was going to break up in 2015 turned out unfulfilled, simply because one man – Dr. Goodluck Jonathan – preferred to let go of his presidential privileges and re-election. He was prepared to let peace reign instead of defending his position with the power of incumbency, which would have turned bloody by those who had positioned themselves to take over power. In return for voluntarily relinquishing power, Dr. Jonathan became a new face of democracy in Africa and has won accolades, recognitions and opportunities for interventions in electoral and other governance-related crisis resolutions in many countries in Africa since then. George Weah may well have become a new kid on that same block and another icon of democracy by his very act.
In a continent where power is taken and retained through crooked and violent means, Jonathan and Weah have distinguished themselves as rare breeds of political leaders. Their uncommon traits would have meant so much for Africa's political development if they have been the rule rather than exceptions. The contrast – and indeed typical of Africa – is that of the Nigeria's declared winner of the 2023 presidential elections marked by irregularities, violence, killings, voter suppression, result manipulations and apparent collusion with the electoral umpires. Through the putative declaration of a controversial winner and the judgments passed by the two courts on the election results, the outcome stood in sharp contrasts with the elections held by incumbent President Goodluck Jonathan in 2015 and in 2023 by President George Weah. Again, a major indictment on the Nigeria's 2023 presidential election is that the coup d'état in a neighbouring Niger Republic was bloodless while the election that produced the Nigerian defender of democracy was bloody. If governance is about preservation of citizens' lives, then a military coup in which no one was killed was far better than a democracy that claimed scores of human lives.
The truism that elections have consequences also meant that although elections are intended to produce leaders that would run the affairs of a country under a set of rules- based process. The process leading to the emergence of such leaders is therefore consequential. Although Jonathan's relinquishing of office did not result in any remarkable progress for Nigeria after his exit, he has nonetheless won plaudits for his statesmanship, His successor, General Muhammadu Buhari, who came with a lot of promises, squandered the goodwill and opportunity to build on Jonathan's democratic credentials. In addition to running eight years of inept administration, Buhari preferred to superintend over a flawed election that was tailored to produce a successor from his own party. Unlike Buhari, George Weah was patriotic enough to cede the victory to an opposition contestant. Just as in Jonathan's case, the country was considered more important than the ambition of a single person in pursuit of political power. Nearly six months after assumption of office, Nigeria's presidential office holder has been muddling through in various aspects of governance, leadership and economy. Nigeria has paid dearly for policy flaws, misplaced priorities, reputational embarrassment, governance failures and declining fortunes of the poor, especially people below poverty line.
If elections are all about power "grabbing" and influence peddling, then Nigeria has got it in 2023. If elections are about ensuring the emergence of democratic leaders and delivering public goods, then Nigeria may have indeed missed it in 2023. If democracy is all about election results rather than the means of producing winners, then the Nigeria's 2023 presidential election and the associated democracy are bad specimens and democracy is nothing but sham. It is now less likely that international observers would recommend Nigeria as a positive case in point, especially as Liberia's Weah has become a fresh hero of democracy. The European Union observers published a damning report on Nigeria's 2023 presidential elections, which portrayed the outcome as greatly flawed and anything but democratic. It was just a confirmation and corroboration of the fact that an election that was flawed cannot be said to produce a well-meaning leadership in a true democracy. Nigeria's case simply confirmed that governance, politics and elections are two different things.
For Liberia, President Weah has given the country a gift. Liberia has become a new champion of democracy through the conduct of the presidential election as the president was not prepared to stand in the way of democratic institutions. A case of George Weah's refusal to concede defeat in the election could have sparked off a constitutional crisis in which the judiciary and the legislature would have succumbed to executive manipulation, thus making a mockery of the entire idea of a democracy. He could therefore remain in office against the constitutional provisions. It will not be surprising if George Weah lands a high profile international leadership job, like one in the United Nations. The outcomes of the elections in Nigeria and Liberia have set the two countries apart under the yardsticks of what constitutes a true democracy. While Nigeria's present government headed by Bola Tinubu cannot rightly lay claim to democracy because of how it emerged, Liberia has just paved way for entrenching democracy by allowing the will of the majority – expressed through the ballots – to prevail.
In Africa, therefore, the world can easily decide between Nigeria and Liberia, which country truly qualifies as a true democracy. Liberia will be a new example among the ECOWAS countries. It may not be necessary to preach against coup d'état in Liberia as the incoming leader emerged through a process devoid of a compromise of any of the democratic institutions. By contrast, Nigerians experienced a disgusting level of manipulation and compromise, particularly of the electoral process and the judiciary during the adjudication over the disputes on the election outcomes. As the world watches helplessly, Nigeria and Liberia have shown two versions of democracy within the same election year. It is now up to the world to decide which one truly meant to liberate or subjugate its citizens under the presumption of democracy.
For the ECOWAS, Liberia and Nigeria have thus presented two starkly different examples, adding to the variants in the wide spectrum of democracy in Africa.  Those that took after the likes of Alassane Ouattara of Côte d'Ivoire might have no problem in explaining away Nigeria's 2023 elections. After all, Ouattara worked his way around his country's constitution, manipulated it and got a third term in office. This will obviously serve as an emboldening example for others to emulate. But it appears odd that Ouattara was one of those ECOWAS leaders at the forefront of the clamour for the ouster of the military junta in Niger Republic and reinstatement of the deposed President Mohamed Bazoum recently, under the guise of preserving democracy. This democratic double-speak was both more appalling and disappointing, especially when led by Nigeria's putative leader who was just a few days in office then while his declared victory was still being contested in the courts.
When Ouattara began his third term misadventures, be assured Ivoirens that he was not going to run for elections at the end of his second term in office, but was going to produce a successor. The death of his preferred successor was used as a subterfuge for throwing his hat in the ring. Ivoriens protested his eventual decision to run for a third term. In August 2020, he was still in denials while stealthily working his way around the changes in constitution. He succeeded in getting around the constitution to allow him contest for the December 2020 election. Today, he is posturing as a democratic leader and would want the world to believe that he is operating a democracy in his country.
For those interested in knowledge sake or an intellectual discourse, ECOWAS bloc alone currently presents four variants of governments. In addition to the three earlier described – two of which entailed democratic coups – another type of democracy is playing out in a tiny francophone country of Togo. There, the region is home to dynastic democracy, headed by Faure Gnassingbé who has been in power for nearly two decades. As long as Faure is not in uniform, he can be deemed to be a democratic leader despite inheriting the office from his father in 2005. He is one of the vocal voices purportedly promoting democracy in West Africa. In Togo, President Faure Gnassingbé won a fourth term in power in a February 2020 election.
For emphasis, the "third term" variant of democracy implemented by Ivorien President Ouattara and Guinean President Alpha Condé, are real constitutional coup d'état. However, Condé was not lucky enough to continue, having been toppled in a military coup on September 5, 2021. A version introduced in Nigeria's election was again played up on February 2023 in which a disputed winner was sworn in to office in May, while the dispute over his victory was yet to be resolved in court. In Nigeria now, courts are gradually replacing the ballots in determining the winners of elections. In the aftermath of the Nigerian 2023 presidential elections, all the assurances about fraud-proof technologies for the conduct of elections evaporated as strong evidences of manipulation were ignored during trials. The judiciary ultimately became embedded and ineffectual arbiters as the final decision was swayed in favour of the winner declared by the electoral body as evidences strong enough to disqualify his candidacy were jettisoned and his declared victory upheld by the apex court.
The independence of Nigerian courts stand disputable as they acted in contrast with the Kenyan Supreme Court in 2017 when the justices nullified the re-election of President Uhuru Kenyatta, declaring it "null and void," while ordering a new vote. In response, President Kenyatta said he would respect the court's decisions. At the continental level, more disgusting leadership styles involving manipulation of rules abound. Very briefly mentioned, there is a variant of democracy in Rwanda and Uganda where leaders fought their ways into office and thereafter decided to stay 'ad infinitum.' This is despotic democracy under Uganda's Yoweri Museveni and Rwanda's Paul Kagame, also practised elsewhere in Africa. Cameroon is another despotic democracy, operated by one who first got to office through an election but decided to stay put for over four decades.
Until Africa breaks free from the shackles of these power-hungry individuals posturing as leaders, Africa will continue to move around in circles like a goat tethered to a tree.