Oyeleye
How new anti-French sentiments from Africa may hurt EU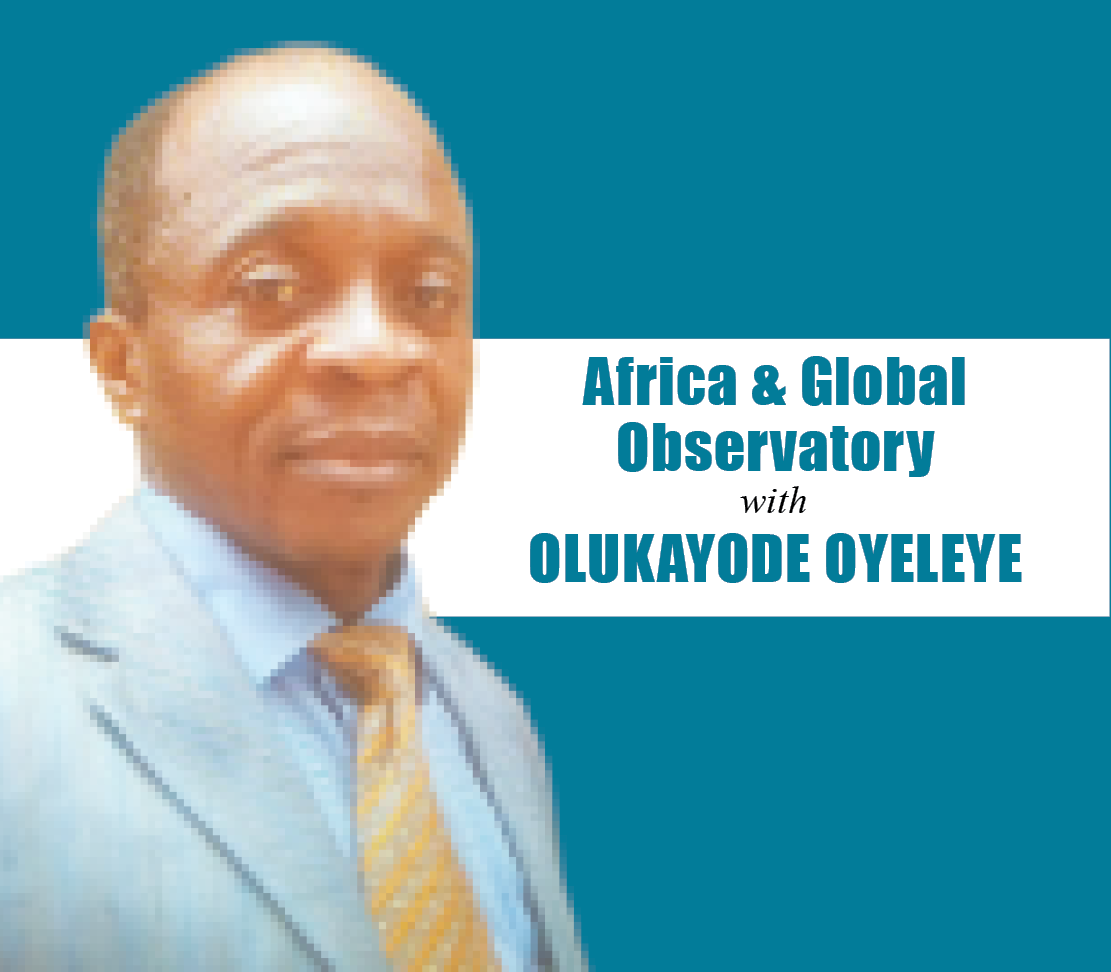 Dr. Olukayode Oyeleye, Business a.m.'s Editorial Advisor, who graduated in veterinary medicine from the University of Ibadan, Nigeria, before establishing himself in science and public policy journalism and communication, also has a postgraduate diploma in public administration, and is a former special adviser to two former Nigerian ministers of agriculture. He specialises in development and policy issues in the areas of food, trade and competition, security, governance, environment and innovation, politics and emerging economies.
September 12, 2023259 views0 comments
WESTERN EUROPE now has every reason to feel apprehensive about the recent wave of coups in Africa. In particular, there has not been a worse period for France than this because almost all the coups have happened in francophone countries. The only exception in the past four years was that of Sudan that saw to the exit of Omar al-Bashir in April 2019, ending his 30 years of inglorious rule and has since sparked off spiral of crisis in the country, especially since April 15, 2023. Sudan has been in turmoil since then. The other countries which have experienced successful coups are former French colonies, having many things in common. They have been going through similar experiences before the military takeovers and they have been cheered by their countrymen for bringing down the governments they are supplanting.
The European Union (EU) is in crisis. The war involving Russia against Ukraine does not bode well for the EU and the US ally. Energy crisis has taken a turn for the worse as the EU has blacklisted Russia's gas in what is akin to cutting EU's nose to spite its face. The EU bloc has turned its attention to Africa, making deals with Egypt and Senegal as alternative sources of gas supplies. This has its own diplomatic implications for the African continent. Beyond gas, there is a new twist to Europe-African relationship as access to other forms of commodities traditionally extracted from Africa are about to suffer supply restrictions. Chief among them is uranium that powers a bulk of electricity plants in some parts of Europe. The negative impact on electricity supply is expected to further worsen the struggling and wobbling economy of the EU, particularly of France and Germany the two leading economies of the bloc.
For the past six years, since 2017, Germany's economy has been between 21 and 25 per cent, or nearly a quarter, of the GDP of the EU-27. Germany is home to about one-fifth of the bloc's population. France, by contrast, makes up 15.18 per cent of the population and, according the World Economic Forum (WEF), contributes 16.72 per cent to the EU economy. Altogether, therefore, the combined population of Germany and France exceeds one-third of the EU while the combined GDP of the two countries is over 40 per cent of the bloc's total. It is therefore logical to infer that the crisis of the two countries will have far-reaching impacts on the entire EU. To begin with, Germany has faced with a dilemma on energy security. As a leading EU economy, the fortune of much of the EU is tied to Germany.
The hurried decision by Chancellor Angela Merkel to shut down all the nuclear plants used for electricity generation has turned out to be a tactical blunder for a country that is at the forefront in the campaign on climate-smart energy source. Merkel, undoubtedly, fell for the antics of environmental activists who thought nuclear plants were unsafe as an electricity source, following the Fukushima Daiichi nuclear disaster of March 11, 2011, caused by tsunami that followed a magnitude 9.0 east-Japan earthquake that was reminiscent of the April 1986 Chernobyl nuclear plant disaster in what is today's Ukraine. It only turned out that Merkel's response was hasty and inappropriate in a circumstance that demanded for multiple energy sources in response to the increasing demand for environmentally friendly energy sources. The phased demolition of the nuclear plants was expected to have ended in 2022 or early in 2023, thus narrowing down the country's energy options. For the Green Party, it was a long held dream come true. Meanwhile in Asia, nuclear power is experiencing a renaissance.
Germany faced more difficult choice after the commencement of Russia's invasion of Ukraine. The ensuing diplomatic standoff between Russia and the EU placed Germany in an awkward situation. It dithered initially on the Nord Stream 2, a $11 billion worth of 1,234-kilometre-long natural gas underwater twin pipeline from Russia to Germany running through the Baltic Sea. With time, the hitherto reluctant Germany halted the certification process in sync with the EU, triggering a jump in benchmark gas price and further complicating Germany's looming energy price crisis as Germany gets half its gas supply from Russia and had earlier argued that Nord Stream 2 was primarily a commercial project to diversify energy supplies for Europe. The opposition faced by the pipeline within the EU and from the US is on the grounds that it would increase Europe's energy dependence on Russia as well as denying transit fees to Ukraine. 
Germany's power crisis was made even worse in 2022 when it experienced low water levels in the Rhine River after prolonged droughts in the EU in 2018 and 2022, disrupting fuel and chemical supplies on the vital European trade route, impacting significantly on Germany's economic output and raising questions about possible effects of climate change on Europe's transport infrastructure. For instance, the very low levels of the Rhine River on early August 2022 further restricted the distribution of coal, petrol, wheat and other commodities that perennially depend on the vessels on those commodities – especially coal to power stations since its use has become more intensive in response to Russia's pipeline debacle.
The desperate situation of the EU on climate and energy crisis was put in perspective during the Africa Climate Summit in Nairobi, Kenya, last week in a speech by the EU Commission's President Ursula von der Leyen. "Africa needs massive investment. And Europe wants to be your partner…It is time to move from words to action," she said, announcing a 150 billion euro "global gateway" fund dedicated to Africa, supporting hydropower plants in DRC, Burundi, Rwanda and Tanzania. "We are not only interesting in extracting resources. We want to partner with you to create local value chains, to create good jobs here in Africa," von der Leyen told the Nairobi audience in an apparent bid to reassure them that mining Africa's natural resources is not the only area of EU's interest. But in the past one year and six months, the EU has been making spirited attempts at locking in Africa's energy resources for EU's benefits. In June 2022, the same Ursula von der Leyen signed a tripartite gas deal with Israel and Egypt in which gas will be liquefied and then transported to the EU, in a bid to end dependency on Russia. The EU chief, who has acknowledged that "Africa is rich in hydropower, solar power and wind power," also said in June 2023 that "We are teaming up with Senegal to accelerate investments in clean energy," even as the EU eyes Senegal's 425 billion cubic metres of gas and Germany plans to support Senegal in its efforts to extract and sell natural gas to partners like the EU. 
Despite von der Leyen's speeches, an economist and intellectual has given the lie to the politician's nice words. Professor Dr. Howard Nicholas, in a lecture that has gone viral on the social media, articulated on how to keep Africa perpetually poor and backward. The words of Prof. Nicholas revealed the hypocrisy of the Western world and their diplomatic double-speak in relation to Africa.  His presentation betrayed the reality that, while development thinkers are envisaging a more equal world and one with shared prosperity, the Western politicians and multinational business tycoons want the opposite, and would prefer where Africa remains backwards. It is therefore clear that the economy of Europe will depend so much on Africa in years ahead and Africa will need to be in a vulnerable position if Europe must sustain its prosperity, particularly under the kind of economy that is very much energy-intensive and will require raw materials to such the level of energy needed to power EU's economy.
Germany is highly reliant on industrial production and its large exporting sector, including car production sector contributing significantly to Germany's GDP and exports as 26.6 per cent was the share of gross value added by the country's manufacturing sector in 2021. In particular, motor vehicles and motor vehicle parts were Germany's most important export goods in 2022, generating a total of 244.4 billion euros and accounting for a total share of 15.5 per cent of German exports. This industry and the economy will take a hit from increasing energy crisis  Worse still, Germany's interest in Africa's mineral resources for the production of critical components of the "cars of the moment" will influence its politics and diplomacy within Africa. As Germany's automakers announced bold plans the last several years to shift to electric cars, commodities like lithium and cobalt will be needed in large quantities. No wonder the DR Congo, for instance, is one of the countries upon which the EU is focusing its overseas development assistance on energy.
With the increasing emphasis on eco-friendly cars, electric cars now account for more than 20 per cent of auto production in Germany. Volkswagen, Mercedes, and BMW – the Big Three of the German auto industry – have set goals for their electric car initiatives. Volkswagen projects 50 per cent of EV sales in 2030, rising to 100 per cent by 2040. Mercedes plans to go all electric by 2030 and BMW expects at least 50 per cent of its global deliveries by 2030 to be fully electric vehicles. Although automobiles originated in Germany and France, they now have to struggle with the US and China for top slot in the industry. In France, the story is similar. The country's carmakers, Renault and Stellantis – which owns Peugeot and Citroën, as well as Vauxhall (known on the continent as Opel) and Fiat – have promised to build at least two million EVs in France before 2030, and they will all need batteries. Thus, the battle line in the scramble for Africa's mineral resources is clearly drawn and a major reason for France's stubborn hold on former colonies, particularly Niger, is clear.
Manufacturing, value added as percentage of GDP in France was reported at 9.3215 per cent in 2022, according to the World Bank. As a country with one of the largest car manufacturing industries across Europe, France, accounted for a revenue share of 9.1 per cent in 2022. But the industry depends a lot on raw materials, particularly iron, from Africa. In 2017, Guinea Exports of iron and steel to France was $149,590 during 2017, according to the United Nations COMTRADE database on international trade. Nearly three-quarters of electricity supply in France is powered by uranium extracted from Niger. But the recent turns in geopolitics between France and francophone African countries are about to change the rules of engagement as well as tip the balance against France. Countries that have replaced civilian leadership with the military leadership are having running battle with France, a situation that will deny France such an easy access to raw materials to power its own economy.  The politics of aid and military support may thus be failing as Mali, Burkina Faso and Niger are now spurning aid from France and diversifying their sources of military support while also clamouring for an end to the use of CFA – the single currency used by 14 former French colonies in West and Central Africa, since France has abandoned its own Franc and had adopted the Euro in compliance with the accession to the EU since 2000. France thus faces a tough time ahead as the direction of the transmission of impact on the EU is clearly predictable, even if the impact on Germany is minimal because it has no colonial outpost in Africa, unlike France.
Now the colonies, seeking to end the predatory and parasitic relationship with France, are finding other strategic partners and charting alternative paths to national prosperity, economic growth and national security. The military takeovers in the Sahel region of West Africa and that of Gabon in Central Africa may ultimately have become a force for good that will shake the economy of France in no small way, retrieving for Africa what those who have been governing in the garb of democracy have frittered away for decades since independence. It may also signify the beginning of a significant shift in the EU's economy as the hitherto docile and complacent francophone African countries now become self-assertive, asking for their sovereign rights. The hitherto struggling EU may find itself in deeper economic crisis as an extension of crisis in France and Germany – the two leading EU economies.