Oyeleye
Africa braces for global goals on sustainable development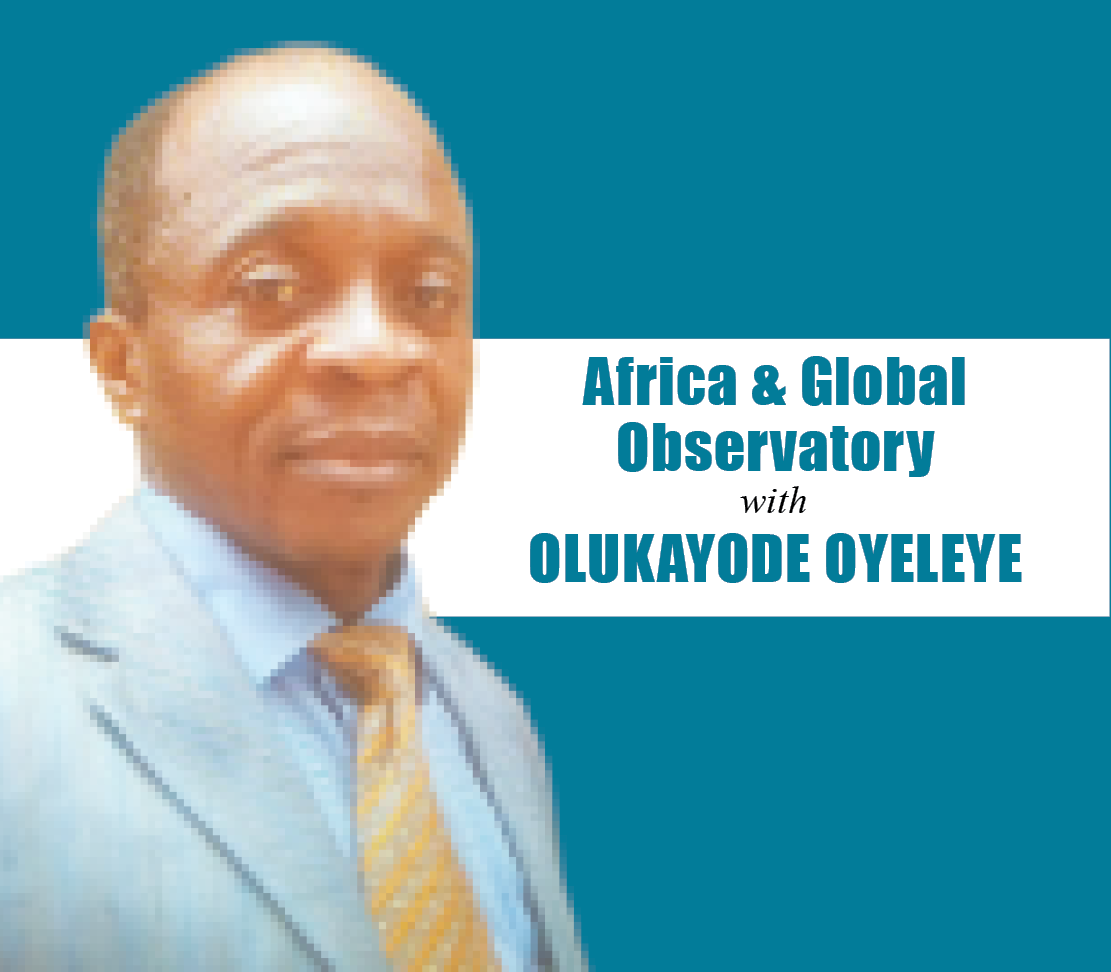 Dr. Oyeleye, a consultant, journalist and policy analyst, can be reached via:
oyeson2@yahoo.co.uk
Twitter: @OlukayodeOyele1
February 21, 20191.1K views0 comments
THE 'AFRICA RISING' narrative just inched some steps forward a fortnight ago. This happened in Addis Ababa, Ethiopia, on the margins of the 32nd Ordinary Session of the Assembly of the Heads of State and Government of the African Union, with the launch of two related initiatives. These seemingly interwoven initiatives, it is hoped, would impact profoundly and positively on Africa and contribute to the achievement of two of the Global 2030 Agenda on sustainability, namely the Sustainable Development Goals 2 and 3 as well as the continental development agenda. While one involved a partnership of the foremost continental Multilateral Development financial institution and the continent-wide supranational organ of government, the other entailed a Public Private Partnerships (PPP) with a consortium of private organisations in partnership with a global multilateral institution.
With these two events happening on the continental forum in Addis, Africa is undoubtedly rising to its manifold challenges, responding to the demands of the contemporary times and repositioning for the future. The continent is thus on the way to meeting the critical goals of the near-term 2030 global agenda and the longer-term Africa 2063 goals. The launch of the African Leaders for Nutrition (ALN) Initiative, known as Continental Nutrition Accountability Scorecard, jointly by the African Development Bank and the African Union – and supported by the African Union Commission (AUC), the Global Panel on Agriculture and Food Systems for Nutrition, the Bill and Melinda Gates Foundation, and other partners – was to raise awareness and reinforce commitments by African governments to help end malnutrition. This was in recognition of the fact that Africa cannot afford to continue to linger while other continents make progress towards the future. In opening a pathway towards the fulfilment of number two of the UN's Global Goals, which include action on ending world hunger, the launch has thus set the pace for all of Africa to follow.
"The nutrition accountability scorecard offers an opportunity to lay a solid foundation to aid African leaders to act strategically and deliberately in implementing policies and investing in nutrition programmes that tackle malnutrition in our respective countries," King Letsie III of the Kingdom of Lesotho and African Union Champion for Nutrition told attendees in the launch he co-hosted with Dr. Akinwumi A. Adesina, President of the African Development Bank. A point that was well stressed for African leaders is the need to take action for the wellbeing of the African people and "to take appropriate and decisive actions now rather than later." Emphasis on long-term malnutrition, especially during the first 1,000 days of a child's life (measured from conception), was that it can lead to what's known as stunting, a condition that could diminish or limit a child's physical and mental development for life.
According to Adesina, stunted children today will lead to stunted economies tomorrow. He reckoned that 59 million African children suffered from stunting and 14 million suffered from wasting in 2016. "Together, that's more than the population of France, more than the population of South Africa, and seven times the population of Switzerland." United Nations' data indicate that Africa is the only region where the number of stunted children has increased, from 47 million in 1990 to 50.6 million in the year 2000, and to 59 million in 2017. It was feared that if current trends continue, by 2030, about 36 million children will have lost their lives because they didn't have enough to eat. Resolving this backward situation was considered both "a moral and economic obligation" as "Africa can defeat stunting and malnutrition if its leaders align and leverage their combined will."
This landmark commitment to overcome malnutrition, at the launch of the ALN initiative, drew many African leaders such as President Mokgweetsi Eric Keabetswe Masisi  of the Republic of Botswana, representatives of governments from Malawi, Botswana, Kenya, Senegal, Gambia, Ghana, and various development partners. While President Masisi commended the African Development Bank for the initiative, he stressed the importance of getting "a continental picture of the state of our nutrition so that we ask ourselves the right questions to make sure we get our priorities right and fix them." The Chair of the African Union Commission, Moussa Faki Mahamat, at the event, noted that "nutrition is at the heart of our continental agenda and is a developmental issue."
Madagascar's President Hery Rajaonarimampianina observed that stunted children fall ill more frequently, generating high costs to families and the economy — the equivalent of between one and 30 per cent of the total public budget allocated to health, or three per cent of GDP. There was a strong appeal for the nutrition policy intervention all over Africa: while the impacts of stunting are devastating and irreversible, it is completely preventable. It was surmised that if current stunting rates are reduced by 50 per cent by 2025, it could lead to a saving of $21.7 billion. If stunting could be reduced to under 10 per cent, and underweight children to five per cent by 2025, it would lead to a saving to $39.3 billion. Addressing the cost of hunger in Africa, and committing to bold leadership would doubtless drive economic growth and sustainable development, removing the barriers that prevent children and societies from realising their full potential.
On the other hand, however, the African Union and the Africa Business Council report on Healthcare and Economic Growth in Africa was launched during the Africa Business Health Forum side meeting – an initiative towards fulfilment of SDG 3. It stressed the important role of Public Private Partnerships (PPP) in complementing government initiatives in health service delivery. This is in pursuit of accelerating the attainment of the SDGs through multi-stakeholder and cross-sectoral partnerships. The forward-looking initiative is commendable in the light of the 2018 WHO Global Health Expenditure Database, which revealed that African countries are gradually increasing domestic investments in health. The report indicated that 35 out of 55 AU Member States (over 64 per cent) have increased the percentage of their Gross Domestic Product invested in health over the previous financial year.
On a closer scrutiny, however, only two out of the 55 AU Member States meet Africa's target of dedicating at least 15 per cent of the government budget to health and do not reach the suggested threshold of $86.30 per person required to provide a basic package of health services. Yet, more than half of Africa's population currently lacks access to essential health services, while millions die every year from commonly preventable diseases. The new initiative, aimed at increasing commitments for health and accelerating path towards Universal Healthcare Coverage, was launched by African leaders as a platform bringing together governments, private sector and the global development community to coordinate and accelerate progress toward achieving universal health coverage.
The UN Economic Commission for Africa's (ECA) Executive Secretary, Dr. Vera Songwe, said at the launch, that Africa should stop exporting much-needed jobs to other continents and invest in its pharmaceutical industry, in particular, to provide for its people and create jobs for its unemployed youth, said Tuesday. Dr. Songwe said Africa could create more than 16 million jobs if the public and private sectors collaborated and invested enough in the drugs industry. Africa currently imports $14 billion worth of its pharmaceuticals from outside, a situation she said can be curtailed. "The health and wellness sector has the potential to create 16 million jobs. We should no longer export those jobs. We should bring back those jobs," she said.
"By 2030, an estimated 14 per cent of all business opportunities in the health and well-being sector globally will be in Africa, second only to North America with 21 per cent. This is a huge opportunity for the private sector," said Dr. Songwe who urged governments on the continent to work with the private sector to ensure there's access to health by all on the continent. Founder and Chairman of Africa Initiative for Governance (AIG) and Co-Chair of GBCHealth, Aigboje Aig-Imoukhuede, said Africa's government alone cannot solve the continent's health challenges. According to him, "we have no alternative but to turn to the private sector to complement government funding. At the forum were Ethiopia's Prime Minister Abiy Ahmed, Djibouti's President Ismaïl Omar Guelleh and President Mokgweetsi Masisi of Botswana. Prime Minister Abiy was of the opinion that "the private sector should play a vital role in financing and supporting national health plans on the continent" as "part of their corporate social responsibility."
Dr. Ngozi Okonjo-Iweala, at the conference, said that "there is a need for smart partnerships with the private sector and for their investments in pharmaceuticals, logistics, supply chain management capacity support, technology, innovation, and other areas. The Africa Business coalition encourages the private sector to invest, to partner and be a more effective part of the solution to the continent's health challenges." From these standpoints, the industry appears poised to lead the way in healthcare in Africa and, by extension, the attainment of the SDG3. Africa desperately needs to move forward. Perhaps Addis platform now signposts a new dawn!